Bruce Pearl says Kentucky is as good as "the Anthony Davis team" in 2012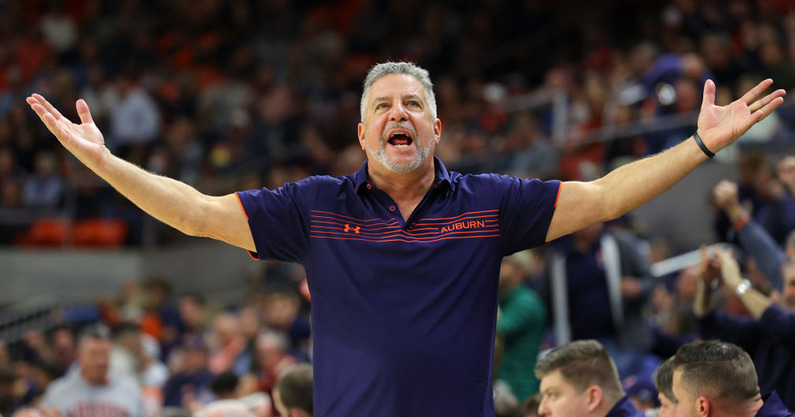 From elsewhere in the Southeastern Conference, Bruce Pearl found reasons to be upset about Auburn's 23-point win over Georgia. After that game, Pearl called out his team in the ESPN interview for breakdowns, sloppiness, and not playing well in, again, a 23-point in-conference win.
Clearly, Pearl has high expectations of his second-ranked Auburn Tigers. Also, he is likely being extra critical of his guys to challenge them in the days ahead of the biggest game on the schedule, Saturday's game against Kentucky. It's No. 2 versus No. 12 for first place in the Southeastern Conference.
Pearl caught wind of No. 12 Kentucky's win at Texas A&M during his postgame TV interview and reacted by noting the difference in Auburn's Wednesday outcome versus the Wildcats', both of which were league wins.
"Well, two things: Kentucky played a team that hadn't lost in the league; we played a team that hadn't won yet," Pearl said. "They're coming in feeling really good about a road win at Texas A&M. We're going in not feeling very good about the way we played tonight."
It's the ol' downplay your team, build up theirs before a big game and Pearl did it well in his postgame interview. Next he had high praise of Kentucky, right on cue.
2012 Kentucky comparison
Pearl didn't see any of Kentucky's come-from-behind win in College Station because Auburn and Georgia played at the same time, but he did catch a glimpse of Kentucky over the weekend. What he saw on tape, he said, ruined his appetite Sunday night.
"I looked at Kentucky a little bit on Sunday, enough to not be able to have dinner," Pearl told Tom Hart courtside after Auburn's win.
"I think this team is probably as good as maybe the Anthony Davis team that Cal had. They got stuff inside, they got wing shooters, they got two dynamic point guards, they're playing fast, and they're really good in transition. It'll be a dynamic matchup. I think right now, Auburn and Kentucky right now, today, are the two best teams in the league, today."
Ah, a comparison to the great 2012 Kentucky team right before Pearl's Auburn Tigers host a Kentucky team that doesn't need any additional pressure.
Hear it all in Pearl's courtside interview with ESPN and we'll see him Saturday.