Bryan Station Stops Late 2-Point Conversion to Beat Madison Central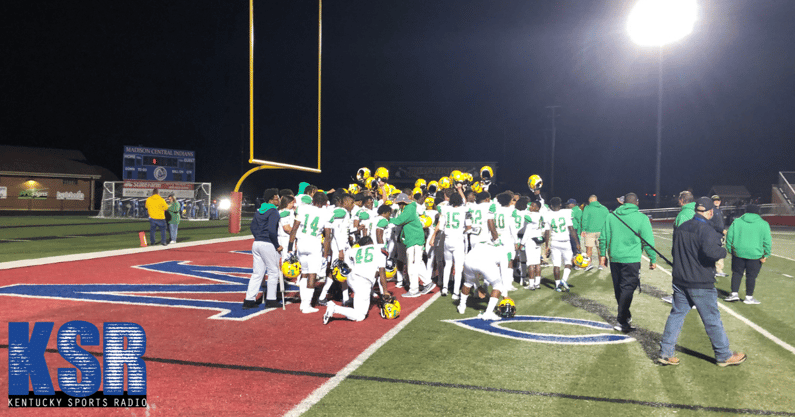 The aptly named Bryan Station Defenders used a strong defensive performance, including a crucial stop on a late 2-point conversion, to defeat the #13 ranked Madison Central Indians 21-13 Friday night in Richmond.
Unable to get much going in the passing game all night, the Indians best drive featured super sophomore RB Brady Hensley taking snaps out of the wildcat formation. After several successful Hensley runs, he found the end zone to cut Bryan Station's lead to 14-13 with just under 3 minutes remaining.
Madison Central decided to go for 2 and the lead. Hensley lined up in the wildcat and Station knew he would be running the ball.
Everyone did.
After jumping offside to move the Indians closer, the Defenders came up with a big 2-point conversion stop, stuffing Hensley for no gain.
Bryan Station coach Phil Hawkins said they figured out what was coming and said it was a "guts call" and a battle of wills.
Madison Central elected to kick off deep instead of trying for the onside kick. They bottled up Station on two runs, but instead of playing it safe, Station elected to roll the dice. They put the ball in the air on third down and it resulted in a 78-yard touchdown pass from Trenton Cutwright to Jaevon Hurt to put the Defenders up 21-13 with only a minute remaining.
Hurt said he was very excited about the decision to put the ball in the air on third down.
"Big time players make big time plays," he said after the game.
Hurt made several of them, including this 58-yard first quarter TD reception from Cutwright to open the scoring.
Both defenses played well in the first half. The Indians got a spark when Brock Eads intercepted a risky Bryan Station pass. They took advantage of the short field, knotting the score at 7 with a 27-yard Hensley touchdown run.
Cutwright bounced back with a touchdown pass to JMarious Lindsay after eluding a defender. The 67-yard play gave Station a 14-7 halftime advantage.  
In the third quarter, Station had first and goal on the 1, but after a false start, incomplete passes and a missed 22-yard field goal, came up with no points. 
They bounced back by stopping the Indians on 4th down. The Indians forced a Station punt and got a long completion from Hagan Harrison to Jayden West to midfield. The Defenders forced and recovered an Indian fumble with 8:41 remaining. 
A short punt gave it back to Central on their own 33 with 6:33 remaining, setting the stage for the last-minute drama.
Though noting that his team needs to clean some things up, Hawkins saluted the Bryan Station defense, who allowed only two scores, with one coming on a short field.
"That (the defense) has kept us together the whole year. The defense is amazing here and it does allow us to play with some talented football teams," he said.
Madison Central (7-2) will look to bounce back and try to make a deep playoff run after winning only 1 game each of the past two seasons. Coach Mike Holcomb has righted the ship in his first year as the Madison Central head coach. Hensley, who rushed for 121 yards, limped off the field after playing defense on the last Bryan Station touchdown pass. Hopefully it is not a bad injury.
With the win, Bryan Station (8-1) earned the number one seed and home field advantage in the district. They will certainly move up from their current #24 state ranking. Cutwright had a big night with over 200 yards passing and three touchdown tosses. The Defenders have reeled off 8-straight wins after falling to #4 Frederick Douglass 27-14 in week 1. If Bryan Station plays Madison Central again, it will be at home instead of in Richmond.