Bryan the Intern's Picks to Click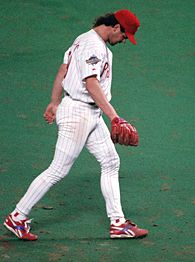 1.
I know this is a UK website, but give some love to my alma mater today,
Western Kentucky
, who are headed back to the NCAA Tournament for the first time in 5 years and are a team no #5 seed wants to play.  People always want to whine and complain about Chris Lofton, how about regretting not getting to Courtney Lee.  Indiana should be the one who is embarassed actually.
2.
When you really think about it, its kinda amazing what Kentucky has done over the last two months, maybe as amazing a thing as has happened in 20 years with this program.  They have taken a somewhat talent-deprived roster, with a new coach, and some tough early season losses, and turned it into a VERY sucessful season.  The Courier-Journal's Eric Crawford compares it to a
magic trick
, especially the Cats knack for baskets late in the shot clock.
3.
John Clay
hits on many topics, including the fear that many Kentucky fans have about having to play Ole Miss on Friday.  I think its a bit of an overreaction for the shear reason that UK is better than Ole Miss.  And I find it hard to believe UK wouldn't show up and play pretty well this weekend.  Point being, if UK loses to Ole Miss, it will be because the Cats didn't play well, not because Mississippi did.
4.
A
one-on-one interview
with Joe Crawford, printed in the Chattanooga Times.  Why is a reporter from Tennessee talking to Joe Crawford, I don't know.  But, its still has some interesting/funny stuff in there.
5.
I am starting to get bored reading about the UK baseball team, who moved to 15-0 yesterday, winning a doubleheader over Eastern Michigan,
18-5 and 8-6
.  Now we start to get a real idea of how good this UK team is when Alabama comes to Lexington on Saturday. 
6.
A few notes from last night in
high school basketball
courtesy of Jody Demling, including the travel itenerary of Billy Gillispie.  Darius Miller and Scotty Hopson both are playing for a spot in the Sweet 16, while Dakotah Euton's team was eliminated. 
7.
Thoughts and prayers go out to former UK football great and assistant coach Howard Schnellenberger and his family today, as Schnellenberger's son Stephen
passed away
yesterday after a battle with a rare endocrine disease.  Schnellenbereger is asking for all people who give their condolances to also give a donation to the American Cancer Society.
8.
I don't know if you remember Mitch Williams (of course how could you forget a reliever from the mid-1990's), but he's the guy who sorta
blew the 1993 World Series
for the Phillies.  Well, it seems like he is still
still making an ass out of himself
and this time bringing his daughter into the mix.