Bryce Hopkins' body transformation allowing for on-court growth at Kentucky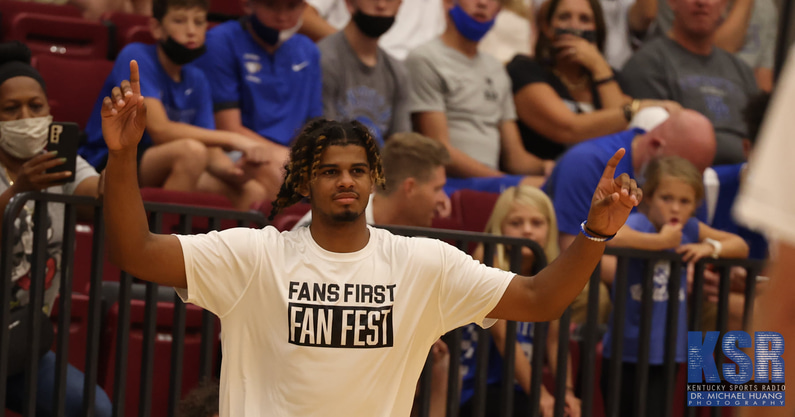 When Bryce Hopkins committed to the University of Kentucky, the four-star forward's father, Clyde Hopkins, had one goal for his son. It wasn't to score a certain number of points or record double-digit rebounds every game as a Wildcat. Instead, he wanted the UK pledge to focus on transforming his body.
The skill was always there. He's a physical, yet versatile inside-out threat capable of playing both the three and four, a "positionless" player as John Calipari likes to call it. Trim some of the bad weight and add muscle, and you've got quite the intriguing prospect in Hopkins.
"I know how we train, I always train Bryce to be the best," Clyde Hopkins told KSR the day of his commitment to Kentucky. "When Bryce gets with a great strength and conditioning guy to get his body to an elite level, the sky is the limit for the kid. His skill set is where it needs to be.
"Once I get his body to an elite level, the sky is the limit for him. We're up for the challenge."
Fast forward exactly one year — he committed to UK on October 26, 2020 — and Hopkins can see the transformation clear as day. He came in pushing 230 pounds, trimmed the body fat, and then added eight pounds of muscle to get back up to a healthy 222 pounds.
Now, the freshman forward is feeling as healthy as ever.
"I've definitely seen improvements on my body," Hopkins told KSR Wednesday. "When we took our little break in the summer and they let us go home, I believe I gained eight pounds in muscle and I trimmed down my body fat, so that was good for me. I just need to keep on doing that, keep trimming down my body and making myself have a pro body.
"… I was like 228, 229 coming in. I'm like 222 now. So I dropped like seven pounds and gained some muscle. I feel a lot lighter on the court, just feel better."
The transformation started this summer, working out "all day, every day" with Kentucky strength and conditioning coach Rob Harris. And in his time outside of organized training sessions, Hopkins lived in the weight room.
"I was in the gym with Rob (Harris) a lot. Strength and conditioning this summer, we had that all day every day," said Hopkins. "So that helped me out a lot, and then just getting into the weight room."
He's also joined the team's unofficial breakfast club, getting shots up with the likes of Keion Brooks Jr., Jacob Toppin, Davion Mintz and Dontaie Allen bright and early every morning.
"Me and Coach Chin (Coleman) and some other guys like Keion, Jacob, we'll get in the gym at like eight o'clock in the morning and get a lot of shots up," said Hopkins. "We gotta go for like an hour because we have some classes (afterward)."
With the body transformation well underway, the next step is fine-tuning his craft. The two biggest aspects of his game he's looking to improve? Defense and shooting.
"Working on my defense, getting my shot more consistent," said Hopkins. "I've been getting a lot of shots up, trying to stay low on defense in practice, stuff like that. Getting in the gym in the morning, I've been getting a lot of shots up. I can really see improvements on my jump shots, getting more consistent. Those are the two things I want to keep building toward when the season comes around."
An under-the-radar prospect ranked no higher than No. 33 overall (ESPN) in the class of 2021, Hopkins was once seen as Kentucky's best-kept secret. As summer workouts and preseason practices progressed, though, the secret quickly got out. The quiet whispers developed into loud statements.
"He's better than I thought," John Calipari said in September.
"He's got a chance to be really, really good," Orlando Antigua added in October.
What does he think of the growing buzz? Nothing, actually. Nothing at all. Instead, he wants to let his game do the talking when the season begins.
"I just go in every day trying to give my best," Hopkins told KSR. "I want to show what I can bring to the table, so when the season comes around, they'll know what to expect from me in the games.
"Don't think about it too much, just play my game."