Bryce Hopkins was "under a microscope" at Kentucky, regrets decision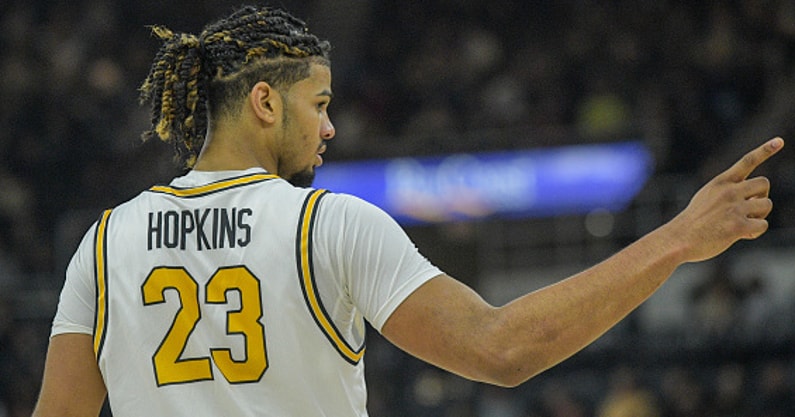 "They are not machines, they are not robots," John Calipari said of his team following Kentucky's loss to Kansas on Saturday.
It's become a go-to Cal-ism over the years, one used quite frequently as of late. He throws it out there just about every time he steps to the podium for a postgame press conference, win or loss. It's a way to defend his players through struggles — both physical and mental.
A former Wildcat is now using Calipari's quip against him while finding success at his new school, claiming he felt like a robot playing for the Hall of Fame coach in Lexington. That player would be none other than Bryce Hopkins, the current Providence star and Big East Player of the Year favorite.
Hopkins has exploded under head coach Ed Cooley, averaging 16.4 points (48.6% FG, 33.3% 3PT and 75.4% FT) and 9.1 rebounds while leading the Friars to first place in the conference. The 6-foot-7, 220-pound forward has scored in double figures in all but two games, including seven games of 20-plus points, highlighted by a 29-point effort vs. No. 24 Marquette and a 27-point outing vs. No. 4 UConn.
The reason? Hopkins says he no longer has to "look over (his) shoulder" after mistakes playing at Providence under Cooley, a coach he says allows him to play with freedom and confidence. At Kentucky, he felt he was "playing like a robot."
"Doesn't sound like a lot, but it means a lot, because you're not having to look over your shoulder when you make a mistake," Hopkins said in an interview with Brian Hamilton of The Athletic. "I feel like last year when I got out there, I was under a microscope. (Calipari) only wanted me to do certain things, and it was like I was playing like a robot. Now when I get on the court, it's like coach Cooley is allowing me to do whatever I want, but under his system. I just can't thank him enough for that."
Things started out well at Kentucky, feeling "the highest of the highs," he said. Calipari told him he was "one of the best players on the team" and "was making a big name for myself going into the season." Then a back injury forced him to the back of the rotation, one he was never able to jump back into. He would play a combined 40 minutes from Jan. 15 on, one game with over five minutes. Hopkins didn't play a second in the team's season-ending loss to St. Peter's in the NCAA Tournament, the "rock bottom of my career," he says.
The former four-star recruit would finish the year averaging 2.1 points and 1.4 rebounds in 6.4 minutes per contest. He hit the transfer portal on April 7, just three weeks after Kentucky's final game. A commitment to Providence — the runner-up in his high school recruitment the first time around — came on April 25.
If you ask Hopkins, his pitstop in Lexington should have never happened at all. Instead, he wishes he had trusted his gut and signed with the Friars rather than listening to the "people in (his) ear" telling him to play for Calipari at Kentucky.
"I was coming here, honestly," Hopkins told The Athletic. "And then I had people in my ear telling me that I should go to Kentucky, just to see what I can do there. People were saying I could do it at that level, and I still feel I could do it at that level, but it just didn't work out. But I don't really know. I feel like the right decision would've been to come here first and then just go from there.
"As soon as I got here, coach Cooley gave me my confidence back and made me believe that I'm the player I believe I am. And that's big for me. … ​​I feel like I'm wanted and needed here, so that makes me feel like I'm at home."
You can read The Athletic's complete feature on the former Wildcat here.