BTI's Rants and Ramblings: The Case for Boise State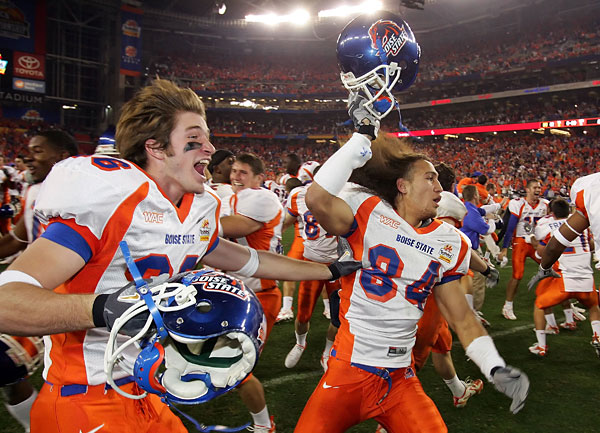 One of the more interesting storylines of this college football season has been the noticeable backlash against Boise State and their quest to make the BCS national title game.  Up to this point, the Broncos had been the poster child of the lovable underdog who took down mighty Oklahoma and played on the blue turf.  Their unique offense and trick plays were endearing and they really had taken on a national following.  But after their undefeated run last season, and returning of 20 starters, suddenly Boise became a real threat to make the national title game, if they could run their schedule again. Things only got more heated when a story came out that said Boise would have been #1 in the BCS standings had they been released last week.  Suddenly fans of all major schools around the country got their butt cheeks puckered and the backlash has been severe.  Frankly, I don't understand it.  Now let me be clear.  If 2 BCS teams go undefeated, they should ABSOLUTELY get into the title game ahead of Boise State.  Without question.  But beyond that, the Broncos deserve a shot if they are the only undefeated team or there is just 1 other BCS team undefeated.  Here's why:
1) BOISE STATE SCHEDULED AS TOUGH AS THEY COULD
-Boise State only has a say in 4 of their games.  They don't have any say in who is in their conference.  I am sure if they could play a Pac-10 schedule, they would.  This season, Boise decided to play Virginia Tech, Oregon State, Toledo, and Wyoming with those games.  Virginia Tech and Oregon State are currently tied for the lead in their respective BCS conferences.  Toledo is also leading it's conference.  And I can GUARANTEE you that Boise State would have scheduled even tougher if BCS schools were not so scared to play them.  Now, if Boise State is not worthy enough to play for the title, then why do most BCS schools avoid playing them?  For comparisons sake, Ohio State played Marshall, Ohio, Miami (FL), and Eastern Michigan for their non-conference games.  Oregon played New Mexico, Tennessee, and Portland State.  Combined record of Oregon's 3 non-conference opponents is 4-13.  If the current rankings hold up, Ohio State will play 3 ranked teams this season.  Oregon will play 3 ranked teams this season.  And guess how many ranked teams Boise State will play?  Thats right, 3!! 
2) MARGIN OF VICTORY COUNTS FOR SOMETHING
-Something I have never understood is when Ohio State beats Northwestern by 7 points, and Boise State beats Idaho by 47 points, somehow those two wins are not considered equally impressive.  If Boise was only beating it's conference opponents by 7 or 10 points, I would have questions.  But they routinely beat their opponents by 5 touchdowns or more.  Does this count for nothing? Boise State is 4-1 against the spread this season, despite being favored by 23, 18.5, 43.5, and 38 points.  You have to play at a top level to cover those spreads.  Ohio State beat an unranked Miami team by 12 at home.  Boise State beat a ranked Oregon State team by 13 at home.  They beat ACC leader Virginia Tech by 3 in a de facto home game for the Hokies. Point being, if the Broncos (or TCU for that matter) continue to CRUSH every opponent on their schedule, that should count for something in the polls and the minds of football fans. 
3) EVERY CHALLENGE BOISE AS FACED, THEY HAVE CONQUERED
-2006: Oregon State, @ Utah, Oklahoma 2007: @ Washington (LOSS) 2008: @ Oregon 2009: Oregon, TCU 2010: @ Virginia Tech, Oregon State Since 2006, Boise State has played 9 games against BCS opponents or Utah/TCU.  They are 8-1 in those games.  The loss to Washington in '07 was on their field by 14 points.  Give any BCS team that range of games and let's see if they can run all 9 games undefeated.
4) BOISE STATE IS NO LONGER A FLUKE
-I'm sorry, but Boise State is no longer a non-BCS team.  They simply play in a non-BCS conference.  Since their program exploded onto the scene in 2002, they have gone 94-11 overall, 62-2 in conference, won 2 BCS bowls, and have beaten Iowa State, TCU (twice), Oregon State (twice), Oklahoma, and Oregon (twice). This program is no longer a novelty act.  They are as legit a college football program as any.  They perservere through 2 coaches, 4 quarterbacks, and a difficult non-conference schedule to still run the table in the regular season 4 times in 8 years, completing 2 of those undefeated seasons in the bowl game, against Oklahoma and TCU.  I truly believe that Boise State this year would be a serious competitor in any BCS conference, and I would pick them to win the conference in the ACC and Big East, and finish 2nd in the Pac-10, Big 10 and Big 12.  And frankly, games against Ohio State, Oregon, and Nebraska would be toss-ups on a neutral field.  We should no longer be surprised by the success of Boise State, except for the fact that they bring in unheralded talent and take them to national championship caliber teams. It's time to move past calling Boise State the "oddball" program with the oddball field.  They are a college football power who has done everything except join a BCS conference to prove it.  And frankly, no BCS conference would take them out of fear of Boise winning the conference and the lack of money the other Boise sports bring in.