BTI's Rants and Ramblings: The Loss You'd Want to Change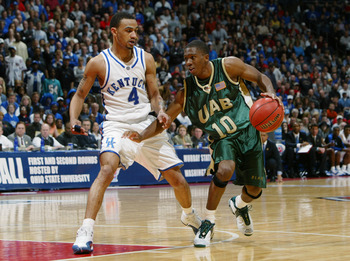 You know, when you are a great program like the University of Kentucky, it means that you put yourself in a ton of great game opportunity.  Final Fours, huge regular season clashes, great rivalry games.  But, with the 8 national titles, 481 SEC titles, and too many to remember wins over Louisville, there are also some losses that can't be forgotten.  It frankly comes with the territory.  Play in big games year in and year, and you will lose a few now and then.  At the end of the day, it is still just a game played by teenagers and people in their early 20's, so life moves on.  But, it's also why we can have this post and talk about which losses stung the most.  Which loss or losses you MOST wish UK could take back.  I'll give you my Top 3 and then you can give yours in the comments sections.  And remember, I am 27 years old, so the losses in the 60's and 70's don't resonate with me like those of the modern era.
1. Marquette 83, Kentucky 69 (2003 Elite 8)
-This loss ranks on the top of my list for a lot of reasons.  I was always a Tubby Smith fan, and this was his best team during his tenure.  And yes, I think that includes his 1998 title team.  Plus, I always wanted this game for Tubby because nobody could make any excuse about why they succeeded.  They were all Tubby guys playing the kind of defense that Tubby craved.  This might have been the most well rounded TEAM Kentucky had seen since 1996.  On defense, they were tenacious, and on offense they shared the ball like coaches dream of at night.  They even were able to say they ran through the entire SEC season undefeated, something no other team can say. Secondly, Keith Bogans ranks as one of my favorite players in my lifetime.  Loved his scoring ability.  Loved his toughness.  And just hated that UK fans never really loved him, in part because of that horrible junior season, and in part because he never made a Final Four.  That game would have secured Bogans legacy at Kentucky.  He would have been considered in the same breath as Mashburn, or should have been.  Instead, Dewayne Wade decided to have his national coming out party all over UK's defense, Steve Novak and Jurgens Deiner hit threes from all over the court, and a blowout ensued.  And that's what really hurt.  It wasn't a fluke shot (Laettner) or some kind of classic game (2005 Michigan St).  Marquette just flat out trounced the Cats.  It damaged the legacy of Tubby Smith and it damaged the legacy of Keith Bogans.  And for that, it ranks 1st on my list.
2. Arizona 84, Kentucky 79 (1997 National Title Game)
-3 national titles in a row.  A 5-minute overtime period against a 4th seed Arizona was all that stood between UK and the best college basketball feat since the UCLA dynasty of the 1970's.  Some would argue Derek Anderson would have made the difference in this game.  Who knows?  But I know even without Anderson, Kentucky had the better team.  And if Nazr Mohammed doesn't go 0-6 from the foul line, they probably still win the game.  UK's defense struggled to defend Mike Bibby and Miles Simon all night, and fouls caught up with them in overtime, and that was all she wrote.  I think while some considered that to be a major upset, Arizona proved to be quite the team when next season they earned a 1-seed with the same team.  But still, UK was so close to leaving no doubt who the team of the 1990's was, and this game was the difference.
3. UAB 76, Kentucky 75 (2004 2nd Round)
-This one comes from a personal story.  I had never attended the NCAA Tournament, but for those who forgot, that season UK was slated to go to St.Louis for the Sweet 16 and Elite 8.  They were the overall 1 seed in the tournament, and UAB (or Washington) were not going to be any trouble for a UK team that trounced team after team in February and March that season.  Gerald Fitch, Chuck Hayes, and Erik Daniels were going to finally get Tubby another Final 4 after the disappointment of 2003 (see above).  And then the Squeaky twins or whoever shoot the ball through their legs all night, Fitch plays poorly and misses an open jumper at the buzzer, and that was that. So, yes I did get to see my first NCAA Tournament games in person that year, but instead of watching the Cats, I watched UAB, Kansas, Georgia Tech, and Nevada battle it out with my friends Paige and David in St.Louis.  Safe to say that one hurt the soul and the wallet a lot.