BTI's Rants and Ramblings: Want to know why we shouldn't be afraid of Charlie Strong?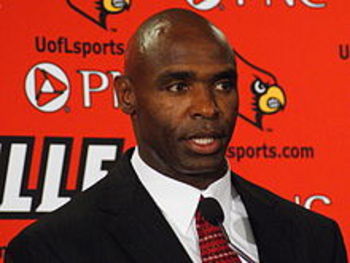 Before we get into the rant for today, those of you still trying to get involved in our KSR contests this year for NFL and college football, here are a couple more groups (through yahoo.com) that have been created: COLLEGE FOOTBALL PICKEM ID#: 18203 Password: ksr NFL SURVIVAL FOOTBALL ID#: 16884 Password: ksr
CLICK HERE TO JOIN THESE LEAGUES
____________________________________________ I mentioned this a couple weeks ago, but the nervousness from the UK fanbase about Charlie Strong seems to be growing.  People see he brought in some good recruits and certainly is an improvement over Steve Kragthorpe and they get scared UK will lose grip of the rivalry.  And maybe in 3-4 years, this worry will be legit.  But let me promise you this:
Strong WILL NOT be successful in his first year at Louisville
.  And the reason is simple: players win games and Strong doesn't have them at Louisville right now.  Just a quick breakdown to further this point: 4 of the 11 starters from last year's UK-UL game have graduated from the defense.  Take a look at these names.
Graduated
Jon Dempsey LD Scott Chaz Thompson LT Walker Take a guess how many of these players are currently on an NFL roster?  ZERO.  None.  According the NFL site, none of these 4 guys were even CUT from an NFL team.  Now let's take a stroll back to Florida's defensive starters from last year's UK-Florida game.  Florida lost 4 starters off the defense that started against Kentucky, as well as 2 other players who normally started for Florida but did not against Kentucky. 
Every one of those players in now in the NFL.   
Graduated
Joe Haden (1st round Draft Pick) Jermaine Cunningham (2nd round Draft Pick) Brandon Spikes (2nd round Draft Pick) Ryan Stamper (Signed by the Detroit Lions) Note: Carlos Dunlap did not start against Kentucky, his only non-start of the season.  He was a 2nd round Draft Pick  Note: Major Wright did not start against Kentucky, one of only 2 non-starts for him.  He was a 3rd round Draft Pick So, 4 Louisville starters from last year, gone.  None of them in the NFL currently.  4 starters from the Florida defense, all of them in the NFL.  Point being, Charlie Strong could have been the dumbest brick in the home, and he still had a loaded defense with NFL players all over the field.  It wasn't that tough to make that a good defense.  Essentially it was good recruiting.  
Louisville's defense is going to be WORSE this year than it was last year
.  And last year Kentucky scored 31 points on that team with Mike Hartline at quarterback.  It doesn't matter what kind of amazing schemes and blitzes Strong wants to come up with, he doesn't have the talent this year to dominate even half of what Florida was able to do. 
THE POINT IS CHARLIE STRONG APPEARS TO BE A GOOD COACH BECAUSE HE HAD GOOD PLAYERS.  NOW THAT HE HAS CRAPPY PLAYERS, LET'S SEE HOW HE DOES.
  Maybe in the future, Charlie Strong will gain an upperhand on Kentucky.  But there is no reason to think it will be this year.  Breathe easy UK fans. 
We're gonna win.  And it's gonna be sweet.