BTI's Rants and Ramblings: What If We Have Players Kneel During Anthem?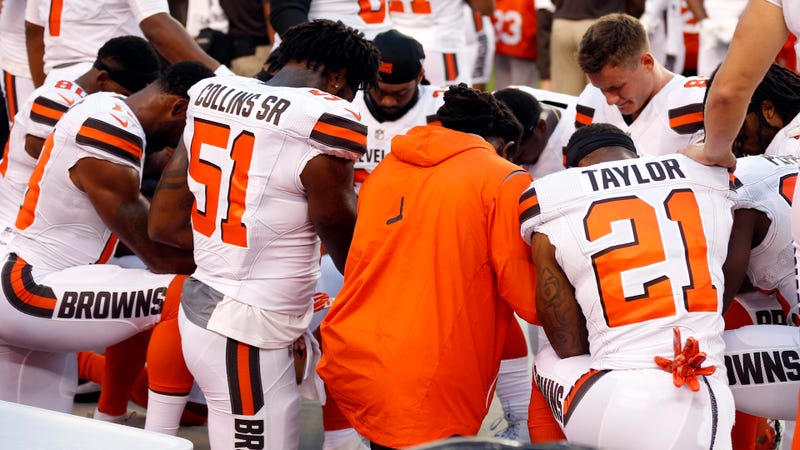 The expansion of players kneeling during the national anthem in protest during the NFL preseason has been a story worth following.  There is certainly a wave of athlete activism since Colin Kaepernick began his silent protest last season and while he has basically been blackballed from the NFL, the league will have to start recognizing that they can't remove all of the players who now are protesting various social issues while wearing NFL uniforms.  Point being, this is going to be a consistent "issue" during the NFL season and maybe moving forward. That brings us back to a local spin.  No matter what you actually think of the issues of police relations with African-Americans, Donald Trump, or any other social issue the players have been protesting, we are now in a sports culture where public protesting is a thing.  
And college athletes, no matter how much you want to call them "kids" are actually adults and largely African-American.  Point being, if you think the protests are going to be limited to professional athletics, you are being quite naive.
 As far as I know, I haven't heard of any publicly known protests from UK athletes but you have to know there are a bunch of players on the football team (or other teams) who disagree with Trump and his policies, have negative opinions towards police, and are opinionated.
So what will you, as fans, do if any UK players choose to protest before games this year by kneeling/praying during the anthem?  Would it make you angry?  Would you consider not coming to games, dropping support for the program if this allowed?  And should Mark Stoops mandate that it can't happen?  Does he even have that power?
My thoughts would be two fold.  First, this is America.  You as fans can absolutely hate protests during the national anthem.  And you can respond by not renewing season tickets, not attending games, calling for Stoops to be fired, whatever.  But the players, as Americans, have every right to protest as well.  These protests are the absolute definition of peaceful.  A word is never said, a punch is never thrown.  Just a very simple message.  Personally I agree with the protests and the attention it has brought to some concerning issues in this country, but even if I didn't
I think EVERYBODY should support the players rights to do it, even at the college level.
 What would disappoint me the most is if Mark Stoops attempted to bar or ban the players from protesting if they so choose.  Once the anthem is over, it's game time and the players should get back in gear.
Again, this is not a question of whether you agree with the opinion of the players protesting or not.  The argument is what will your reaction be if a player or players choose to do it.  Would it have any impact on your fanhood for the program, whether football or another sports team?
 I haven't heard of any player say they were going to protest in any way but you have to know it is in the minds of some and I wonder if Stoops has addressed it with his team or not.