BTI's Rants and Ramblings: What would be your #1 adjustment?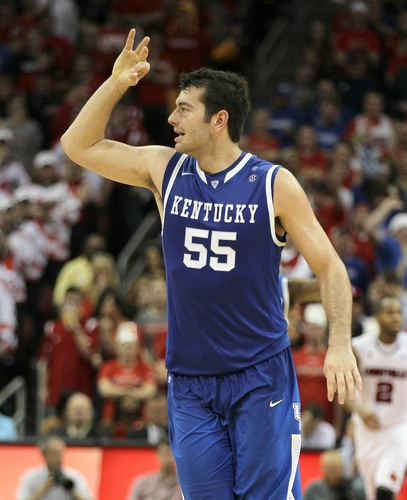 Last night's game was very exciting, and I know everybody was very happy with the way the team played.  But, it also had lots of down time, and the outcome of the game wasn't in doubt for the last 15 minutes.  Which gave me and the buddies I was watching with time to get into an argument, like you all  know I like to do.  And that argument revolved around one major point:
I believe Josh Harrellson's perimeter game should be utilized more than it is.
  If there was one adjustment I could make to the way Kentucky generally plays this season, it would be that.  And while I would agree that adjustment would not make a significant effect on the game, follow me on my reasoning: 1. First of all, I truly believe that Harrellson is as good, if not better, with his perimeter jump shot than Terrence Jones.  Harrellson has only taken 5 threes this season, making 2, but for his 3-year career at Kentucky, Jorts has made 9 of 24, for 39%.  Jones is shooting 30.1% this season from behind the arc.  At the end of the game, if I had to choose one of those two guys to take a key three pointer, I would choose Harrellson. 2. Currently, Harrellson does a lot of screening at the top of the key for the guards.  Sometimes, Josh will roll to the basket, which is certainly a good play.  But many times he remains at the top of the key while his defender chases down the guard.  And several times a game, he will receive a pass after the guard is double-teamed.  But, rather than take that shot, Harrellson looks to pass immediately.  I say ONCE A HALF, Josh should have free reign to take the 3.  3.  If Josh misses, it's only one shot, and if its a wide-open three pointer, it's not a bad shot.  BUT, if Josh was to make it, imagine the adjustments that a defense has to make.  Defenses would have to adjust how they play the pick and roll with Knight, and not be so intent on double teaming the dribbler.  Instead, they would have to play Jorts as an offensive threat, or at least a guy who is somewhat dangerous on the perimeter.  With more attention on Josh, it would allow Knight to penetrate easier, which then opens up the rest of the players for open shots.  Again, I don't think this should be a common thing, where Jorts is taking 5 threes a game.  I am saying MAYBE one a half.  But, currently, Josh barely even looks at his shot on the perimeter, even though he came to Lexington with the reputation of being a good shooting big man.  Just my thoughts on how to expand the offense. But I want to know what you think:
IF YOU COULD MAKE ONE ADJUSTMENT TO THE GAMEPLAN OF THIS TEAM, WHAT WOULD IT BE?
  Would you give a particular guy more shots, or change the defense, or play some players more than others?  And please, don't say you would add Enes Kanter to this team.  We get it.  We got screwed.  Time to focus on the guys who actually can play.