Build the Statue: Mark Stoops will be Kentucky Football's Greatest Ever
Big Blue Nation, you are looking live at history. This is the Golden Era of Kentucky football, thanks to Mark Stoops. Following the events of the last week it's abundantly clear that we are witnessing unprecedented Kentucky football success, and Stoops is here to keep it going for the long haul. It's time to start building the statue outside of Kroger Field.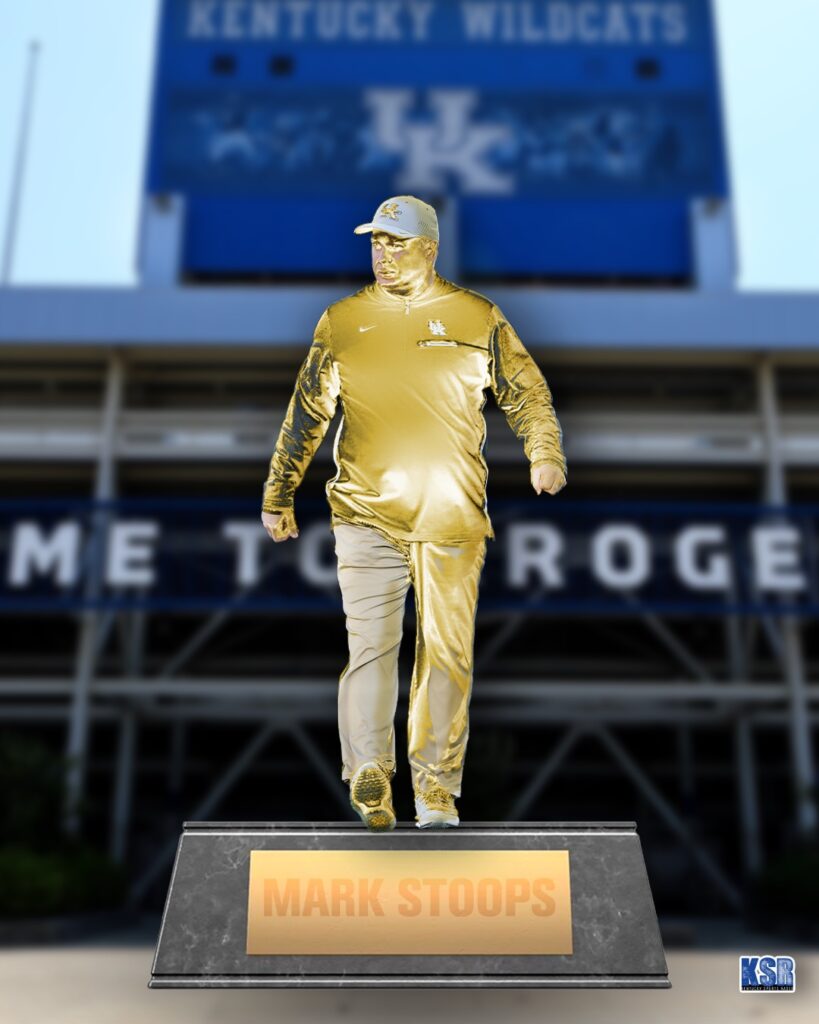 The GOAT's Resume
Mark Stoops has done things never accomplished previously at the University of Kentucky, like…
Six straight bowl berths
Finish second in the SEC East (three times)
Start a season 6-0
Win 29 SEC games
Nobody has coached more Kentucky football games than Mark Stoops (111). Next year he will become the first to ever spend ten seasons at the helm of the program and surpass Bear Bryant (60) as the winningest coach in Kentucky football history.
Those accomplishments should speak loud enough for the 2018 SEC Coach of the Year. It's even more impressive when you consider where the program was when he arrived in 2013. Fresh off a 2-10 2012 season, he slowly rebuilt the program. After a 12-26 start to his tenure, the Wildcats are 46-27 since that time with a pair of nine-win regular seasons, two of the five at Kentucky since WWII. Stoops has exceeded expectations for even the most optimistic Wildcat football fans.
Why Stoops is here to Stay
Mark Stoops has signed plenty of contract extensions since he arrived at Kentucky, five to be exact. Typically the news is immediately met with celebration, followed by trepidation, "He can still leave whenever he wants." The latest contract renewal should cement Stoops' spot in Lexington.
Kentucky successfully survived the greatest threat from opponents to poach its head coach. There were a combination of factors that created the perfect storm for Stoops to leave Lexington, but he didn't.
The chaotic coaching carousel has never featured more high-profile vacancies among national title contenders.
After a second 9-3 season in four years, one could make the Brian Kelly argument that he reached Kentucky's ceiling. Stoops' stock cannot get much higher.
Stoops is 54. He's no old man, but he's not exactly a spring chicken. After significant changes in his personal life, this year felt like the perfect time to make one more significant career jump.
The window for Stoops to leave Kentucky is closing. By signing the latest contract extension, he is telling the Big Blue Nation he will be here for the rest of his coaching days.
A modest, hard worker from Youngstown, Stoops is never one to make profound statements about his legacy or the future. He's built the Kentucky football program one day at a time and that's what he will continue to do for years to come. Since he won't say it, I will.
Mark Stoops is the greatest coach in Kentucky football history and he will be here for the rest of his career.