Bulldogs to Bulldogs: How a Division I Basketball Coach Found a Home at Dunbar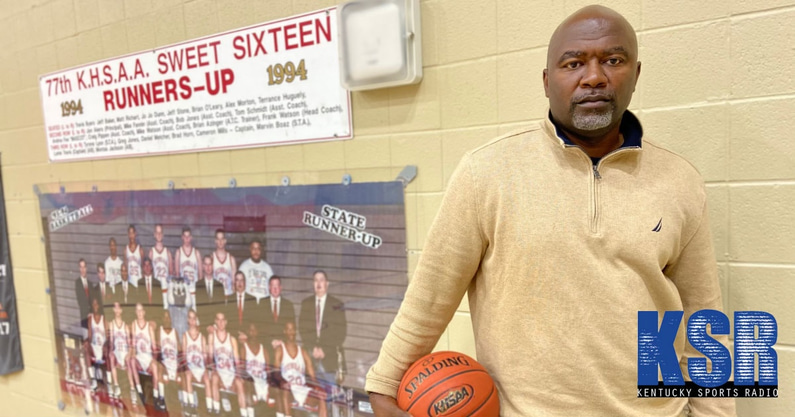 "I don't feel like I've ever been to work," Paul Laurence Dunbar's new head basketball coach Murray Garvin said. "I wake up and I go to my passion and I believe that should be the goal for all of us."
Garvin, a Pikeville native, has returned to Lexington after 20 years of coaching in the college ranks before he settled down and found a home this past spring at Lexington's Paul Laurence Dunbar High School. It was a necessary journey.
Now that he's once again coaching at the high school level, Garvin can focus on what's most important to him—being a mentor to the young men that play under him. But how'd he get in the position to make that possible?
He began his coaching career in 1998 as a volunteer assistant at Tates Creek High School in Lexington under Nolan Barger, who was in the final season of his 27-year career as head coach of the Commodores. Ironically, Garvin's first loss as a coach came against the very team he returned to Lexington to coach two decades later—the Dunbar Bulldogs.
After graduating from Eastern Kentucky University in '98, Garvin found his way to Tates Creek through a call he made with Hall of Famer Ken Trivette, who coached Garvin during his time as a Pikeville Panther in the late '80's.
"I was at Pikeville in a very special era in sports."
Garvin was a two-sport athlete at Pikeville—playing football and basketball.
Football wise, during his freshman and sophomore year, the Panthers won the 1A State Championship and were runner-ups as a senior.
On the court, however, is where he found his groove. In his four years playing at Pikeville, Garvin's Panthers compiled a record of 85-34 under Trivette and Howard Wallen.
"I love Pikeville—it's always home," Garvin said. "There's so many memories, friends, family—I have so many good memories. It's just a place that I hold dear to my heart."
The Importance of Ken Trivette
"He's been a mentor and just a father figure for me from the first time I picked up a basketball," Garvin said about Trivette. "He and I just have a special relationship. I think he looks at me as one of his sons."
The two remain good friends nearly 30 years after his graduation. Garvin wouldn't have had the career he's enjoyed over the last two decades without the guidance Trivette had brought.
"He took an interest in me when I was a young guy, and has just always been a mentor to me and I got into coaching because of the things that he did for me. I wanted to do [the same] for others."
Trivette didn't care where you were from or what your background was. If you wanted to be a part of his team and you were willing to show discipline and the will to win, he welcomed you with open arms. Garvin has since implemented the same philosophy into his coaching career as well.
Garvin Became a College Coach on Accident
After leaving Tates Creek in 2001, Garvin took a job interview for a position as activities director at a treatment center in Rock Hill, South Carolina. The woman that was interviewing him turned out to be the athletic director at Clinton Junior College. She offered him the position as head coach and, as they say, the rest is history.
It was at CJC that Garvin really paid his dues. "You had to mop the floor, you had to sell the pizzas, you had to buy [and sell] the T shirts," he said. Garvin believed his job to be the best in the world at the time.
From 2001-2005, Garvin amassed a 61-21 record during his time in Rock Hill. 2004 was especially rewarding for him. Not only did his team win the Carolina Junior College Conference Division I Championship, but was also named the conference coach of the year.
He would leave CJC in 2005 and take jobs at Charleston Southern and Winston-Salem State over the next five years.
South Carolina State
From 2013 until this spring, Garvin served as the head coach of the Division I program, the South Carolina State Bulldogs. He was promoted to the head of the program after arriving spending two and a half seasons as an assistant. After 12 seasons, he was let go.
"South Carolina State granted me an opportunity," he said. "I don't have any ill will or hard feelings toward them—college basketball is a business."
His most successful season in Orangeburg, SC, came in 2015-16 where his team finished second (12-4) in the Mid-Eastern Athletic Conference. For the second time in his career, he was awarded Coach of the Year honors.
There were low-lows and high-highs for Garvin at South Carolina State. Take 2014's Las Vegas Classic for instance—Garvin's Bulldogs marched into Lubbock, Texas to battle Tubby Smith's Texas Tech Red Raiders in the first round, only to hand Garvin to worst loss of his career, 101-39. Three days later, Garvin nabbed a signature win over Kelvin Sampson's Houston Cougars, 71-63.
During his time at SC State, Garvin had the privilege of recruiting with other Division I coaches such as John Calipari, Bill Self, Mike Krzyzewski, Cuonzo Martin and more.
"When you're a part of that group is smaller than what you think," Garvin said about being one of the 353 D1 college basketball coaches. "… You compete against each other and it becomes a brotherhood."
After a rough final few years at SC State that saw a lot of turnover of personnel behind the scenes, it was time for Garvin to shed his skin and move on to greener pastures.
Coming Back to Lexington
"I needed Dunbar, probably more than Dunbar needed me," Garvin said.
This spring, Garvin accepted the job to become the new coach at Paul Laurence Dunbar. He's filling the role left by the 2016 KHSAA Championship-winning coach Scott Chalk.
That begs the question— why would a former Division I head coach choose a school like Dunbar? "Because Dunbar understands winning," Garvin said.
What's even more important to Garvin—the support system that surrounds the Bulldog program.
"Since arriving here, the community has been unbelievable," he said. "They are so supportive. Now, I kid them and I say, 'well I'm undefeated right now,' so I haven't lost a game and nobody's had to watch their son sit. So, I'm pretty popular guy right now, but I believe the feelings are genuine."
Not only is Garvin himself at the school, but the move has been an entire family affair. His wife serves as an ESL teacher in the building and his daughter is on the cheer squad.
"It feels good to be wanted, you know what I mean? When you come from leaving the college level, there's a lot of coaches that hurt. I went through a period of that," he said. "Just how they've welcomed me here—it's been really refreshing for myself, for my family."
The History of Dunbar Was Attractive to Garvin
It's not just that supporting cast—it's the history that comes with the job. The simple fact that he'll be coaching in the S.T. Roach Gymnasium; Roach was a leader in the integration movement in Kentucky high school sports in the 1950's-60's. To have his kids play on the same court that all-time Bulldog greats did, such as Bobby Washington, George Wilson, Cameron Mills and Darnell Burton, to name a few.
"It's a heck of a winning legacy and being a kid from Pikeville, you always looked at the Lexington schools as creme de la creme," Garvin said. "Well, I know for certain that Dunbar is creme de la creme."
With the daunting task of taking the baton from Coach Chalk and running with it, to keeping up the historically winning standards of the Dunbar basketball program—Garvin, like the rest of his coaching career, was brought on by being in the right man in the right place at the right time.
"I wouldn't have took just any high school job," he said. "Dunbar was the place where I wanted to be and I'm glad that I'm here."
What Can You Expect From Garvin's Bulldogs This Season?
Garvin said that his team has gone through a metamorphosis since he took over the program in the spring. Within a few practices as head coach, his team was hot-shotted into the summer circuit where they were one of the best squads in their league over the summer.
There has been some turnover with transfers and injuries, however. Tim Hall, who was a First-Team All Lexington selection, transferred two weeks before the school year began to play at Vertical Academy with five-star guard Mikey Williams. Right after Hall left the team, six-foot-three point guard Cade Hilt went down with a torn ACL, which left two major voids to be filled by the team; Garvin is confident in his guys, though.
"We've had some attrition that's happened since then, but I still like our talent," he said. "A young man named Zach Carter is a six-foot-three wing that can really flat out shoot it. Another kid named Max VanDyke; Lionel Kumwimba has put in an unbelievable summer—he will surprise a lot of people with the development of his game and then we're led by Nick Spalding."
Spalding, Garvin said, is one of the most talented guards he's ever coached. He can score from all levels and is a gym rat. If you go to the Beaumont YMCA right now, he's probably there putting up 500 shots as we speak.
"I look for him to be one of the most exciting guards in the 11th Region," Garvin said. "If you're one of the top guards in the 11th Region, you're one of the top guards in the state of Kentucky, so I'm really looking forward to the season."
Garvin and the Bulldogs Embracing a Tough Schedule
Not only does Dunbar welcome top-ranked teams Covington Catholic and Madison Central to the S.T. Roach Gymnasium this season, they also play at Trinity and in two tough tournaments—the King of the Bluegrass and Traditional Bank Invitational.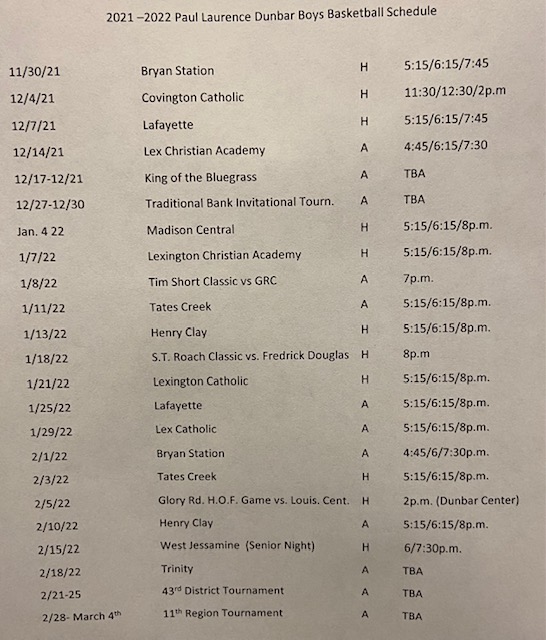 "We probably have the toughest schedule that I've ever coached," Garvin said. "I'm looking forward to it, it's gonna be a great challenge but I'm gonna make sure that we have fun along the way."
Most importantly, to Garvin, his Bulldogs will take on Louisville Central in the Glory Road Hall of Fame Game in February at the Dunbar Community Center.
The Dunbar Center was erected in 1923 that served as the original Dunbar High School. At the time, it was the first segregated city school in Lexington. It was closed in 1972 and the school moved to it's home now off Man o' War Boulevard. It has since been transitioned into a community center for Lexington Parks & Recreation.
For the same reason Garvin took the job at Dunbar, the Bulldogs are honoring their roots, playing Louisville Central where their program began. Central was also the first (and only) high school in the '50s for Black citizens in the city; the history and emotions that game will bring back for many will mean more than any victory over a top-ranked program.
"This school, the administration and the community has opened their arms to my family," Garvin said. "I just want to return the favor of giving them a winner—and I believe we're on the right path to do that."