Calipari, Antigua hint at mid-year enrollment for 5-star SG Shaedon Sharpe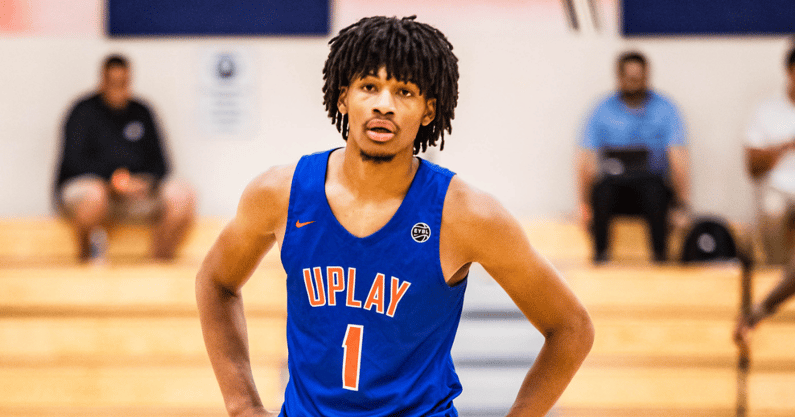 Kentucky's top-rated commitment, Shaedon Sharpe, is "definitely" considering an early enrollment, a move that would allow him to move to Lexington and begin practicing with the team in January.
While UK or its coaches are not allowed to make official comments on the matter until Sharpe signs on the dotted line in November, John Calipari indirectly discussed the matter at Media Day on Wednesday.
"If it happens … that's fine."
When asked about mid-year additions at the collegiate level, Calipari said it's not common at Kentucky — he's only taken one early enrollee in Hamidou Diallo — but he's "fine" with it if the right opportunity presents itself.
"Normally in a year, I'll have 11 scholarships, I never use 13. Usually the last couple I give to walk-ons that deserve it," Calipari told KSR. "I don't see mid-season (additions), but if it happens, we'll have scholarships. We had one, Hamidou Diallo came mid-season, then played the following year. We've done that once, it's not something I look for.
"If it happens and the kid can really benefit by practicing, being a part of our team and getting a head start, that's fine."
Something you "can't simulate anywhere else."
"Fine" for Calipari, but "always beneficial" for Orlando Antigua. When not-so-subtly asked about the benefits of mid-year enrollments and how it could help a — hypothetically speaking, of course — high-profile recruit, the UK associate coach compared it to a grayshirt in football.
The player may not compete immediately, but he's getting a leg up on his peers going into the following season. They're able to adjust to life as a student-athlete, learn the system, and work with the strength and conditioning program before a typical freshman.
"Very subtle," Antigua joked. "It's always beneficial. Like in football, you grayshirt. You come in, get a chance to get acclimated to campus, you get a chance to get acclimated to the work capacity you need to have. You get in the weight room, you get your body adjusted to the practices you can't simulate anywhere else."
When Diallo enrolled early and practiced with the team to close out the 2016-17 season, he later explored the draft process and waited until the deadline to withdraw. And that was as a fringe first-round draft selection.
"Always a concern."
Shaedon Sharpe, however, is the No. 1 prospect in 2022 and a surefire top-10 pick, regardless of draft class. While there's still uncertainty regarding his draft eligibility in 2022 — NBA rules state a player must be one year removed from graduation and at least 19 years of age before declaring — the school assumes the risk of a none-and-done campaign.
If you ask Antigua, though, that's not necessarily a bad thing.
"That's always a concern, but it's a good problem to have if they have the ability and capability to be thinking in that way," he told KSR. "You definitely want those kinds of kids in your program."
"No way" Sharpe rushes through process
A source close to Sharpe told KSR last week that the five-star guard was strongly considering an early enrollment, but planned to return to Kentucky in 2022-23.
"He's definitely considering it, very good possibility," the source told KSR. "… He's not coming to play, even if he does enroll. He wants to practice and be around bigger, stronger guys, get a head start.
"… He wants to be challenged, he wants to get better. The truth is, he's definitely playing in 2022-23 (at Kentucky). It has nothing to do with the NBA, it has everything to do with his individual development."
When it comes to his future NBA decision, the source said Sharpe had not yet graduated and thus would not be eligible for the 2022 draft. And even if he was, it's not an option Sharpe is willing to explore.
"An individual needs to go through the whole process, not just jump through," a source told KSR. "You can jump through, but that doesn't mean the longevity is going to be there. There's no way (Shaedon Sharpe) is looking at rushing anything."