Calipari (kind of) provides status updates on Keion Brooks, Davion Mintz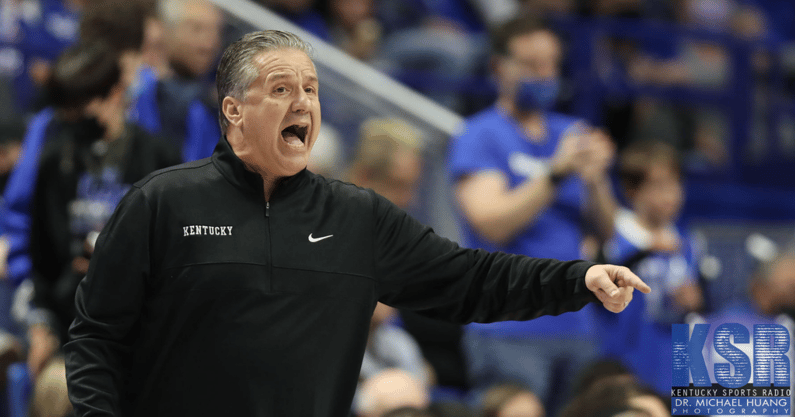 When two players get healthy, it would only make sense for Kentucky Men's Basketball to lose two more…
Heading into Friday night's 86-52 landslide victory over the North Florida Ospreys, the statuses of Davion Mintz (illness), Jacob Toppin (shoulder), and Lance Ware (ankle) were all still up in the air. Mintz sat out UK's previous win over Albany, Toppin had not played since the season-opener against Duke, and Ware missed the previous three outings.
To the delight of the Big Blue Nation, both Toppin and Ware were on the floor during pregame warmups before ultimately taking the court at Rupp Arena. Toppin finished with three points and two rebounds in 10 minutes of action, at times icing his shoulder on the sidelines. As for Ware, the sophomore forward added four points and one board in seven minutes played.
Mintz, on the other hand, was not on the sidelines at all on Friday night with John Calipari implying the flu was impacting the locker room. He added before the game that he didn't expect Mintz to suit up. Additionally, UK's starting forward Keion Brooks Jr. was spotted during pregame warmups but did not suit up to play against North Florida. The Wildcat veteran was also ruled out due to illness.
Jon Hale of the Courier-Journal asked Calipari if the head coach was "concerned about some sort of greater thing with the team right now?" in terms of player absences. Cal didn't exactly respond with optimism.
"My son (Brad Calipari) was sick, three managers were sick, so I am," Calipari said if he was worried about multiple cases of players being out with illnesses. "I wish I could make them take flu shots, but I can't."
Calipari then added that he himself recently received the flu shot.
"I had mine the other day and normally I won't and it's not cause I don't trust, I just don't like getting shots," Calipari admitted. "I know I need to get it but I hate to scream in front of girls that are watching me get the shot."
Kentucky is finally beginning to put the injury bug in the past, but now another type of bug is causing issues.