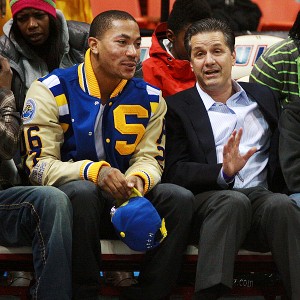 Frank Isola of the New York Daily News tweeted earlier today that the Knicks and Calipari are already working on the move:
Lot of NBA people believe John Calipari to the Knicks is already being set into motion. (Not sure how this impacts Rod Strickland)

— Frank Isola (@FisolaNYDN) April 4, 2012
Isola mentioned Cal's link to Isiah Thomas, as well as Amar'e Stoudamire, Carmelo Anthony, and Larry Brown, who has a link to Mike Woodson. Another NBA guy, Yahoo!'s Adrian Wojnarowski, believes
New York is the prime spot for Calipari
. But with all these talks about leaving Kentucky, Coach Cal still
stands by his claim that "he has the best job in basketball
." He
told Mike Decourcy
, "I've got more money than I'm ever going to spend, so I don't have to make a decision based on finances." Cal also said
he plans to attend NBA games this season
, but only to see his former players, not because he's interested in jumping to the league. "I might even pop into New York," he said. I like his plan to check-in with Josh Harrellson, but with all these Knicks rumors, I'd rather see him catch Jorts in Cleveland on April 20th. You know, just to be safe. Don't leave us, Cal.