Calipari on recruiting uptick: "We're going to underpromise and overdeliver"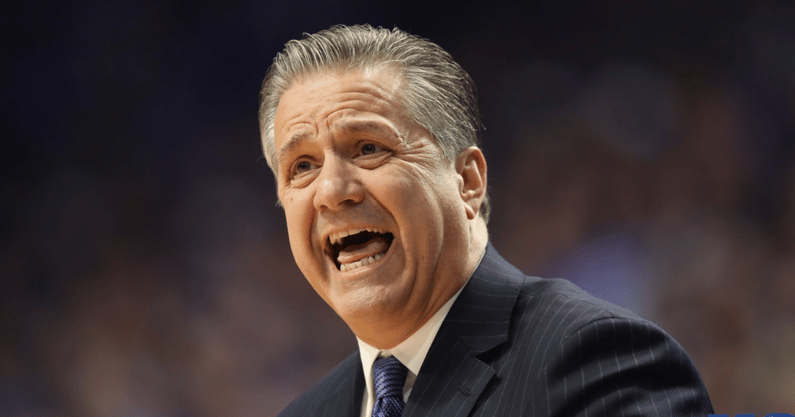 The Kentucky basketball program has finished with the No. 1 or No. 2 recruiting class every season of the John Calipari era in Lexington but one. To say recruiting has taken a serious dip in recent years would be disingenuous and inaccurate.
But criticism of the program failing to land its biggest targets in recent years – Paolo Banchero, Jaden Hardy, Cade Cunningham, James Wiseman, RJ Barrett, and Zion Williamson, just to name a few – is valid. UK has landed quality in numbers, but it's fair to admit the program has come up short when trying to hit home runs. It's why Calipari hit reset this offseason and brought in assistants Orlando Antigua and Chin Coleman to give the program a shot in the arm on the recruiting trail.
And after just one summer with the revamped staff, Kentucky went out and earned a commitment from No. 1 prospect Shaedon Sharpe this week. The five-star guard chose UK over Arizona, Kansas, Oklahoma State and the G League.
With Kentucky also trending for the likes of Cason Wallace, Chris Livingston, and Dereck Lively II, it's clear this isn't a one-time thing. UK's recruiting momentum is back, and Calipari knows it.
"I had a guy say, 'Recruiting's really picked up.' And I said, 'Dude, we've been one or two in the country every year I've been here,'" Calipari told KSR on Wednesday. "Now, some of those classes weren't as talented, and you're the No. 1 or No. 2, but the class isn't like this upcoming class coming up."
Calipari credits Kentucky's recent uptick in recruiting to the relationship-building process. There are no shortcuts in recruiting, even as a blue blood program.
"It's about the culture we've built here, the results that have happened for the players here," Calipari said. "All the other things, you've got to have relationships with these kids, you have to spend time. It can't be a one-way conversation, and sometimes it becomes that. You've got to listen and hear."
The pitch? That all remains the same. Other programs can promise shots and specific roles – they are – but Calipari refuses to switch his style up on that front.
"Nothing has changed. We're not making outlandish promises, we're not telling kids, 'You're going to be the main guy taking 25 shots.' We're competing against that, now," Calipari told KSR. "People are going in and saying 'You're starting from day one.' Well, you've got to earn it here. What kids learn here is to bet on themselves and fight."
If another school makes promises and a player wants an easier path, that's just fine. Calipari will respectfully part ways and wish them the very best.
Should the day ever come where his pitch doesn't work anymore, Calipari will know it's time to leave the game.
"If they'd rather have a guarantee, they don't come here. We don't get everybody, they'll go other places," Calipari said. "We're going to underpromise and overdeliver, it's just how we do it here. At some point they may say 'It doesn't work anymore.' Well, that'll be at the point I'm not doing this anymore.
"I like to sleep at night knowing I'm not lying to kids or using kids for my own benefit or the school's benefit."
By putting the players first, Calipari knows those who play for him will have a deeper appreciation for the program and the wins that come with being at Kentucky.
"This is about these kids and by us caring about them, they care about us and the program. They care about winning," Calipari told KSR. "It's like people that are in the military who tell stories, 'I didn't do it for the military, I did it for my brother. We did it for the military and our country, but I'm in a foxhole with my brother. That's who I'm doing this for. And for our country, together we are.' That's kind of how this is here.
"I'm proud of the culture we've had, the brand in basketball here and what it means. What's been built here with our brand in basketball and our culture in basketball."