Stoops, Marrow quickly respond to Calipari's "basketball school" comments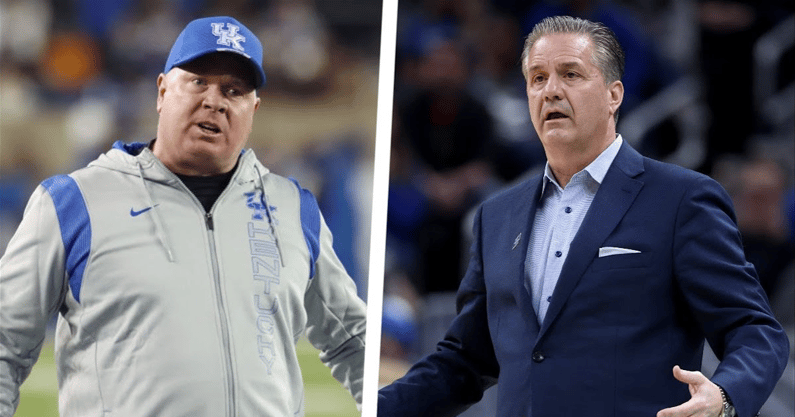 It took all of 12 minutes for Mark Stoops and Vince Marrow to respond to comments John Calipari made Thursday afternoon down in the Bahamas. Whether intentional or not, and likely not, Calipari pulled Kentucky Football into his case for new Kentucky Basketball upgrades by saying, "This is a basketball school; it's always been that… No disrespect. Our football team, I hope they win games, 10 games, and go to bowls. At the end of the day, that makes my job easier and it makes the job of all of us easier. But this is a basketball school. And so, we need to keep moving in that direction and doing what we're doing."
Watch the full clip for context so this one doesn't spiral into more than it needs to be.
Now that you're caught up and all is fair, we can't ignore Stoops' immediate reaction once he learned of Calipari's comments. Stoops quickly hopped online to respond—something he rarely does, if ever—and replied, "Basketball school? I thought we competed in the SEC?" with a hashtag, "#4straightpostseasonwins".
Stoops then—again, very uncharacteristically—began retweeting fans who voiced their support and excitement for Kentucky Football.
Not one to miss a good Twitter spat, Vince Marrow added, "I think we pretty good at football too. Love what (Coach Stoops) has done here at (UK). Go Big Blue."
Same team, guys.