Can Kentucky's 2018 Team Shoot?
[caption id="" align="alignnone" width="800"]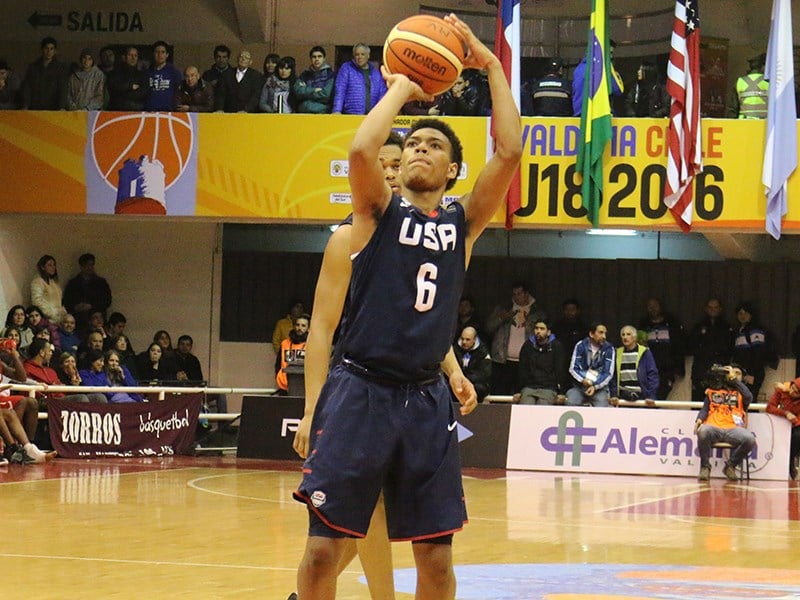 USA Basketball
[/caption] During the 2017 preseason, college basketball prognosticators liked what they saw in the Cats, with one exception -- Kentucky's outside shooting ability.  The players laughed it off in interviews.  "Are you serious?" was a common response to the question.  The players proved the prognosticators wrong by shooting over 35 percent during the season. Eight minutes after the Diallo news broke and four minutes before he confirmed it on Twitter, we heard that question about next year's team for the first time: "Can anybody on Kentucky's team shoot?" Steve Jones of The Courier-Journal was the first to ask it, but he will not be the last.  This year's skeptics have much more evidence to point to this year than they did last year.
Improving Shooters
Since Kevin Knox committed, an overwhelming majority of fans believe he will be able to play the two-guard next year because of his ability to make shots from long-range.  Would they be saying that if they knew
Knox only made 25.8 percent of his threes in EYBL play last year
? [caption id="" align="alignnone" width="590"]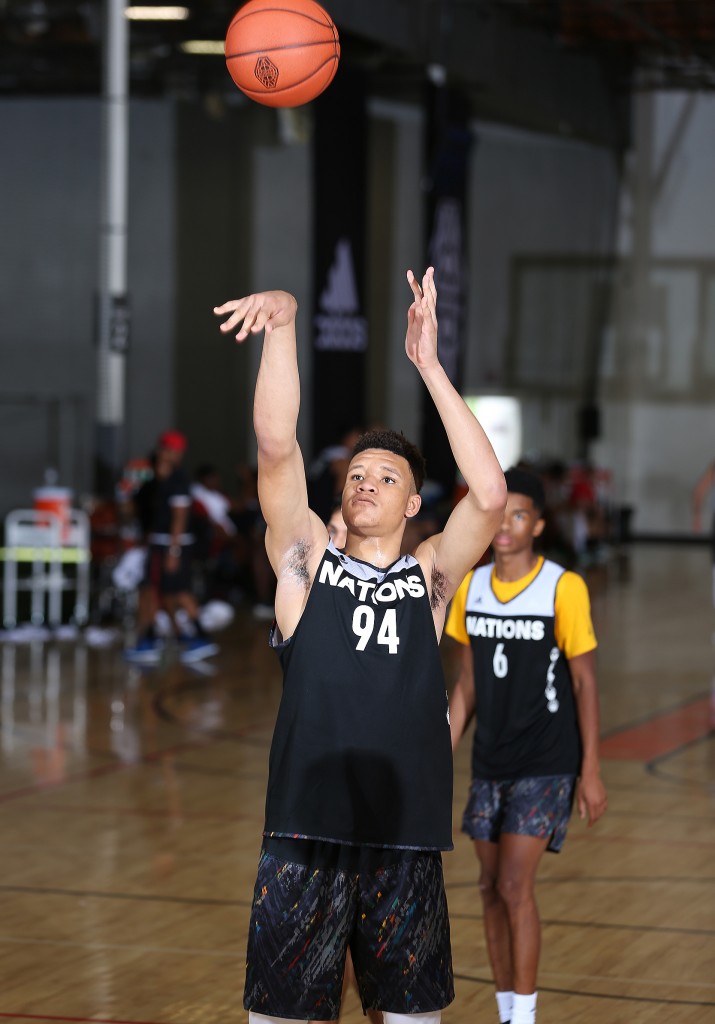 adidas
[/caption] Knox and Jarred Vanderbilt share a similar build.  Knox is the better offensive player.  Vanderbilt is the better defensive player.  Knox's shot looks better when it leaves his hands, but a year ago neither were consistent outside threats.  The good news: a lot has changed in a year. Knox's three-point shot dramatically improved from the summer into his senior season,
shooting 35 percent from three during his high school season
for Tampa Catholic.  At McDonald's All-American practices, Knox and Vanderbilt's improved shooting ability from long-range was the greatest takeaway from recruiting reporters and analysts in the stands.  Vanderbilt's change was the most impressive.  His unorthodox form didn't change, but he extended his release point and added more rotation to the ball. This pair can knock down open shots, but Calipari can not rely on them to be his primary outside shooting weapons.
Slashers
Shai Gilgeous-Alexander and Hamidou Diallo are both lengthy athletes who will make their money on their ability to get to the basket.  Diallo dunks, while SGA creates contact before a soft floater rolls through the rim. From behind the three-point line, SGA is another player who improved throughout his senior season.  He finished the season shooting 31 percent from behind the three-point line.  Not too shabby.  He was even better in the Derby Festival Classic; he missed just three shots in the game and won the three-point shooting competition.
UK signee Shai Gilgeous-Alexander easily wins the 3 point shooting contest at the Kentucky Derby Basketball Classic. pic.twitter.com/EnB3geE2R4

– Jonathan Dunn (@jdunnLEX18) April 16, 2017
Diallo is a curious case.  We haven't seen him shoot a competitive basketball shot in about a year, so I'll tell you about the first time I saw him play. Last July I was at the Peach Jam for the first time.  After figuring out the lay of the land, I found a spot in the corner to see Hamidou Diallo play.  A couple easy fast break dunks were impressive, but I wanted to see how the No. 1 shooting guard in the nation shot the ball.  I was disappointed, to say the least.  
I spent the entire game trashing his flat shot
.  He didn't take many from deep because he didn't need to, he could simply get to the rim, but every time he did launch a three, I was prepared to see it clank off the rim. I actually enjoyed his awfulness for awhile, then proceeded to look through the program to find out where I needed to go to see the next candidate for "best shooter in the class."  A close game for Diallo's New York Rens, I couldn't leave until the fat lady sang.  With about ten seconds remaining, Diallo's team was trailing by three points. "Okay, Diallo.  Show me what you got,"  I thought to myself.  He showed me he has ice in his veins.  Facing a triple team on the left wing, all he needed was a subtle jab to create enough space for a turn-around.  
The fade-away three from 30 feet barely touched the net
on its way through the rim.  He pumped his chest on the ground while the crowd erupted.  Hami's opponents didn't stand a chance in overtime as he carried his team to victory. Just like every part of his game -- excluding his vertical leap -- the jury is still out on Diallo.
Quade and Baker
[caption id="" align="alignnone" width="620"]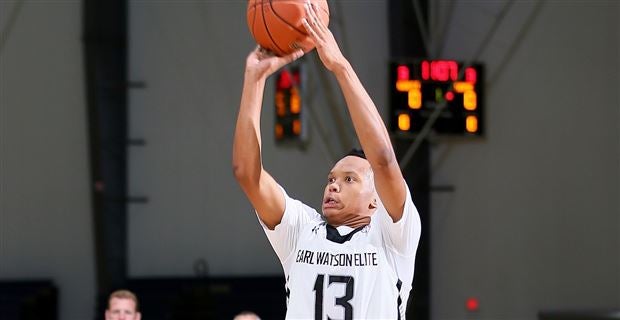 247
[/caption] Jemarl Baker was targeted for his three-point shooting ability, but based purely off senior season numbers, he will not be the best shooter on the team next year.  
Baker made 34 percent of his threes; Quade Green knocked down 38 percent of his three-pointers
. Baker can earn playing time by entering the "knock down three-point shooter" role, but it took Mychal Mulder a year at Kentucky to get comfortable on the floor.  Feeling comfortable won't be a problem with Quade.  In fact, Quade's biggest problem might be getting too comfortable. At his best running the floor and creating for others, his step-back jumper is his primary weapon to get points.  Great at creating contact to get space, the ball looks good every time it leaves his hand inside 12 feet.  When he gets beyond the three-point line, he'll stress you out.  Like Tyler Ulis, he prefers three-pointers that are five feet behind the line.  Unlike Ulis, he shoots the ball from behind his head.  It's odd, but it keeps defenders from blocking his shot and it still goes in 38 percent of the time. Green will hear comparisons to Ulis all year long. "I'm trying to be better than Tyler (Ulis).  I'm going in with a different mindset: be the best player I can be and be better than all the point guards that ever came through there." Calipari needs Quade to be one of the best shooting point guards he's ever coached.  There are other options, but finding consistency from behind the three-point line could be the Cats' Kryptonite in 2018.