Cason Wallace, CJ Fredrick return to practice, trending toward playing vs. Vanderbilt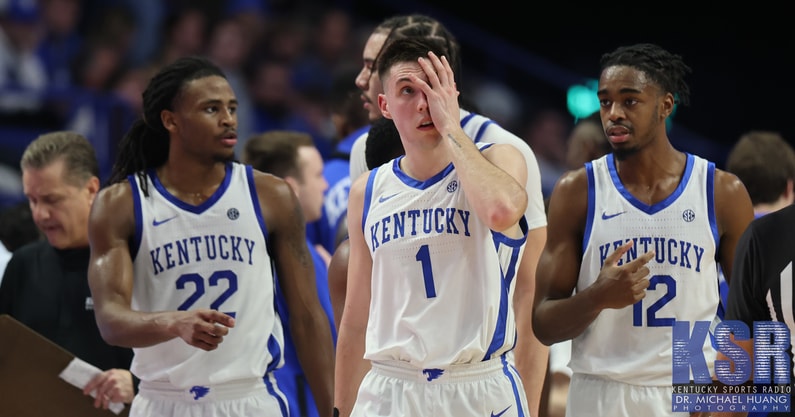 Cason Wallace (ankle) and CJ Fredrick (rib) were full-go in practice for the Kentucky Wildcats on Thursday, a strong indication both players will be available vs. Vanderbilt in the SEC Tournament quarterfinals on Friday.
In a late-night sit-down with the media, UK assistant coach Orlando Antigua confirmed that the backcourt duo was trending in the right direction ahead of the team's postseason opener.
"They've been like the rest of us, day-to-day [laughs]," Antigua said. "They did practice today, so we'll get a chance to see how they're feeling tomorrow. Both went through a full practice. We'll see how they're feeling in the morning when we go to shootaround."
"If he can go, he's got to go."
Fredrick's availability isn't necessarily a surprise considering he suited up in the team's regular-season finale at Arkansas on Saturday. His status will come down to pain tolerance moving forward. As for Wallace, though, he was forced to miss the team's win in Fayetteville. He was the biggest question mark of the SEC Tournament and postseason as a whole.
The main question: Do you put him back on the floor in Nashville and risk further injury, putting his NCAA Tournament availability in jeopardy? Or is the ability to knock the rust off now more valuable?
That's an easy answer for Antigua.
"If he can go, he's got to go," he said. "You want to keep the rhythm going, you want to keep the intensity that your body has to take playing the minutes he's played. Also you want to start loosening up the ankle, the injury, whatever you have going. You don't want to wait for that."
Easing back into things
In short, you'd prefer to not throw a game-changing player like Wallace into the fire of a win-or-go-home situation with zero preparation. Letting him get his feet back under him in Nashville puts him in a better position going into the Big Dance.
"Yeah, that's a valid concern to have (having a player return in the NCAA Tournament after extended time off). It's something you've got to think about, the synergy of the team, the synergy of the player and his mentality. All of those things come into play."
Antigua fell short of confirming Wallace was officially playing Friday night. He can't completely show Kentucky's hand, so playing it coy is the right move.
But having your most valuable backcourt piece back in the lineup is infinitely more important than any game plan or scouting report, especially for a team you played just over a week ago. The Wildcats need the freshman standout healthy for a chance at a run.
The team is a significant step closer to that.