Cason Wallace didn't score until the final minute (and other bad numbers)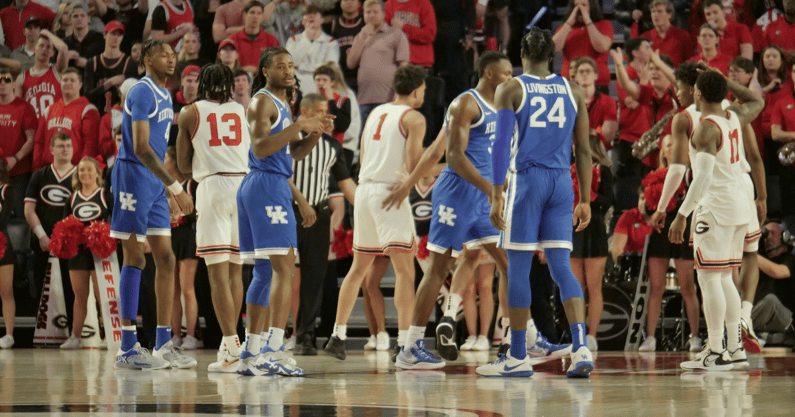 With both Sahvir Wheeler and CJ Fredrick out, Cason Wallace had a lot on his plate today in Athens. Two early fouls in the first half did not help. However, it's pretty hard to win on the road when your star freshman and third-leading scorer doesn't score until the final minute.
With 52 seconds to go and Georgia up by ten, Wallace broke free and drove the lane for a dunk, his first points of the entire game. Wallace would put back a missed Jacob Toppin three 30 seconds later, drawing a foul, and sink a free throw to finish with five points, three rebounds, six assists, a block, and a turnover in 28 minutes. He was 2-8 from the floor, 0-4 from the three-point line. That said, he was one of two Wildcats to finish in the plus in plus/minus efficiency. He was +3. Daimion Collins was +5.
Wallace's stat line is just one of many frustrating numbers from today's 75-68 loss to the Bulldogs. Here are a few before I let you look at the box score and get angry all over again.
38%: Kentucky's field-goal percentage for the game. The Cats shot 25-65 from the floor, 7-20 (35%) from the free-throw line. The former is well below the season average of 46% coming in. They started the game ice cold, going 3-16 (18.8%) from the field in the first nine minutes.
15: First-half points by Antonio Reeves. Only four other Wildcats scored in the first half (Oscar Tshiebwe, Chris Livingston, Jacob Toppin, Adou Thiero), combining for 17 points.
5: Second-half points by Reeves, who played all 40 minutes. Oscar Tshiebwe led the Cats in scoring in the second half with 14 points, but it was a far cry from his 37-point, 24-rebound takeover vs. the Bulldogs last month.
9: Turnovers by Kentucky, which led to 17 Georgia points
21: Bench points by Georgia, to only 2 for Kentucky.
32-26: Georgia's advantage in points in the paint
10: Fastbreak points by the Bulldogs. Kentucky had three.
3:44: Lead time for Kentucky
6-1: Kentucky's record in Quad 2. The loss to the Bulldogs could even slip to Quad 3 depending on the rest of the season.
Box Score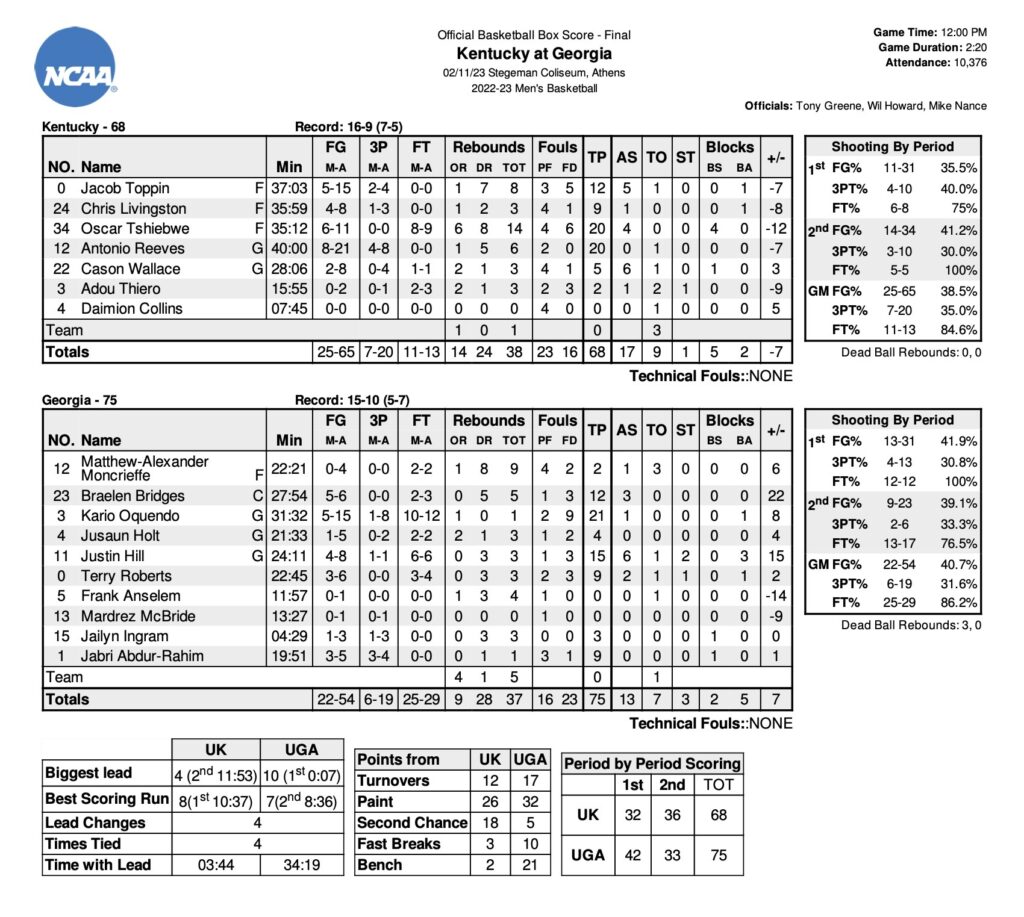 Shot Charts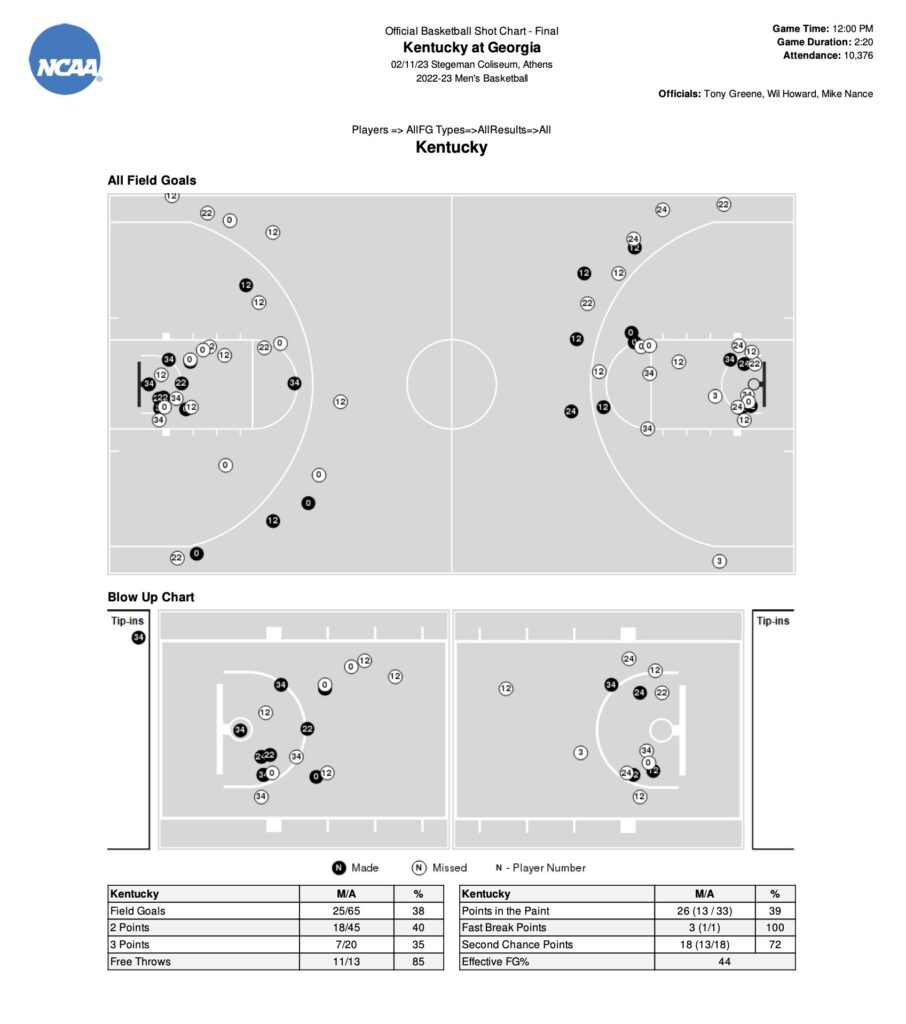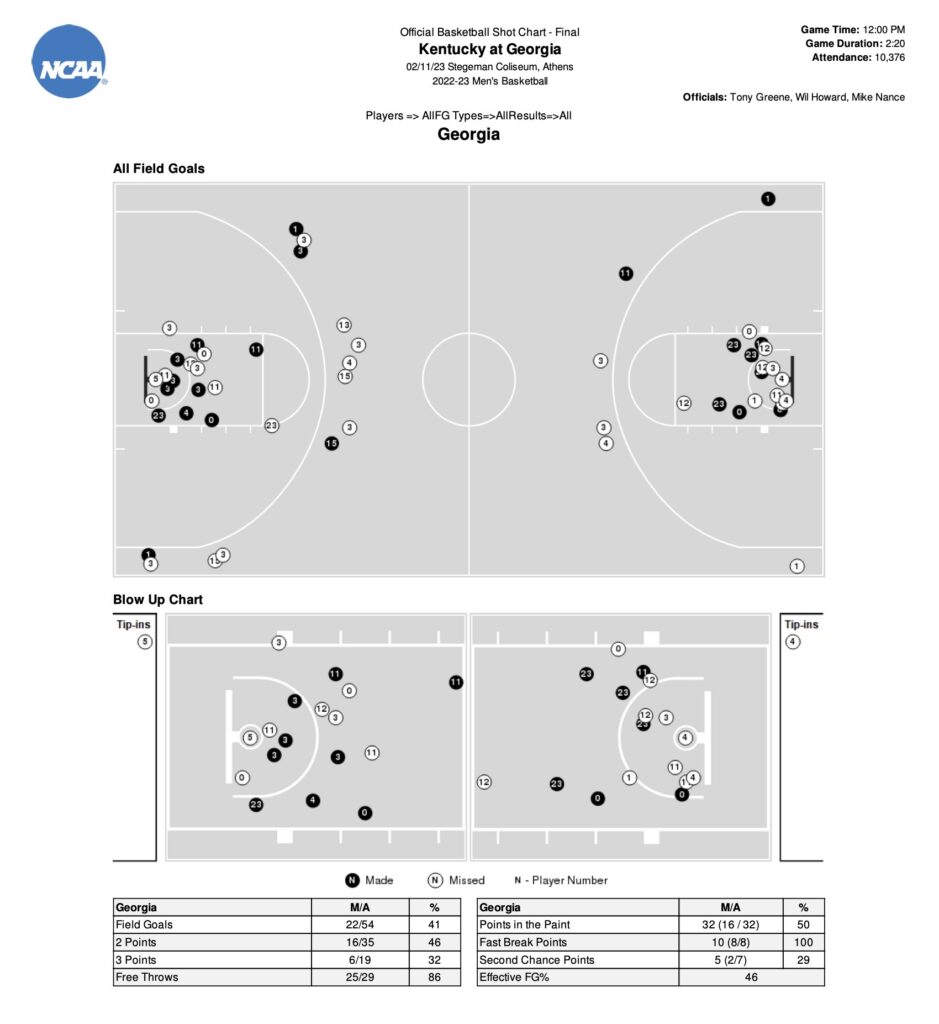 Lineups

SEC Stats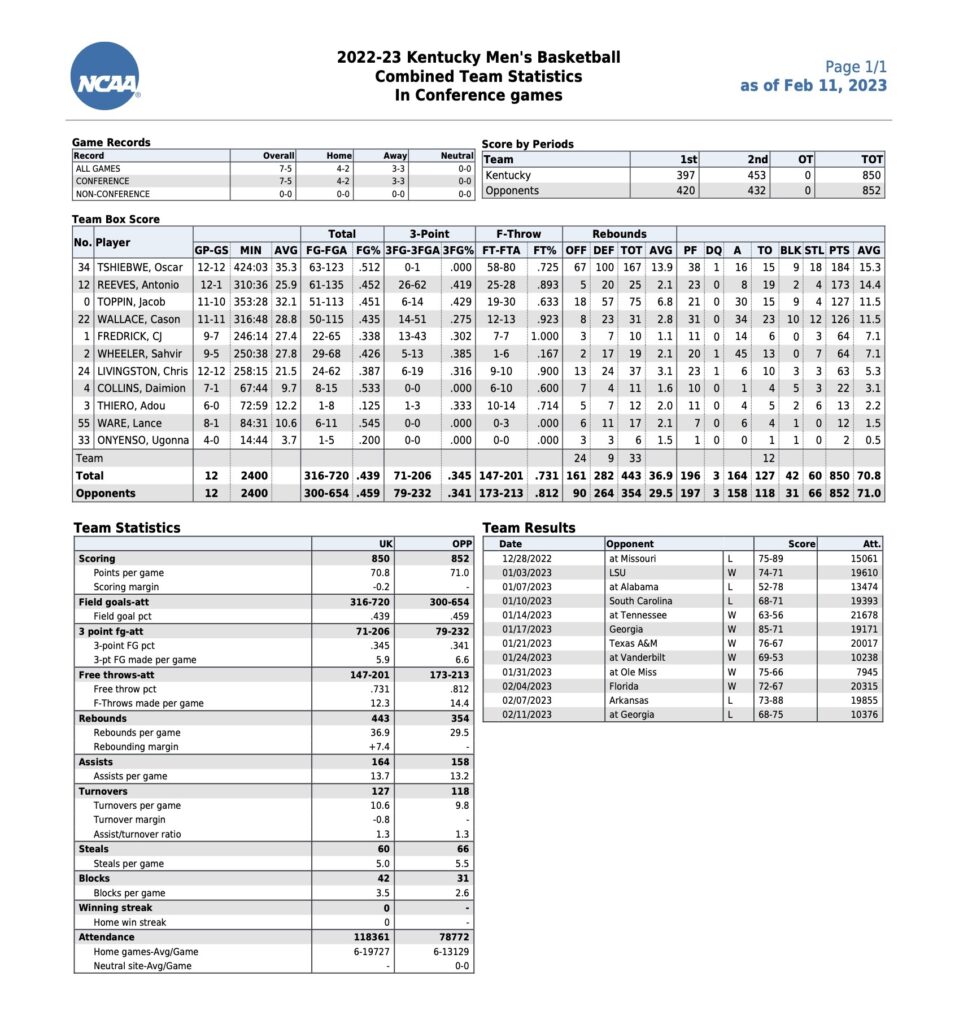 Season Stats