Cason Wallace's HS head coach, Kevin Lawson, talks UK and recruitment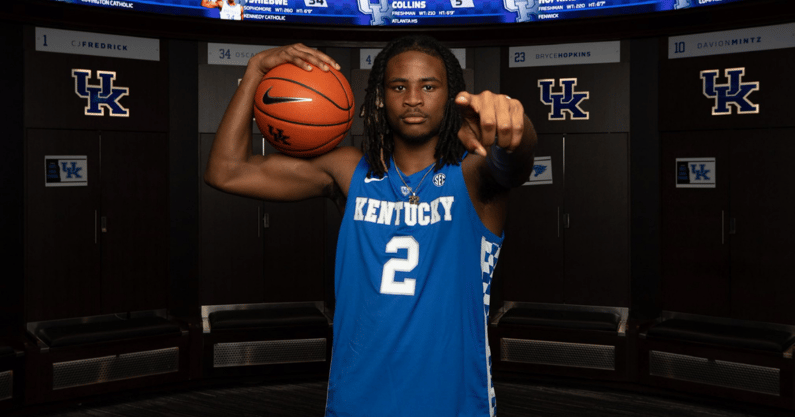 Cason Wallace released an updated version of his top four potential college choices on Wednesday, and to no one's surprise, the Kentucky Wildcats still made the cut. Tennessee and Texas were the two other constants, although the University of Texas at San Antonio (UTSA) was added into the mix.
Wallace's older brother, Keaton Wallace, played four seasons at UTSA from 2017-21, starting 110 out of 125 games played. He most recently played with the Memphis Grizzlies during the NBA Summer League.
A 6-foot-4 five-star combo guard from the class of 2022, Cason Wallace was in Lexington over the weekend for the first of three official visits spanning the next few weeks. He has trips to Texas (Sept. 4) and Tennessee (Sept. 17) coming up before he intends to make a final decision on Nov. 7, his birthday.
A senior at Richardson High School in Texas, Wallace is one of the premier two-way players in his class and a consensus top-10 prospect. His head coach at Richardson, Kevin Lawson, has had the pleasure of teaching him over the years, and he was kind enough to speak with KSR earlier this week about Wallace and his visit to UK.
"I think he really liked it," Lawson told KSR. "Kentucky can give him the best and they got the best of everything, right? So I think his family was really impressed, I think Cason was really impressed, I think that they did a great job. He walked away from that saying wow, this is really really good. But he's got a couple of other places he wants to visit. As of right now he hasn't made a decision that he's told me yet."
Texas is up next for Wallace this weekend, which offered him last August. Tennesse comes a couple of weeks later and will be his second official visit to Knoxville this summer. Kentucky actually came into the picture late, offering Wallace at the end of July after his standout performance at the Nike Peach Jam for ProSkills EYBL.
"That offer meant a lot to me. I've been looking forward to that offer for a while," Wallace told KSR in July.
Kentucky's ability to produce NBA players is not lost on Wallace, and it's what makes the school such an attractive option. He wants to be a pro. Even if John Calipari and his staff came in late, a pitch of making it to the league is always tough to turn down. Not to mention new NIL opportunities he'll be presented if he were a Wildcat.
"Everywhere is different and I think for Cason, he wants to be able to play at that ultimate next level," Lawson said. "So they have to be able to provide that–and track record and just fitting in the culture is part of it. But one thing that Kentucky has, they've got the NBA pipeline and that's important to Cason. Cason wants to win, Cason wants to get better, and Cason wants to reach his ultimate dream."
Beyond the NBA pipeline, Kentucky has another connection to Wallace that stands out. He's cousins with current Wildcat freshman Daimion Collins, who is from Atlanta, TX. Kentucky assistant coach Jai Lucas, a native of Texas and former assistant for the Longhorns, has been leading Wallace's recruitment.
"Cason also has a cousin that is at Kentucky now, Daimion Collins is his cousin, so I think that's a definite pull too," Lawson said. "Daimion is from Atlanta, Texas, and Cason's dad is from that area so there's actually some family ties to some of that stuff too. So I think that also helps with the recruiting I guess, it makes everyone feel more comfortable."
Wallace is going to take his last two visits before making the final call. He's been trending toward Kentucky since July (one Crystal Ball and three FutureCasts have been logged in favor of UK since July 24), but nothing concrete has leaked out from his camp.
"He's not going to be one to let it leak out or anything. I think they're pretty private when it comes to some of those things and I definitely respect that," Lawson said about Wallace and his family. "And backing up, I think he was really impressed with what Kentucky can do. It's not going to get much better than Kentucky and Kentucky's track record and Coach Calipari and what they do over there."
On the court, Wallace sounds like a match made in John Calipari's heaven. He can play on and off the ball. He's a bulldog on defense and a "do-it-all" man on offense. If there's a loose ball, Wallace is going to be the first one there 99 times out of 100. He has the size, length, and athleticism in the backcourt that Calipari craves. For Lawson, those attributes make Wallace a once-in-a-generation player and person.
"He's a coach's dream. And on top of all this stuff, he's a great kid. Like a great, great kid…" Lawson said. "And when he's also the best player you've ever coached and he also has a future NBA (career), whatever it is and he's the team leader, it just oozes. This kid is awesome. I would love him if he was terrible at basketball, to be honest. I would think it's a special opportunity to get to coach him even if he was bad. And that fact that he is incredible makes it just like a dream come true."
The plan right now for Wallace is to commit on Nov. 7, but Coach Lawson added he wasn't sure if Wallace would actually wait that long. With the No. 1 player in the class of 2022, Shaedon Sharpe, expected to make his decision on Sept. 7 (and Kentucky is the presumed favorite), Calipari is in a great spot to beef up his incoming group of recruits very soon.