Cats Fend Of Feisty Fightin Rebels, Get A Win They've Needed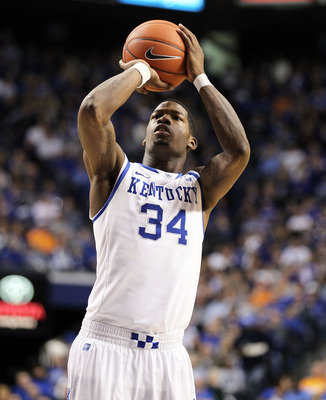 Congratulations to the boys in blue for finally putting together a game they have needed for a while, winning the revenge game by beating the Ole Miss Rebels 66-75.  There were loads of positive signs to take from the game today (and yes, a few negative ones too,) but if you could script a young teams first tournament game, I don't know that you could have asked for more.
The Good:
—The psychological effect this will have on the team is great.  In their first win-or-go-home game, they got out to a strong lead, which was great.  They gave it up, which was not.  But in the end they fought off a team they lost a close game to earlier this year, and they did it away from Rupp Arena.  They now know just how hard these teams will fight to win – there is no rolling over in the post season – and they know they can take those punches and keep swinging.  Huge win for the Cats in my opinion, and not because of the opponent but because of the style. Now just don't do it again, please.
—Darius Miller, despite picking up two fouls before I could get home from school to watch the game and sitting most of the first half, had a great game today.  Even with the foul trouble following him into the second half, where he played with four during a lot of crucial minutes, Miller was the leader for the team and along with Brandon Knight made sure Kentucky wouldn't relinquish their lead.
—Brandon also played a man's game today, despite shooting poorly the majority of it.  When it got to crunch time, Knight went anti-heat and made clutch shot after clutch shot.  There were plenty of times when it looked like Ole Miss was about to take the lead back and potentially steal one from Kentucky, and plenty of times when a young team might fold to the demons that plagued them in Oxford, but Brandon wouldn't let it happen, and between those two, we may now have our end of game players.
—Lamb and Harrellson also deserve to be in this category as they lead the team offensively for long stretches.  With Brandon shooting poorly to start and Miller on the side, the points had to come from somewhere, and they came from Lamb and Jorts.
—Deandre Liggins played a great game on Chris Warren – unfortunately Warren still managed to get 20 points.  Still, Deandre frustrated him a lot in the first half, and while he scored a team high, it came on 5-20 shooting, so big ups to 'dre.
The Bad:
—We always knew that foul trouble could spell the end for the Kentucky team, and thankfully today it did not.  The officials called a tight game, and it put a lot of our players on the bench for longer than Calipari would have liked.  Still, it allowed for Hood and Vargas to get some time and while neither played great, both had moments that had to make you smile.  Still, the team will have to play smarter in the next rounds, because you simply can't win if you aren't on the court.
—This team is still missing the killer instinct – and it may be too late to get it.  It doesn't mean that they can't do great things, it just means that most games will be like today – get up a little, let the other team creep back in, lather, rinse, repeat. Consequently, I swear to God this was the longest basketball game I have ever watched.  I spent the entire second half just praying for those Big East refs to come in and tell everyone to go home.
The Ugly:
––Terrence Jones picked up an injury.  It doesn't look to be too hampering (I mean, he played 24 minutes on it,) but you could tell it was affecting him at times.  He never really became a factor in today's game, and if Kentucky is to win this thing, they need him to be a factor.
—After the game there were apparently some heated words between Deandre Liggins and Reginald Buckner – and it nearly came to blows. So far the incident hasn't fully made it out, but most reports have Liggins jawing a bit at Bucker and telling him that they were going home, and Bucker tried to rush Liggins.  Both teams got in between the two, and nothing else really came of it.  Now, Liggins has a history with talking – but in reality he was pretty good most of the day.  But if you remember late in the second half, after Warren got called for a walk, Liggins attempted to take the ball away from him after the whistle, and apparently Old Reginald didn't like that.  From then on the trash talking ramped up.  Some believe Liggins was just frustrated that Ole Miss seemed to be slowing the game down by delaying it after every turn over, some think he was just trying to get into his head, either way I don't really see anything wrong with it, it's part of the game.  And in the end, no harm, no foul.  But the SEC's decision to have both teams leave through the same tunnel after the game was over is ridiculous. In my opinion, it is what really caused the issue to come to the forefront.  I'm told that UT and Florida entered through different tunnels, so let's hope they learned their lesson.  But of course, if more breaks on the Liggins story, we will let you know as soon as we do.
Up Next:
—Alabama and the Starchy Goodness of Anthony Grant at 1:00 PM.  Kentucky will need to shoot better if they want to make it to the finals, but all the other pieces seemed to be in place, and with one road rival down, it's time to avenge another loss.
Let's. Go. Wild. Cats.