Cats in the NFL: Welcome Back Randall Cobb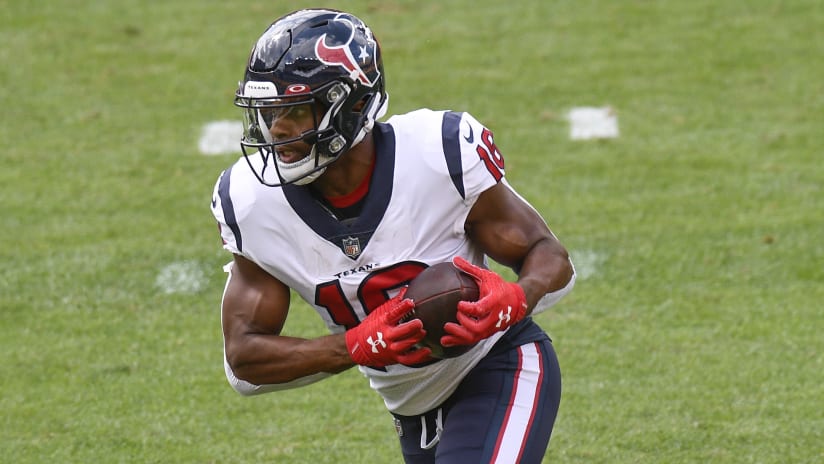 It was a lackluster first two weeks for a lot of our guys in The NFL, but in Week 3 it's looking like our Cats in the NFL are finally emerging. One of those guys? Randall Cobb. Now, it's not every day you say a ten-year vet is 'emerging', but in his third franchise in three years Randall Cobb has needed a consistent role to thrive in and it looks like he may have found that with Deshaun Watson. In Sunday's loss to Pittsburgh, Cobb hauled in four passes for 95 yards and got into the end zone for the first time this season. It was also Watson's first touchdown to a receiver on the season. https://twitter.com/BleacherReport/status/1310270338337366016?s=20 With an unreliable wide receiver room, Deshaun Watson looks like he might have his steady presence in Randall Cobb.
Mike Edwards
Well, hello Mike Edwards! After a lackluster first two weeks, in which the only impact he made was a muffed kicked in Week 1, Mike Edwards had the play of the day on Sunday. The Bucs were up 28-10 on the Broncos late in the fourth when Mike Edwards made his first career INT, in one-handed, spectacular fashion. https://twitter.com/Buccaneers/status/1310358411389874177?s=20 Not only did he get his first INT, he saw an uptick in defensive snaps. Going from zero plays on defense all year, to playing 67% of the time Tampa Bay was on defense. He also corralled three tackles and a pass deflection. Hopefully this just a glimpse of what's in store for the Badger. Have a day, Mike Edwards!
Danny Trevathan
Before we get into Danny Trevathan's performance, are the Falcons just going to be electric all year long? I mean think about it, every game they're in is a shootout, they find unconventional ways to lose games, and oh my goodness they just lost to the Bears after having a two-touchdown lead in the fourth. Don't get me wrong the Bears aren't the worst team in the world, but after three weeks at 3-0, they're looking a little
fraudulent. 
Their opponents have a combined record of 1-8, the offense is still inconsistent, and the defense is looking a little rough. One of those problems on defense, unfortunately, is Danny Trevathan. Bears twitter is like clockwork every week when it comes to Danny Trevathan. He's lost a step, he's out of his prime, etc. Sadly enough, that appears to be the case as he's struggled all year. He was able to corral five tackles on Sunday and got more playing time, but Danny Trevathan's time in Chicago might be up after this season.
Za'Darius Smith
Keeping things up north, Za'Darius Smith and the Packers look really good. Like, the clear-cut best team in the NFC good. It was a colossal offensive showdown in the Superdome on Sunday Night. Aaron Rodgers and Arron Jones, facing off against Drew Brees and Alvin Kamara and it lived up to every single bit of the hype. The Packers would walk out of the Superdome with a 37-30 victory to improve to 3-0, but one of the most crucial plays of the game from Za'Darius Smith. 12 minutes to go in the fourth, tied at 27, and the Saints driving, Big Z punched the ball away from Taysom Hill to give the ball back over to Aaron Rodgers. https://twitter.com/thecheckdown/status/1310414849311006722?s=20 Not only was the fumble great, so was the soul train celebration and Za'Darius Smith's new facemask. https://twitter.com/thecheckdown/status/1310418976401309696?s=20 https://twitter.com/HoggNFL/status/1310738055435816967?s=20 He finishes with two tackles in the victory. Roll out the barrel!!
Josh Allen
Week 3 action kicked off this past Thursday when Kentucky's two highest picks in the last two drafts faced-off on Thursday Night Football. Josh Allen and the Jacksonville Jaguars fell to Lynn Bowden and the Miami Dolphins, 31-13. Fitzmagic was the man under center against Jacksonville on Thursday night, seemingly picking apart the Jaguars defense, but Josh Allen did get his first sack of the year along with two tackles for loss. https://twitter.com/LaurieFitzptrck/status/1309322813636055041?s=20
Lynn Bowden
Lynn did not see the field on Thursday Night Football. The waiting game for Lynn Bowden's impact on the NFL carries into another week.
Logan Stenberg
The same is true for Kentucky's other 2020 NFL draft pick, Logan Stenberg. The Lions pick up their first win for the first time in 12 games, but it was without Stenberg who hasn't made his appearance on the Detroit O-line yet.
Avery Williamson
Boy, the Jets look rough. It is a real possibility this team goes 0-16 under Adam Gase. However, one positive takeaway from New York is the fact that Avery Williamson was back in full force on Sunday. He made his return last week against the 49ers, but it was in a very limited capacity. This week, Williamson got back to his normal role, playing on 95% of the Jets defensive snaps. He was all over the field combining for nine tackles in the 31-7 loss to the Colts. Someone get Williamson out of New York, please.
Corey Peters
The good times in the desert hit a bump in the road on Sunday in the Cardinals upset loss to the Lions. However, Corey Peters did get home for a sack. https://twitter.com/CardsGlendale/status/1310351006119542784?s=20 Despite the sack, Peters didn't seem too pleased with the performance he and the Cardinals had on defense. He blames inconsistency and not taking advantage of being opportunities for the loss. https://twitter.com/Cardschatter/status/1310369875492184066?s=20
Lonnie Johnson
Lonnie Johnson moved around from CB to safety on Sunday, where he had two tackles. https://twitter.com/AaronWilson_NFL/status/1310620220424421377?s=20 Now, Bill O'Brien said he liked Johnson at safety, but now the Texans are working out pro-bowler Earl Thomas at safety. So it is yet to be determined if Johnson will have a long stint at safety, but he's proven his versatility at the next level. Earl Thomas, or not, there is a place for Lonnie Johnson on that Texans defense.
Bud Dupree
Bud Dupree continues to have a monster season in Pittsburgh. On Sunday's victory against the Texans, he corralled two tackles and was able to get two hits on the allusive Deshaun Watson in the process. The Steelers look like serious contenders in the AFC this season. The verdict is still out on the Ravens, and the Chiefs are just world-beaters, but off to a 3-0 start and arguably the best defense in the league, it should be a deep run in the Steel City in 2020.
Benny Snell
I'm just going to have to take my lumps with the Benny Snell prediction for 2020. It was another slow week for Snell, getting 11 yards on just seven carries, he was almost a non-factor on Sunday. I'm still hopeful that he'll get the volume to succeed, sooner rather than later.