Cats Roll Up 62, Give up 42 for a 20 Point Win
If a hypothetical book was written about Saturday's game it would be titled,
"A Tale of Two Halves"
or even more descriptive,
"A Tale of Two Sides of the Football."
Here are some interesting numbers for your Sunday entertainment: -- Stephen Johnson replaced Drew Barker following an interception and 1
st
quarter injury. The backup quarterback completed
17 passes for 310 yards, 0 INT, and 3 touchdowns.
In addition, he carried the football
10 times for 51 yards
while competently executing the Run/Pass/Option scheme. -- True freshman Benny Snell Jr had himself a game. I made the comment on the broadcast, "I don't think I could love a player more than I love Benny Snell." Somewhat dramatic, but hey I was excited. His welcome to college football day included
17 carries, 137 yards and 4 touchdowns
. Snell is a throwback, old school football player.
Tough, determined, physical, and intense are appropriate descriptions for the rookie that resembled a Jerry Claiborne era running back.
For the younger crowd, that's the highest possible compliment that I can bestow upon a UK RB. -- Boom Williams averaged 10.4 yards per carry by rushing
18 times for 188 yards and 1 touchdown.
The preseason All-SEC RB managed 25 rushes for 165 yards against Southern Miss and Florida. -- TE CJ Conrad emerged from the abyss to
catch 5 passes for 133 yards and 3 touchdowns.
The BBN has clamored for TEs to be incorporated into the offensive game plan on blogs, message boards, social media, and on the air waves. Greg Hart also had two grabs and was a physical line-of-scrimmage blocker. -- Punt returner Charles Walker broke a longtime drought by racing 65 yards through the NMSU punt team for a touchdown.
Walker's return score was UK's first since Randall Cobb's September 11, 2010 scamper for 6.
Oh by the way, I called that if you haven't heard.
Humble brag? Yep and a shot at my not-so compassionate KSR Football Podcast pals that wouldn't stop with the pregame traffic and elevator jokes. I took the stairs by the way. -- True freshman punter Grant McKinniss averaged 47.5 yards per punt. That's almost 8 more yards than UK averaged a year ago. -- The Cats averaged 49 offensive plays–279 yards per game in its first two contests. The Johnson-ran offense produced
75 plays and 692 total
offensive yards. 9.2
yards per play
is an impressive number regardless of opponent. -- Kentucky averaged 94 rushing yards per game against USM and Florida.
Boom Williams, Bennie Snell Jr. and crew racked up 381 off 51 carries for an average of 7.47 yards per rush.
-- Time of possession average was 21:01 per game. Kentucky controlled the line of scrimmage and clock by utilizing
34:12 on Saturday.
-- The Cats had been outscored 35-0 in the third quarter. It scored 14 and allowed 7. Sunshine pumping? Maybe.
I am fully aware that complimenting the Kentucky Football program is not exactly in vogue.
But considerable team and individual improvements must be pointed out. A wise mentor once told me, "If you're willing to critique you must be willing to praise." New Mexico State is not South Carolina, it's certainly not Alabama or Louisville. But improvements are just that: progress. [caption id="" align="alignnone" width="1920"]
PHOTO BY NMSTATESPORTS.COM
[/caption]
Now for the not-so-good numbers (Defense):
-- New Mexico State averaged 27 points and 326 yards of total offense per game against New Mexico and UTEP. The Aggies lit up the scoreboard and the Wildcat defense for 35 first half points; 42 for the game.
NMSU also had 500 yards of total offense.
No sugarcoating this: 
immediate and detailed defensive improvements are mandatory.
-- NMSU averaged 120 yards on the ground.
223 vs. UK
. -- QB Tyler Rogers accounted for 75.7% of Aggie offense in weeks 1 and 2. He was 16-33 for 246 yards and 2 TD's against UK. Rogers also gained 74 yards on the ground to go along with 2 rushing touchdowns while accounting
for 64% of all NMSU offensive yards.
He did throw his first two interceptions of the season. The Wildcats have serious and obvious decencies along the defensive line. NTs Naquez Pringle and Adrian Middleton played the majority of snaps as Matt Elam was utilized situationally. True freshman defensive end TJ Carter showed flashes, as did DT Tymere Dubose who played in his first sustained game action. Defensive ends Courtney Miggins and Alvonte Bell lost edge containment early, but played more fundamentally sound in the second half. Miggins batted down two of Tyler Rogers' passes in the Aggie's last offensive drive. UK DL has not registered a QB sack in 2016. Linebackers are UK's most active defenders as Denzil Ware, Josh Allen, Courtney Love, and Jordan Jones have compiled a high number of tackles and accounted for all 5 of the team's QB sacks. However,
this group continues to struggle in zone pass coverage. This is an urgent matter in need of immediate correction
. In addition to pass defense liabilities, middle linebackers must increase their competence against interior runs. I'm referencing the inability to maintain rush-lane responsibility while facing cut-back runs during zone-stretch–read plays. Overall, inside linebacker play has to progress. The secondary is more than capable when in man-to-man coverage. But as mentioned earlier,
zone pass defense has been troublesome
. There are many reasons for this. A lack of a defensive line pass rush, linebackers failing to reach their intended zone responsibility areas, and communication breakdowns have all plagued. All these issues are correctable. Rectification has to be done in a hurry and before the Gamecocks come to town. [caption id="" align="alignnone" width="1910"]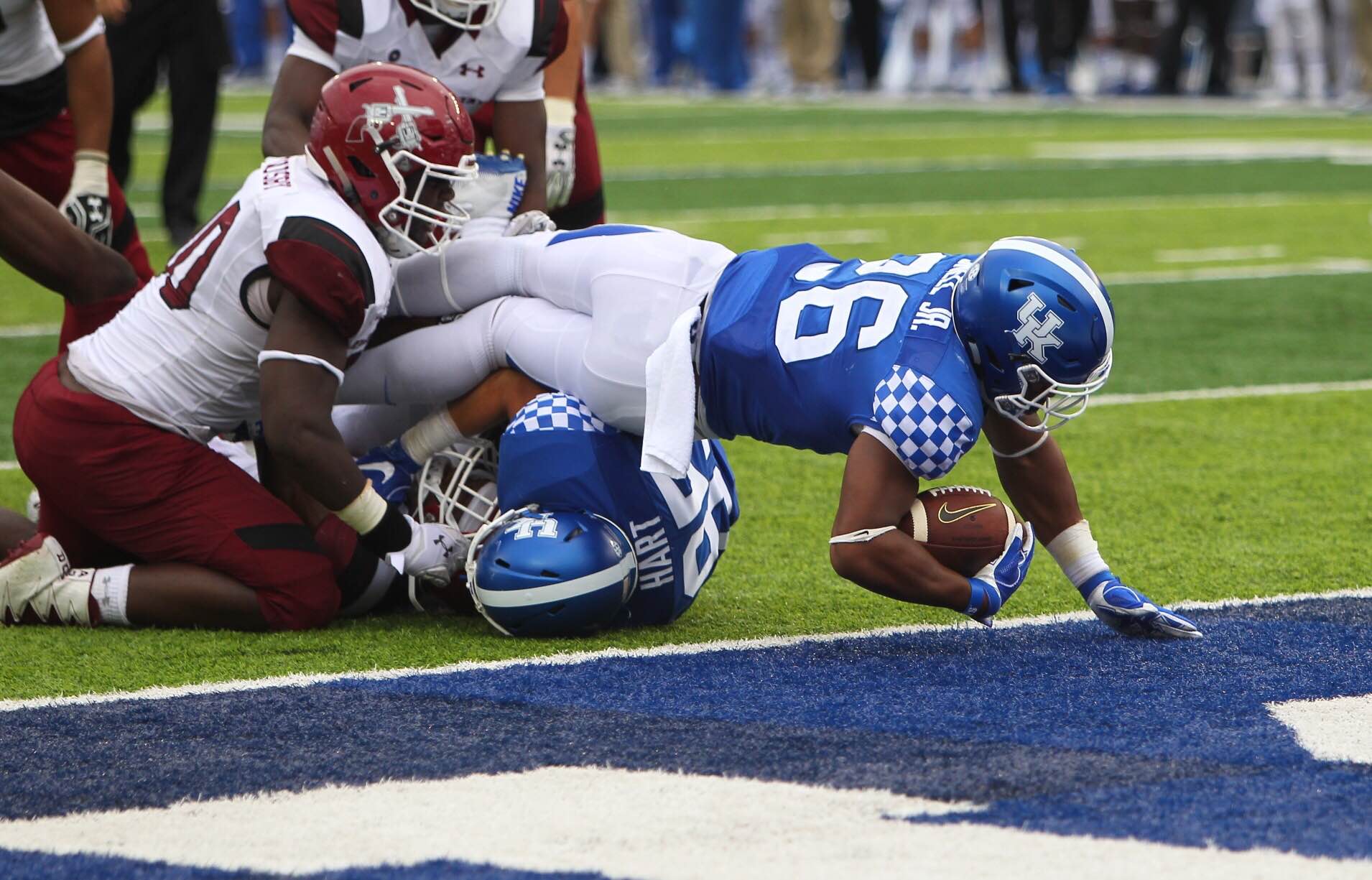 Photo by UK Athletics
[/caption]
What does all this mean?
Eddie Gran's game plan and play calling would have been universally praised if it wasn't for an overabundance of defensive inadequacies. Gran dialed up a pretty football game while using several rookies in the lineup. RB Benny Snell is the obvious name; but also contributing at a high level were: LG Logan Stenberg, WR Jabari Greenwood, RG Bunchie Stallings, TE Greg Hart, QB Stephen Johnson, and LT Landon Young. Stephen Johnson was an offensive spark. True, it was against a non-conference opponent but his performance displayed developmental results at the quarterback position. QB coach Darin Hinshaw should be commended. Johnson should be applauded for staying focused in his preparation while in a reserve role. Sustaining a high level of play will be a challenge. Unequivocally Johnson passed his first test. Back to defensive distresses.
They were plentiful and repeatedly pointed out by every writer, analyst, Twitter types, and most other folks.
Truth is the first half was ugly, very-very ugly. Third and fourth quarters weren't handsome, but not atrocious. The Cats made adjustments and allowed just one touchdown in the second half after giving up 5 in the first 30 minutes.
Could this be a building block? I'm not sure and wouldn't go that far yet. Far too many issues that need to
be cleaned and coached up.
But it was abundantly clear that the defense played at a higher level when it manufactured momentum. It's now time to move forward to South Carolina. Kentucky currently owns a two-game winning streak in the series. During the two-game stretch, UK has claimed a more talented roster than its impending visitors. Can it sustain Saturday's offensive momentum? Will the defense gain confidence in an improved second half showing? Will the streak extend to three games? We'll see soon enough.