CBS Sports ranks Kentucky MBB No. 13 heading into 2021-22 season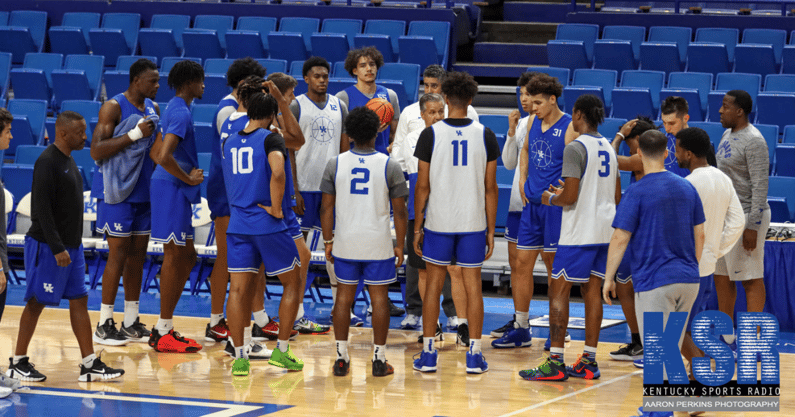 The lasting effects of a 9-16 season are playing into where the national media projects the Kentucky Wildcats ahead of 2021-22. Last year was a failure by nearly all accounts on the floor, but head coach John Calipari has reloaded with veteran transfers, freshmen with NBA potential, and enough returnees to create a roster unlike anything he's ever had in Lexington.
That being said, there is a reason for caution considering what went down a season ago. But COVID-19 protocols are far less strict than they were, the talent is much improved on paper, and the 'Cats rarely have poor back-to-back seasons, especially with Calipari at the helm. If you ask Jeff Borzello of ESPN, he'd tell you that Kentucky is worthy of a top-10 preseason ranking.
But even still, the numbers "9" and "16" hang over the program like a storm cloud. And it's the main reason that Matt Norlander over at CBS Sports elected to leave UK out of his top-10, plopping the 'Cats at No. 13.
Here's what Norlander had to say about Kentucky:
13. Kentucky: I resisted going top-10 on UK only because it's hard to totally shake a 9-16 season that ended six months ago. That said, 66% of the Wildcats' mended roster has at least three years of college experience. Its 12 scholarship players with at least a year of D-I hoop to their name collectively average 436 points per guy for their career. That adds up to more than 13,300 minutes played. There's just three freshmen on this team. Wait, we're talking Kentucky, right? What the hell's going on?! John Calipari didn't outthink himself, that's what. He retooled and probably built at No. 5 seed at worst in the process. (With a No. 2 seed ceiling.) I don't have enough space to list every Kentucky player of impact, but I'll give you three I like for different reasons: 1) Davion Mintz's decision to return for a super-senior season will round out a perimeter attack that temporarily stalls the graying of Calipari's hair and pulls UK into the modern era 2) Oscar Tshiebwe dodged having another high-profile big with similar skills come and eat into his role, which will allow Tshiebwe to feast similar to how he did as a freshman at WVU 3) Keion Brooks Jr. is going to be the guy who thrives in any lineup and unlocks UK's offensive potential. 

Matt Norlander, CBS Sports
Norlander gives plenty of reason to believe in Kentucky (even projecting a 2-seed ceiling), he's just a tad hesitant to bump UK up too high after what happened in 2020-21.
CBS Sports actually ranked all 358 Divison I programs heading into the 2021-22 season. I won't list every single one of them because I care about you all and you're well-being, but I will drop Norlander's top-35 below.
Gonzaga
Purdue
Villanova
Kansas
Michigan
UCLA
Illinois
Memphis
Alabama
Texas
Houston
Oregon
Kentucky
Baylor
Duke
Tennessee
Arkansas
Ohio State
St. Bonaventure
North Carolina
USC
Maryland
Indiana
Florida State
Xavier
Oklahoma State
Virginia
Loyola Chicago
Arizona
Louisville
Auburn
Colorado State
UConn
Michigan State
Florida