Cease and Desist: Texas Tech's Grove Street Party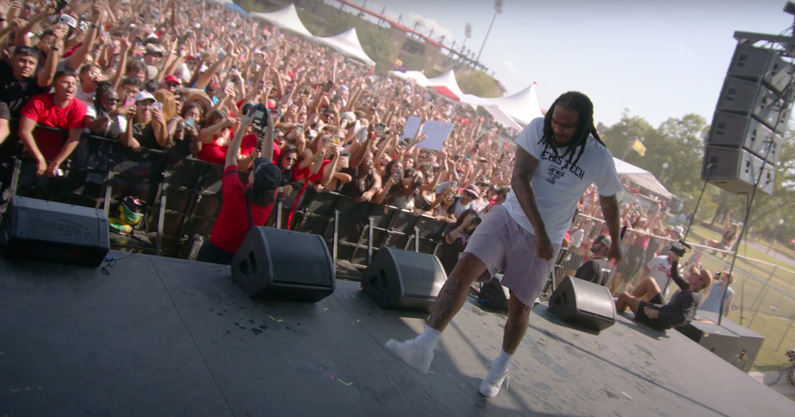 South Carolina Week brings back fond Kentucky Football memories of the 2014 game in Lexington when everything changed in the rivalry. The lights were on in Krog Commonwealth Stadium and Kentucky dressed in all black for the sixth time ever, seeking a win against the Gamecocks for only the second time in fifteen years.
You remember. JoJo Kemp was a warrior that night, only to be outshined by Bud Dupree's game-winning pick-6 with two minutes to go. Dupree's score was Kentucky's third unanswered touchdown in the fourth quarter and it erased a 14-point deficit to give the Wildcats the final lead in the game.
Even more exciting, a tradition was born when Commonwealth became a Grove Street Party.
A song by Waka Flocka Flame, "Grove Street Party" has since been the anthem for Kentucky Football. You can't walk into a Kentucky game without hearing it played throughout the parking lot, and the stadium's in-house DJ knows to play it to get fans out of their seats in big moments.
For seven years now Kentucky Football and Waka Flocka have been linked through "a whole lotta money" and "counting it for me," and it is this particular week when it hits the hardest.
However.
I regret to inform you Kentucky might've lost the Grove Street throne to a Big 12 school over the weekend.
Cease and desist, Texas Tech
Last Saturday, Texas Tech hosted Waka Flocka Flame for a pre-game concert outside the Red Raiders' football stadium for tailgating students. He performed Grove Street Party—our Grove Street Party—for a sea of red on game day. Wearing a Texas Tech t-shirt, Flocka stepped in their club, rolling on that loud; and it was a party, it was a party, it was a party in Lubbock.
Admittedly, it looked awesome.
But it's wrong.
It's like seeing Ashley Judd in Minnesota Basketball's student section or Fran McCaffery walking out with Drake at Iowa's version of Midnight Madness. Does Texas Tech play a coal mine whistle on third downs too? Maybe they can fly Marlana VanHoose out for the national anthem next week or sing My Old Kentucky Home.
Grove Street Party is a Kentucky Football thing and we came by it honestly and organically; a natural reaction during a defining moment in the current state of Mark Stoops' program. BBN can't get shown up like this by a dying conference.
The way I see it, Kentucky has to either (a) schedule Texas Tech in a winner-keeps-Grove Street non-conference game next season; or (b) one-up the Red Raiders by parachuting Waka Flocka into Kroger Field from a Kentucky Air National Guard aircraft to deliver the game ball and perform Grove Street Party at midfield as Kentucky runs through the tunnel before the Florida game next week.
Or at the very least, Texas Tech needs to cease and desist and find its own song. Those bad hoes jocking.