Celebrate the Tenth Anniversary of John Calipari's Introductory Press Conference
John Calipari has completed one decade as the Kentucky men's head basketball coach. The day after his tenth season ended marks the tenth anniversary of his introduction to the Big Blue Nation. The University of Kentucky celebrated by
completing a contract
that will keep him in Lexington for the rest of his life.  Over the last ten years, Coach Cal has exceeded his peers in almost every single statistic.
7 Elite Eights
4 Final Fours
1 National Championship
35 NBA Draft selections
$1.5 billion in NBA contracts
305 wins, second only to Adolph Rupp
31-8 in the NCAA Tournament, the most tournament wins in UK history
Calipari has five 30-win seasons in ten years. No team has won as many games, been to as many Elite Eights or Final Fours since he took the job for the 2009-10 season. If you are a visual learner, this clearly illustrates Calipari's success: [caption id="" align="alignnone" width="1200"]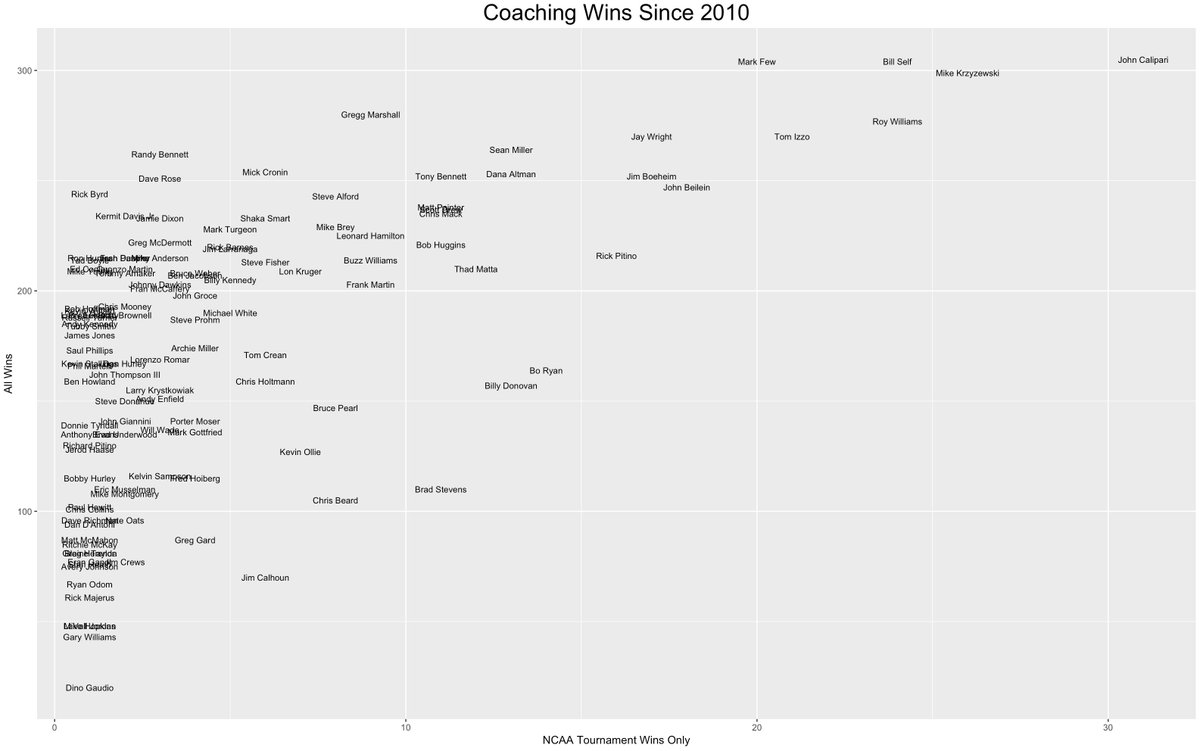 @hoopvision68
[/caption]   [caption id="" align="alignnone" width="1200"]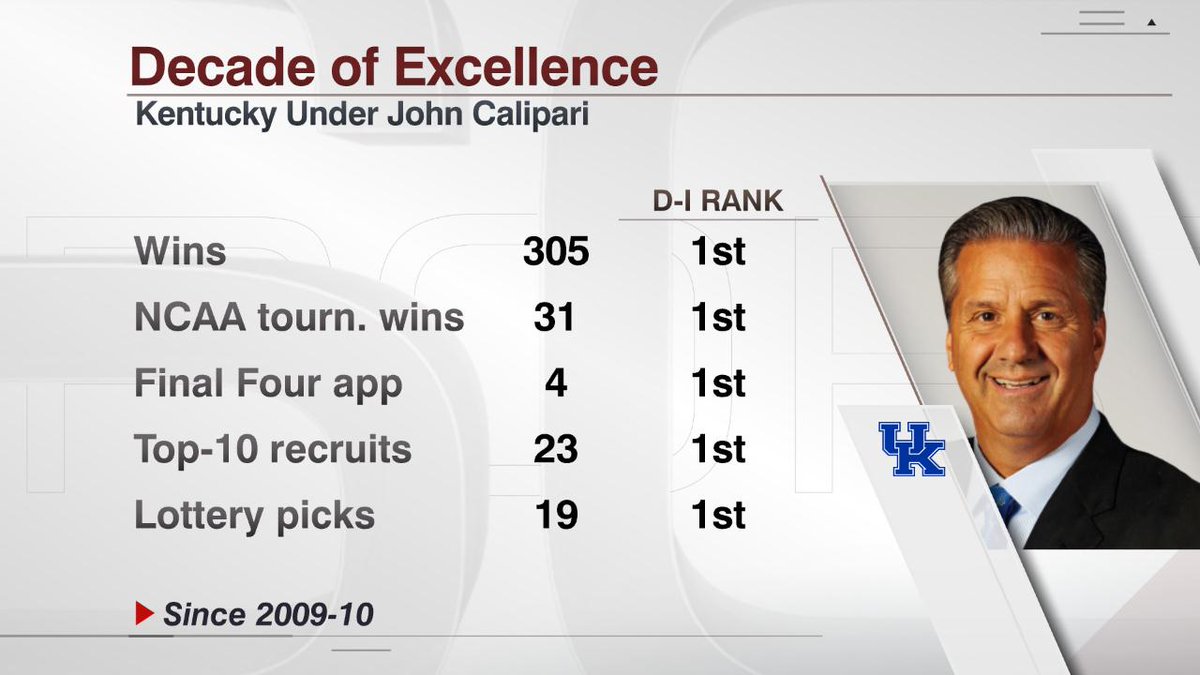 @ESPNStatsInfo
[/caption] You could be swept up in nostalgia by picking any number of great UK basketball moments over the last ten years to relive. Instead, let's go back to where it all started at the Joe Craft Center. Matt Jones' haircut was a bit different in 2009. https://www.youtube.com/watch?v=ytB5lgwVBGE KSR operations were a bit smaller ten years ago. If you visit the site's posts from
April 1, 2009
, you'll find
Thomas Beisner's celebration
of "The Door,"
Chris Tomlin's proclamation
for the new king of the Big Blue Nation, the news of KC Ross-Miller's de-commitment and the "ubiquitous sense of glee" Matt Jones experienced at Calipari's introductory press conference. Below you'll find Matt's report from the day that changed Kentucky basketball forever.
---
Two years ago I walked into the Craft center on a day not dissimilar today to see the
unveiling of a new basketball coach.
That day, like today, there was a sense of excitement in the room and the place was filled with all of the local media, some national folks, nearly every member of the Board of Trustees and most of the top boosters in the program. Both times a new coach was announced and a sense of optimism was in the air. However there was something unique to this situation today that made it even more special. Whereas last time many wondered who the coach they were meeting truly was, this time there was a
ubiquitous sense of glee from the get-go
. When word of a "signed contract" hit, the room erupted in applause with the sense that a new era in Kentucky basketball was beginning….but not one with question marks, but rather one with almost a certain inevitability of success. It was a great day. Some notes from the affair…. — There were a a number of
former players who made an appearance
at the announcement. Scott Padgett, Kenny WAlker, Richie Farmer, Jay Shidler and Bobby Perry were all on hand and were universal in their praise of the new hire. — Lots of praise for
Mike Pratt
who played the role of "caretaker of UK basketball" on the search committee. He deserves a great deal of praise. — It was very interesting to me to hear Mitch Barnhart and John Calipari focus on
the experience of the player
in their handling of the program. While no references were made to the past regime, it is almost certainly hte case that this was intentional. — Calipari also played up the
recruitment of former playes back to the family
, words that were music to the collective ears of the crowd. When you drop the names Dan Issel, Tayshaun Prince and Kyle Macy, you signal that you want to become part of the tradition and embrace it past and present. That is what UK hasnt had and needs. — Not many players were in attendance due to class and the only current guys were
Jared Carter Matt Schnerbenske and Landon Slone
. Last time the full team was present and I would have liked to see that tonight. Some news from the post-press conference:
(1)
: We now know for certain that
Josh Pastner will be one of Cal's assistants
. Pastner played for the Arizona team that beat UK in the title game and is widely considered one of the best recruiters in the land. He will make an immediate impact.
(2)
: Scholarship issues are still a question….
and we will see how they play out in coming days
. As I wrote earlier, the only players that I hear are completely safe are Patterson, Meeks, Miller, Harris and Stevenson. Everything else is up in the air….including for the walk-ons.
(3)
:
KC Ross-Miller reopened his recruitment
after a conversation with the new Coach. I expect to hear this story repeated over the next few days, potentially with the Kentucky kids, the 8th grader and maybe even, GJ Vilarino.
(4)
: At the McDonalds game, legendary recruiting follower
Bob Gibbons reported that John Wall is leaning UK and will make a decision next week.
Of all the guys left, the most immediate importance for next year's success is Wall, due to his PG position. That is the story to follow going forward.
(5)
: There are some reports that
Xavier Henry may make a decision on Thursday.
If that is true, one would likely assume that Kansas would be the frontrunner since he has not visited UK…..but with this, you never really know. We will have more all day, but I hope everyone enjoyed what a great day today actually was. There is an excitment around these parts the likes of which we havent seen in some time. I personally cant wait to follow it. Tomorrow, we will have more reactions and some insight into how Calipari was actually selected and what the conversations between the two sides actually were. Should be exciting, stay tuned………. [mobile_ad]