Championship Weekend Roundup: Who owns each conference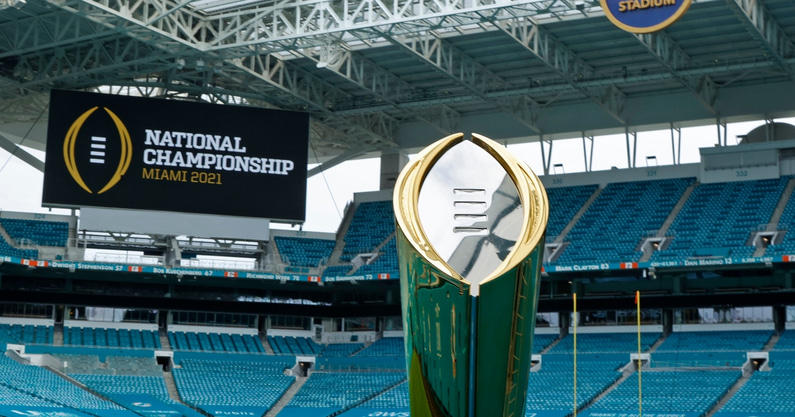 The end of the 2021 college football season is coming fast — and it's getting wild. Teams have officially claimed their conference titles now after a dramatic day yesterday, so let's see who came out on top.
No. 2 Michigan v. No. 13 Iowa
Michigan might be back. Last night, they won their first Big Ten title since 2004 in a 42-3 rout of No. 13 Iowa. It was the first for head coach Jim Harbaugh. conference
The Wolverines dominated in every sense of the word. They started with two long back-to-back touchdowns, giving them a quick 14-0 lead in the first quarter. Wolverine quarterback Cade McNamara threw for 169 yards and one touchdown, but the game's longest pass came from running back Donovan Edwards. He found Roman Wilson for a 75-yard touchdown in the first quarter. conference
The Hawkeyes managed to get some points on the board with a field goal to close the first half, but would not add any more. It was all Wolverines all second half. They held the Hawkeyes to only 158 yards in the final three quarters, while also forcing two turnovers.
The win locked up the Wolverines' spot in the College Football Playoffs, where they will start by playing No. 2 seed Georgia on December 31. It is their first playoff berth in school history.
No. 9 Baylor v. No. 5 Oklahoma State
This one was a little closer than the Michigan smackdown. But in the end, it was the Baylor Bears who took home the Big 12 Championship trophy with a 21-16 win over No. 5 Oklahoma State. It is their first conference championship since 2014.
It was all Baylor in the first half. The Bears had a solid 21-6 lead at halftime, but couldn't keep the momentum going in the second. A failed fourth-down conversion in the third quarter allowed Cowboy running back Dominic Jackson to find the end zone, cutting the lead to one score. The Baylor defense stood tough, though. They forced the Cowboys to settle for field goals on three separate occasions.
Oklahoma State had several other self-inflicted problems as well. Cowboy quarterback Spencer Sanders threw for 257 yards but was also intercepted four times throughout the game. Backup quarterback Blake Shapen started for the Bears. He set a Big 12 title game record with 17 consecutive completed passes to start the game. He ended with 180 yards on 23 completions, as well as three touchdowns.
Oklahoma State managed to get to the Baylor 2-yard line with 1:19 remaining after a 17-play, 89-yard drive. The Bears defense was not having it, though. They stopped the Cowboys four consecutive times to win the game, including this crazy close stop on fourth down from Baylor safety Jairon McVea.
No. 15 Pittsburgh v. No. 16 Wake Forest
The Pittsburgh Panthers will end this year's season atop the ACC after a 45-21 win over Wake Forest in Charlotte last night.
Panther quarterback Kenny Pickett was crucial for his team. He completed 20 of 33 passes throughout the game, accounting for two touchdowns in the air and one on the ground. It was junior defensive back Erick Hallett, though, who proved to be the star of the game. Hallett, who was chosen to be MVP after the game, returned an interception in the fourth quarter to assure his team's win.
Wake Forest stayed competitive early. The Demon Deacons scored three touchdowns in the first quarter and were down only a field goal at halftime. The Pittsburgh defense must have figured it out during the half, though. They held Wake Forest scoreless for their last 13 drives and sacked quarterback Sam Hartman five times.
Prior to last night's game, the Clemson Tigers pretty much owned the ACC title game. The Tigers appeared in the last six title games, winning five of them before going on to compete in the playoffs. Last night was the Panthers' first ACC title in program history.
No. 10 Oregon v. No. 17 Utah
The Utah Utes will head to their first Rose Bowl in program history after a 38-10 win over Oregon on Friday night to claim the Pac-12 championship.
Utah started fast and didn't let up. They scored on their opening drive to take a quick lead. Junior linebacker Devin Lloyd found the end zone next after he intercepted Oregon QB Anthony Brown to give the Utes a 14-0 lead. Utah had a commanding 23-0 lead heading into the locker room at the half.
Utah quarterback Cameron Rising threw interceptions on back-to-back possessions in the second quarter but was able to settle down after that. Oregon finally put some points on the board right after halftime with a 42-yard field goal from Camden Lewis, making it 23-3. The Utes weren't stopping any time soon, though.
It was an emotional one for the Utes. This past year, two Utah players, Ty Jordan and Aaron Lowe, died within just months of each other. After the game, junior linebacker Devin Lloyd said that even though they weren't physically there, they were in spirit. "I also believe that they were there guiding us throughout the whole season," Lloyd said.
No. 1 Georgia v. No. 3 Alabama
The University of Alabama football team is not used to being an underdog. Last night though, they were — and it looks like they took offense to it. Despite a mid-season blemish on their record, the Tide still rule the SEC after beating No. 1 Georgia 41-24.
As usual, Bryce Young was a vital part of the Tide effort. Not even the Bulldogs, who boast the nation's top-rated defense, could stop Young's attack. He completed 26 of 44 passes for 421 yards and three touchdowns in the air, as well as one on his feet. Prior to last night's game, the Bulldog defense was allowing just 6.9 points per game. conference
Georgia's Stetson Bennett couldn't find quite the same groove. Bennett threw for 340 yards and three touchdowns but also gave up two critical interceptions. One of them led to a 42-yard touchdown from Jordan Battle.
Unfortunately, the game wasn't all great news for Tide fans. Their top receiver, John Metchie, exited the game just before halftime due to a knee injury. Since then, Nick Saban said that Metchie is "probably gonna be out" for the short remainder of the season. Prior to his injury, Metchie had already racked up 97 yards and a touchdown. conference