Chance Poore announces return to Kentucky football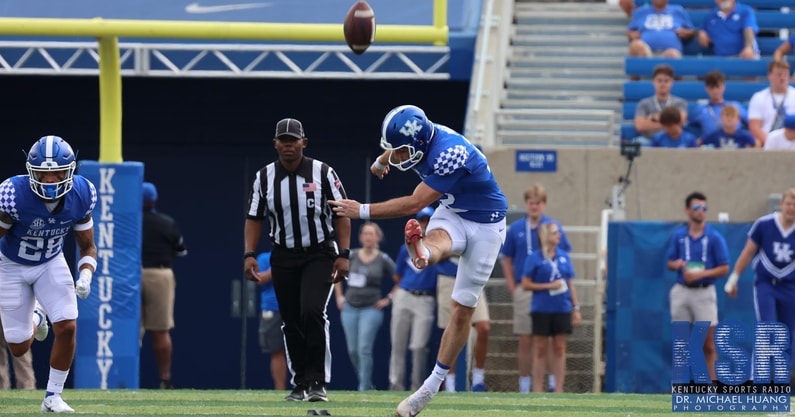 Kentucky kicker Chance Poore is returning to Lexington for a sixth and final year of eligibility.
The kickoff specialist announced his return on Wednesday, adding that he had "unfinished business" to take care of as a Wildcat.
"The University of Kentucky football program has provided me with an opportunity to do what I love every day," Poore said. "I am grateful for the coaches and teammates | have had the chance to work with along the way. I wouldn't be where I am today without the support I've received from my family and friends.
"With that being said, I believe there is still unfinished business to handle. I would like to officially announce that I will be returning for my final year of eligibility. Along with pursuing my master's degree, I am ready to get back to work and do my part for this team."
The Anderson, S.C. native took over kickoff duties the past two seasons, suiting up in all 26 games. He also was the team's holder on field goals and PATs during that span.
Poore kicked field goals for the Wildcats — albeit sparingly — his first three seasons in Lexington. The 6-foot-2, 221-pound specialist hit two of four attempts as a true freshman in 2018 (2-3 between 30-39 yards, 0-1 from 50+), then converted five of nine attempts as a redshirt freshman in 2019 (4-6 between 40-49 yards, 1-2 from 30-39). He then kicked just one field goal (20-29 yards) to go with five extra points as a redshirt sophomore in 2020.
Out of high school, Poore was rated as the No. 1 kicker/punter in the nation by ProKicker.com. He was named South Carolina 5A Specialist of the Year after hitting 8-11 field goals and 26-27 PATs as a senior.
How will he be used during his final season of eligibility? An open battle is set to take place at kicker with veteran Matt Ruffolo departing the program. Freshman Jackson Smith — also the top-rated kicker/punter in 2022, a three-time National Specialist of the Year and three-time All-American by ProKicker.com (2019-21) — is set to compete for the starting job. Lexington (Ky.) Catholic's Max DeGraff and Waxhaw (N.C.) Marvin Ridge's Jackson Moore both signed with Kentucky in the class of 2023 and will also have a chance to start.
Poore makes four different options for the coaching staff to explore this spring and going into fall camp.