Chin Coleman on Brooks' and Collins' roles and a hint at Toppin's return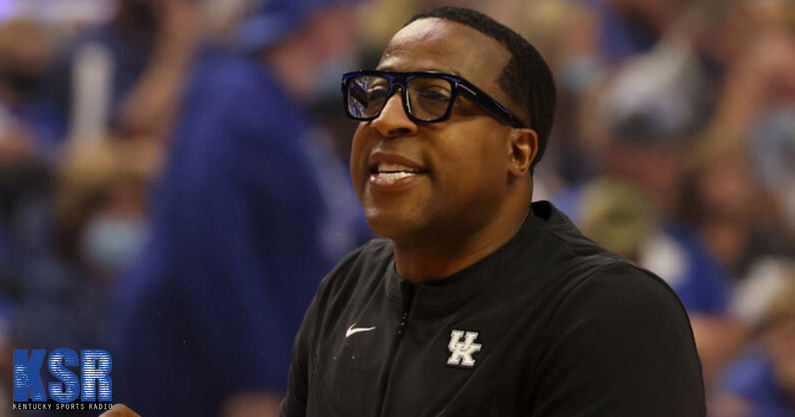 New Kentucky Basketball assistant Chin Coleman was in for John Calipari in the official postgame interview on the Rupp Arena floor. It was Coleman's first appearance as Calipari's fill-in with Tom Leach and he may have leaked a small piece of news regarding one of the injured Wildcats.
But first, Coleman's thoughts on fellow Kentucky newcomer Daimion Collins, the freshman forward who led the Wildcats in minutes played off the bench Monday night. Collins got 18 minutes of run as a reserve post player behind Oscar Tshiebwe. He finished with six points (2-for-3 from the field, 2-for-2 at the line) and three rebounds.
"Daimion, obviously, gives us what we call vertical spacing," Coleman told UK Sports Network listeners and a crowd of 20-30 who hung around after the game to hear the show. "He is a guy, you can just throw it to the rim and he'll go get it. He's a guy who blocks shots, right? We need that. That's a piece. That's a role. We have to have that to win basketball games."
The "vertical spacer" is also a role that can land Collins on SportsCenter's Top 10 plays any given night. He made one appearance earlier this season with ESPN's No. 1 play for his dunk against Robert Morris. He almost auditioned for SportsCenter again against Albany with a one-handed alley-oop finish, but couldn't quite complete the highlight play.
Coleman continued his Collins thoughts by saying, "He gives us vertical spacing, he gives us a motor; when his motor is running, he gives us a guy that can block shots and protect the rim for us. So, we gotta have him on the floor at times because we need that. You have to have that piece in order to win. As you can see, every team needs a vertical space guy, a guy that can protect the rim. He's our rim protector, our vertical space guy, and he gives us a lot of athleticism."
Toppin coming back soon?
In talking about Collins' role on the team, Coleman let it slip that Jacob Toppin is close to a return. If his words are true, Toppin will be back from his lingering shoulder injury this week.
Coleman said, "Obviously, when we get Jacob (Toppin) back this week, we become more athletic. We become bigger when we get Lance (Ware) back."
This week? It's the first time we've heard a timeline for Toppin's return. Calipari hasn't offered much when asked about it in the past, only his usual "we'll see" or "I don't know."
Coleman followed his potentially breaking news by saying, "So again, there's a lot of tools to play with with this team, and we're having fun with the assignment of having to coach this group. This is a good group and the sky is the limit where we can go; it truly is. We got a good team."
And they'll get even better when Toppin comes back to help out, maybe later this week. He hasn't played since the opener against Duke.
Keion Brooks needs to "get that money" by embracing his role
Keion Brooks has 16 made shots in Kentucky's last two games for 19.5 points per game in wins over Ohio and Albany. He added eight rebounds in each of those games, but his mid-range jumper was his best contribution in both victories.
Coleman pointed out Brooks' tireless work ethic at the practice facility, then explained how he sees Brooks' role within the Kentucky frontcourt.
"I think Keion has to understand who he is and what he is and star in that role," Coleman told the broadcast. "It may not be shooting a bunch of 3s; it may be taking two-footers and taking 15-foot jump shots, 17-foot jump shots, where he's money at."
Brooks is 2-for-10 on 3-pointers this season but didn't attempt one against Albany. He's been lights-out in that 15 to 17-foot territory, often hitting contested jumpers over outstretched defenders.
"Sometimes you got to fall in love with success and not do what everybody wants you to do," Coleman continued. "Where are you successful at? Fall into that role and be good at it. Sometimes there's a fight because you want to show you can shoot the 3 as well, but you get money shooting that 15-footer, that 17-footer. Just get that money, just get that money.
"If you want to play in that league, you're going to be a role player. The two best players, they got the best cars; those are the superstars. You're going to be a role player," Coleman added.
You can read John Calipari's postgame comments on Brooks here.