Chin Coleman wants to see four guards: "That's a death lineup."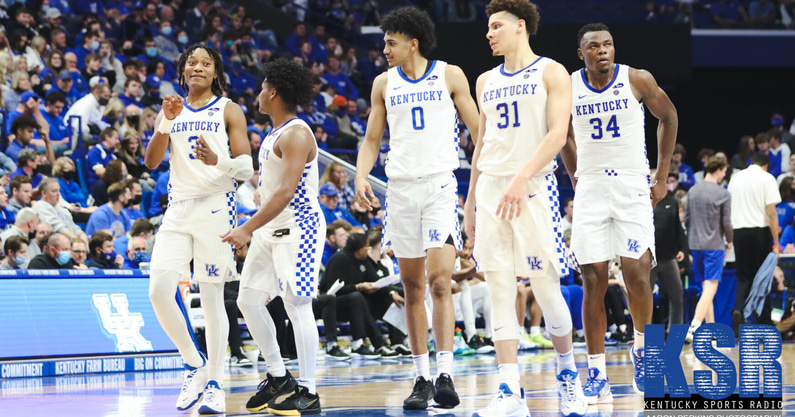 The numbers speak for themselves at this point. Kentucky is at its best with a guard-heavy lineup, scoring at an elite pace that ranks among the best in college basketball. The Wildcats average 128.9 points per 100 possessions with their core starters of Sahvir Wheeler, TyTy Washington Jr., Kellan Grady, Keion Brooks Jr. and Oscar Tshiebwe. The group of Davion Mintz, Washington, Grady, Brooks and Tshiebwe are putting up an absurd 149.0 points per 100 possessions.
Both numbers are good for No. 1 in college basketball by a significant margin.
When Kentucky goes big, though, things get ugly. UK's lineup of Washington, Grady, Brooks, Jacob Toppin and Tshiebwe is putting up just 35.3 points per 100 possessions. Washington, Grady, Bryce Hopkins, Toppin and Tshiebwe are averaging 63.6 points per 100 possessions.
The eye test matches the numbers, even for John Calipari.
"If I had my druthers, I'd like to be playing three guards," Calipari said following Kentucky's win over Vanderbilt. "It's how I like to coach. … You get more offense."
It's the way the game is going, maximizing skill with shooting and scoring for more offensive-driven play rather than size, length and athleticism. The more skill the better.
Ideally, it'd extend beyond even a typical three-guard lineup, one Kentucky has clearly thrived with. A four-out offense featuring four guards on the perimeter with one big anchoring the middle is as modern and NBA-like as you can get. It's why Calipari talked about the possibility of utilizing a four-guard lineup this offseason.
"I want to play four perimeter players, basically like four guards," Calipari told KSR in September. "If you don't have guard skills, you can't be in one of those spots. … The perimeter players have to have guard skills."
Midway through the season, though, the four-guard lineup has not been showcased. Injury and illness has limited the Wildcats from rolling out a complete roster for much of the season — the entire season if you include CJ Fredrick's season-ending hamstring injury suffered to open the year. As a result, a potential four-out lineup of, say, Sahvir Wheeler, TyTy Washington, Davion Mintz, Kellan Grady and Oscar Tshiebwe has not yet been showcased.
In fact, that guard-heavy lineup has been used just once — one single possession — this season.
If you ask UK assistant coach Chin Coleman, though, it's not too late to give it a shot — a real shot. The three-guard lineup is strong and that should be the bare minimum, but he'd like to see what the Wildcats can do with even more shooting and scoring on the floor.
"I think we should play four guards," Coleman said on BBN Radio this week. "I like the three-guard offense for us because of the ball-handling. Sometimes we have three guards or four individuals on the floor that can shoot, and that makes you hard to guard. And then you have Oscar (Tshiebwe)."
He calls the four-guard lineup with Oscar Tshiebwe and "whoever else" the "death lineup."
"It's a more lethal lineup when we have multiple guards on the floor," he said. "I want to see us play four guards, you know? I want to see us play all four of them. I think that's a death lineup with Oscar and whoever else."
Calipari's dribble-drive offense is best run with players who can — bear with me here — dribble and drive. The more players capable of doing those things together on the floor, the better.
"For the most part, though, it gives us more shooting, more ball-handling and the dribble-drive," Coleman said. "The good thing about the dribble drive is you have to be able to dribble and drive. The more individuals you have on the floor that can dribble and drive and shoot, the better that offense is. I'm sure Coach Cal feels the same way, I think we share the same sentiments about that.
"In order to have an effective dribble-drive offense, you have to have multiple guys on the floor that can dribble, drive and shoot. When we've got three guards on the floor, it gives us the ability to do that."
Kentucky's offense is already successful as is with three guards, one forward and one big. But why not dream a little bigger?
Coleman certainly is with his potential "death lineup."