Chris Livingston and Adem Bona are both in Lexington for crucial visits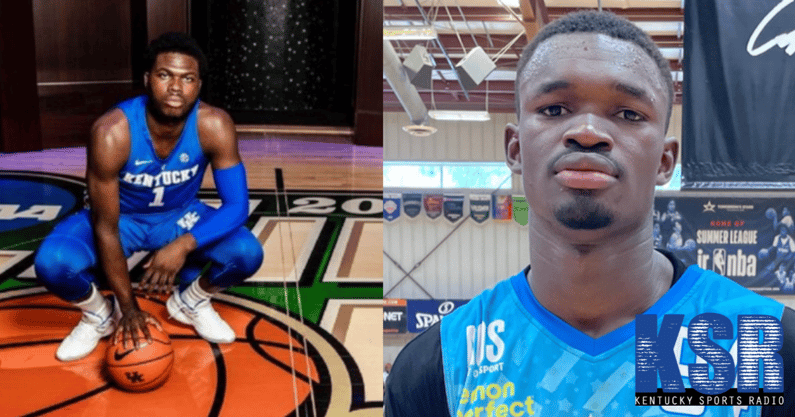 Kentucky basketball's 2022 recruiting class is not only taking shape, it's nearing completion. Five-star guard Skyy Clark was the first to join the fold in October 2020, followed by back-to-back commitments from consensus No. 1 prospect Shaedon Sharpe and top-five recruit Chris Livingston this past September. Three five-stars, all consensus top-25 recruits.
From there, though, things are both clear and foggy. Kentucky has its eyes set on two more five-star prospects, one guard and one center in Cason Wallace and Adem Bona, respectively.
The former has a commitment date set for November 7, but there is growing speculation the 6-foot-4 guard may come off the board in the coming weeks. Kentucky has emerged as the heavy favorite, a move that would give the Wildcats a fascinating one-two-three-four punch of Clark, Sharpe, Wallace and Livingston in John Calipari's dream guard-heavy offense.
Livingston and Bona in Lexington
Livingston actually arrived in Lexington for his third official visit on Thursday night, posting pictures to his Instagram Story of his trip. Also joining Livingston on an official visit to UK is the uncommitted five-star center, Adem Bona.
Kentucky is in love with Bona, who is a 6-foot-10, 230-pound center out of Turkey, and there is strong mutual interest. On the surface, it's a perfect match, and it very well could play out for him to wind up in Lexington for good. But there is still work to be made up if Bona is to be the fifth piece of this recruiting puzzle.
As KSR has reported before, Bona was not thrilled with how Kentucky prioritized Dereck Lively II over him before Lively eventually committed to Duke. Bona wants to be a top option, one capable of doing more than just rebounding the ball and scoring on clean-up dunk attempts. Up to this point, he hasn't felt that blueprint has been clear on Kentucky's side of things.
UK will need to smooth things over, and Calipari has done his part to do just that, making a trip out to California earlier this week for an in-person visit.
A chance to push UCLA aside
Another aspect that could potentially help Kentucky's chances is that UCLA, arguably UK's top competition for Bona, is also heavily recruiting a class of 2022 big man: four-star Ernest Udeh Jr., who is visiting the L.A. campus this weekend. It's a visit that's been in the works for a couple of weeks and the UK target is aware of UCLA's interest in Udeh, with the Bruins still making it clear Bona is the school's No. 1 priority. But when push comes to shove, it's another 6-foot-10, 230-pound center ranked in the top-30 joining the fold.
If Bona truly wants to feel prioritized from now on, the 'Cats should have the upper hand with UCLA also looking at Udeh. The Bruins' "one and only priority in the frontcourt" pitch to Bona is no longer valid, a narrative Kentucky can capitalize off of. There is a need for the standout center in Lexington, a clear role carved out for him from day one.
This weekend is the time for Calipari to seal the deal and lock him up.
Both Bona and Livingston have been posting pictures of each other to their Instagram stories, Kentucky jerseys fully fitted and all. The five-star prospects have been seen throughout campus – one individual told KSR both Bona and Livingston were in their COM class on Friday – and have been exploring the UK basketball facilities all day.
Livingston saw the early vision with Kentucky's pitch and quickly took advantage of the opportunity by committing to the program in early September. Now back for the first time since the pledge, he referred to Lexington as his "second home" upon arrival. The five-star forward now has the chance to help UK show Bona that same vision this weekend.
Those close to Bona say a commitment this weekend is unlikely, and that may be true. But there is a clear opportunity for UK to take over as the firm leader in the five-star center's recruitment as we head down the home stretch.
Getting him to pull the trigger on a commitment early, though, would be one of Calipari's biggest recruiting wins of the cycle. He's no longer just a want for this program, he's a clear and apparent need.
---
KSR's Zack Geoghegan also contributed to this report.