Versatile Chris Livingston Comfortable, Confident in Kentucky Basketball Debut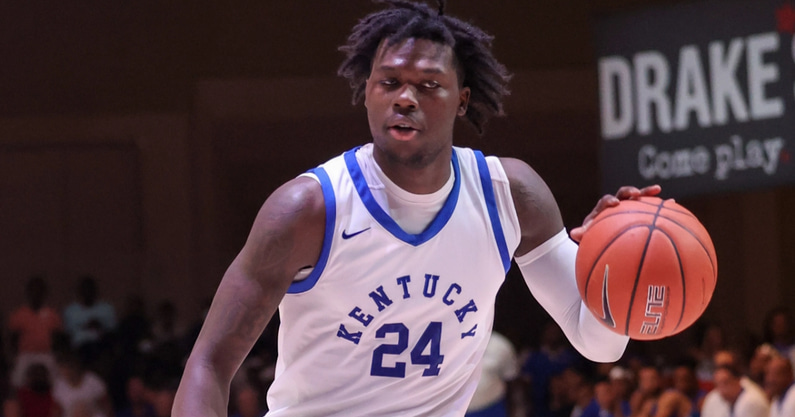 Chris Livingston was billed as Akron's best basketball player since LeBron James. He was not LeBron James 2.0 in his Kentucky basketball debut, but Livingston certainly looked like he belonged on one of the best team's in college basketball.
"I felt like I played pretty confident," Livingston told KSR Wednesday night. "I was really comfortable. The coaches did a good job of getting me, Adou (Thiero) and Cason (Wallace) comfortable with being a part of this program from what we do in practice to the stuff they say, the talks they give you before the game. It was really encouraging. I felt like I played great."
The former Top 25 recruit was only a couple of rebounds from a double-double. Chris Livingston had 11 points, eight rebounds and four assists in 19 minutes of action. The impressive stat line does not tell the complete story.
Chris Livingston is not "Falling in Love" with the Three
For Kentucky basketball fans watching Livingston in action for the first time, his shooting range was shocking. He knocked down 3-of-4 three-point attempts. Not bad for a guy many thought would primarily play power forward. It's a part of his game, but Chris Livingston is not going to lean on long-range shots to produce.
"Three-pointers is not something that I'm going to fall in love with. I have a lot more to my game than that," he said. "Being in the gym, preseason in the summer working out, as expected the three was falling (last night). That's going to be something I rely on during the season, but I'm not just going to key in on that."
How Livingston Improved Ahead of his Kentucky Debut
Versatility is the name of Chris Livingston's game. The 6-foot-6, 220-pound athlete knocked down shots and cleaned the glass. While most of the BBN fawned over the former, John Calipari was blown away by how he corralled missed shots.
"I love what Chris Livingston did," John Calipari shared with Kentucky Sports Radio. "He came in and everything was one hand. When I watched him in high school, one-handed rebounds. And all I've been on him about is two-handed rebounds. You look at every one of those rebounds he had, he was grabbing balls with two hands. I couldn't be more proud of him. And then he gets eight rebounds because of it."
It's difficult to define exactly what Livingston will bring to the table each and every game. Even though it was only one exhibition, it's clear he can provide a little bit of everything from multiple positions.
"I'm just a basketball player. Whether I gotta be the two, the three or the four, I don't really care," said Chris Livingston. "I don't have the ego about positions or things like that. I'm just going to be comfortable where ever coach sees fit putting me. I'm really comfortable with my teammates and the guys I have around me."
If the future lottery pick consistently fills up a ton of categories on the stat sheet, Kentucky can go places only few Wildcats have been before.
"You don't want to be too arrogant with how we did. I feel like we played well but there's still a lot of things we need to improve and build on. But I feel like the team has crazy potential. We're really deep and I'm really excited to be a part of this team. We're looking for No. 9 and that's the end goal."