WATCH: Chris Livingston Klutch Pro Day Highlights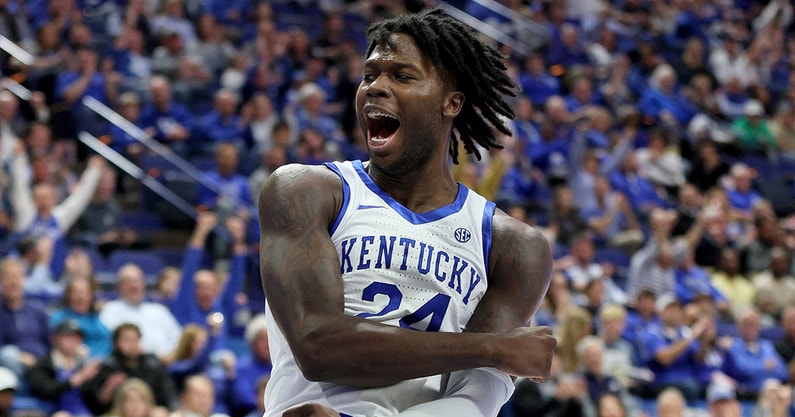 Today, Chris Livingston will work out for the Los Angeles Lakers. Yesterday, scouts from several teams got to see the Kentucky freshman in action at Klutch Pro Day. Klutch Sports, Livingston's agency, opened its doors yesterday to showcase its 2023 Draft Class, which also includes Nick Smith Jr. (Arkansas), Dereck Lively II (Duke), and Noah Clowney (Alabama).
Highlights of Livingston's performance are making the rounds on social media this morning. In this one-minute clip, you can see the 6'6″ 220 lbs. forward throw the ball down at the rim and show off his three-point shot.
In his freshman season at Kentucky, Livingston averaged 6.3 points (42.9% FG, 30.5% 3PT) and 4.2 rebounds in 22.4 minutes per game. He steadily improved throughout the season and finished the year playing at least 32 minutes in 11 straight games. Earlier this month, John Calipari watched Livingston work out at Klutch and praised the progress he's made.
"Had a chance to watch @_chrisliv24 work out today and WOW!! He got so much better for us by the end of the year and he looks like he's taken another leap forward," Calipari tweeted. "Chris is one of the most driven, caring, smart kids I've ever coached. I absolutely love him."
Livingston is one of three Kentucky Wildcats still testing the NBA Draft waters. At the NBA Draft Combine last week, he told reporters he hadn't worked out for any teams yet but had a workout scheduled with the Boston Celtics (Pick No. 35) and had met with the Utah Jazz (Pick Nos. 9, 16, and 28) and the Detroit Pistons (Picks Nos. 5 and 31). As of now, he isn't listed on any of the major mock drafts. ESPN ranks him as the No. 66 best available prospect.
Livingston, Oscar Tshiebwe, and Antonio Reeves have until 11:59 p.m. ET on May 31 to decide whether or not to stay in the draft or return to school.
Find out the news as it happens. Text KSR to 41372 to have Breaking News Alerts sent directly to your phone.
The latest on Kentucky's Stay-or-Go Decisions
On Wednesday, Jack Pilgrim shared what he's hearing about Livingston, Oscar, and Reeves.
"Elsewhere, pessimism remains regarding Livingston's potential return. Klutch recently announced the freshman forward as a member of its 2023 NBA Draft class, joining the likes of Nick Smith Jr. (Arkansas) and Dereck Lively II (Duke). He's still going through the workout process and the door hasn't been closed completely on either side, but the expectation remains that he ultimately takes a shot on himself in the league now. His decision to opt out of five-on-five at the Draft Combine in Chicago was a head-scratcher, but the hope is Klutch can talk a franchise into selecting the Akron native."
For more on Livingston, Reeves, and Oscar, I'll direct you to Jack's post from Wednesday night.