Chris Livingston is a perfect fit for John Calipari's new guard-heavy offense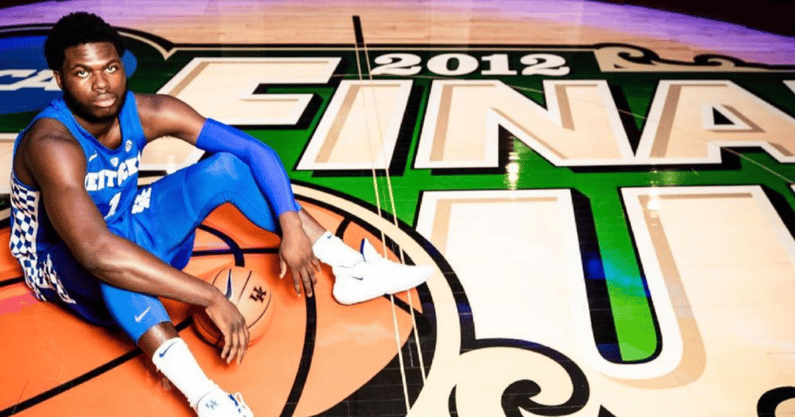 John Calipari is a man of many words, typically calculated to fit a very specific narrative being pushed to recruits at the time. "Kentucky is not for everyone," "hat on the table" and "built different" are just a few Cal-isms that have become popular for the program in recent years.
As Kentucky ramps up its recruiting efforts with the class of 2022, it's clear Calipari is wanting to drive a point home in his public appearances.
"Four positions that are guard positions"
The message? UK wants to maximize versatility on the floor at all times, and he may just play four guards to make it happen.
"We're going to have four positions that are guard positions," the UK head coach said last week. "That doesn't mean I'm starting four guards, but if you want to be in one of those four positions, you're going to have guard skills. That means you'd better be able to get in that lane and lane touch. You'd better be able to make shots. You don't have to make them all, you just can't miss them all.
"And if you don't have guard skills, you're going to be playing as one of our big guys."
"Change, it inspires me."
Just one day later, Calipari doubled-down on the four-guard lineup in an appearance on Kentucky Sports Radio.
"Change, it inspires me. The one-and-done stuff, the dribble-drive stuff," he told KSR. "I'm doing some things a little different this year. When you see the team this year, you'll say 'wow, he's never done that before.'
"… I want to play four perimeter players, basically like four guards. If you don't have guard skills, you can't be in one of those spots. If you can't be a driver or creator, you turn it over too much (on the perimeter). That's your responsibility to grow your skills."
Calipari wants to run a four-out lineup that includes four guards on the perimeter. If you have size and length as a small-ball four to match those guard qualities, it's an even bigger win.
"The reality of it is, the perimeter players have to have guard skills," Calipari told KSR. "If you're big and you have guard skills, that's even better. You're going to defend, you're going to have to be tough, if you do those things, you can be a perimeter player. It's where the game is going."
Back-to-back days, back-to-back comments pushing for a four-guard lineup. Coincidence? With Coach Cal? Never.
Insert Chris Livingston
Calipari's comments came the same week No. 1 recruit Shaedon Sharpe announced his commitment to Kentucky, the program's second in the class of 2022. He joined five-star guard Skyy Clark, giving UK two top-15 senior commitments.
His comments also came in the midst of Kentucky picking up serious recruiting momentum with top-10 prospects Cason Wallace and Chris Livingston. The former is a 6-foot-4 combo guard capable of playing one through three, a complementary piece for Clark and Sharpe in the backcourt. The latter, however, is a 6-foot-7, 220-pound forward with – you guessed it – size, length, athleticism and guard skills.
Kentucky buzz ramps up
Let's hold off on Wallace for a second and turn our attention to Livingston, who is ranked No. 4 overall and No. 1 at the small forward position by On3. Once seen as a strong Memphis lean with other professional buzz along the way, Kentucky established itself as the heavy favorite in recent weeks and never looked back.
Now, the five-star forward is a Wildcat.
In the month of September alone, eight Crystal Ball predictions and eight FutureCast picks came in for Livingston, all favoring the UK. Recruiting insider Andrew Slater tweeted that Livingston's recruitment was "over" on Sept. 9, with the Wildcats expected to come out on top.
To put the icing on the cake, John Calipari, Orlando Antigua and Chin Coleman opened the in-person recruiting period last week by visiting Livingston at his school. No other program bothered to show up, with Memphis actually being cut from contention shortly after UK's visit.
Originally scheduled to commit on his birthday, Oct. 15, Livingston pushed up his announcement date and officially went public with a commitment to UK on Wednesday.
Clark, Sharpe, Wallace and Livingston
Kentucky's recruiting momentum and Calipari's four-guard pitch go hand-in-hand with one another. Clark and Sharpe are both committed, with Wallace also trending hard – quite hard – in UK's favor. There's your one, two and three in the class.
Livingston, though, is a unique case. At 6-7, 220 pounds, the Akron native is listed as a small forward, but is capable of playing two through four. He likes spending time on the perimeter and thrives on catch-and-shoot opportunities, but is at his best when attacking the rim and finishing with force at the basket. Boasting an NBA-ready body with elite athleticism and a quick first step, he's a mismatch nightmare at the collegiate level. He's too tall and strong for typical threes, but too quick, athletic and skilled for typical fours. Add in his comfort in the mid-range on turnaround and step-back jumpers, and Livingston's versatility as an inside-out threat is clear.
There's a difference between a tweener and a mismatch specialist. At his best, the newest UK commitment fits the latter category.
"If you're really skilled and you're really athletic, wow."
Knowing Livingston's size, skill set and style of play, let's go back to Calipari's recent comments.
"If you don't have skill, you're done now," Calipari said last week. "Eight years ago you could be drafted in the top 10 picks and not be real skilled. You ready? (Now) you're going in the second round, maybe, if you're not skilled.
"I mean, athleticism is there. If you're really skilled and you're really athletic, wow. … The game is changing right before us. If you can get by people and get in the lane and lane touch, make decisions, you are really adding value."
Coincidence? Certainly not. Correlation? Now we're getting somewhere.
Livingston is not a perfect player and there are clear holes in his game. He's got stiff hips with a high dribble and settles for bad shots at times. He has improved immensely as a shooter over the last year, but continued growth in that area is necessary.
His likely role at Kentucky, though, is designed to maximize his strengths and minimize (while improving) his weaknesses.
Kentucky's dream class, multiple sources tell KSR, consists of a four-out lineup that includes Clark, Sharpe, Wallace and Livingston on the perimeter, with one of Dereck Lively II or Adem Bona anchoring the middle as the primary big. And by the looks of things, all four perimeter targets will likely be committed by the time the early signing period rolls around in November.
Calipari is calculated with how he presents information to the general public, and his not-so-subtle recruiting comments regarding four-guard lineups are no different. A perfect fit for the role, Livingston was in mind at the time, and will continue to be when he makes his way to campus next summer.
Make no mistake about it, the four-guard lineup is here to stay.