Chris Livingston shines at HoopHall Classic in front of John Calipari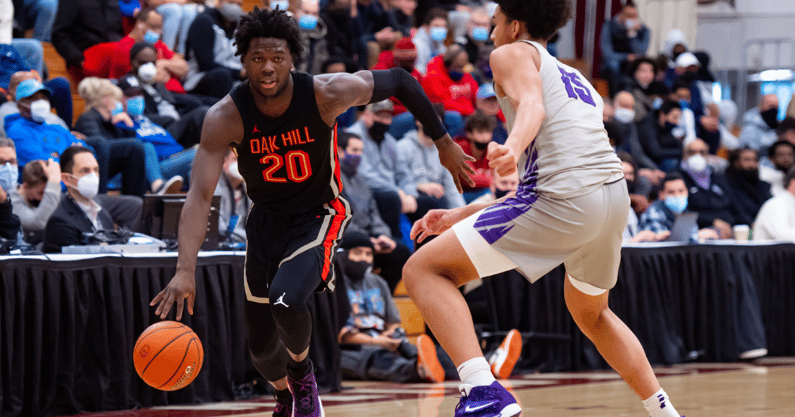 Not even 24 hours after leading his Kentucky Wildcats to a historic 28-point win over No. 18 Tennessee, head coach John Calipari got right back on the recruiting trail. On Sunday, Calipari showed up at the HoopHall Classic in Springfield, MA to watch five-star class of 2022 UK commit Chris Livingston.
A 6-foot-6, 210-pound wing, Livingston is in his first season playing at Oak Hill, a legendary prep school that has produced plenty of future pros, including a handful of Kentucky players, such as Rajon Rondo and Doron Lamb. Oak Hill matched up against Gonzaga College in what was Livingston's second game of the event. He wasn't spectacular in that opener on Saturday, but still managed to post seven points, eight rebounds, one assist, and six blocks in 32 minutes.
On Sunday, however, in front of Calipari and UK assistant Bruiser Flint, Livingston showcased exactly why he's considered the No. 6 overall prospect in the On3 Consensus Rankings for 2022. Livingston took home MVP honors for the game, finishing with a game-high 19 points to go along with 13 rebounds, five assists, three blocks, and zero turnovers on 7-14 shooting (1-4 from deep, 3-4 from the free-throw line). He missed some looks early on before finding his groove in the second half while consistently imposing his will through his high-intensity levels.
"(Calipari) told me he was coming so I feel like I did my thing," Livingston said. "I feel like I showed them every part of my game that he knew about when he started recruiting me so I felt good about that."
A lot of what Livingston did against Gonzaga College is what Calipari expects him to do at Kentucky.
After the game was over, Livingston explained how Calipari has approached him about his fit with Kentucky. He said that Cal believes he can fit in the mold of former Wildcats who had size on the wing, specifically Kevin Knox, Keldon Johnson (who also played at Oak Hill), and Devin Booker.
"Obviously their dribble-drive offense, I feel as though with my game I can fit in there very well. Running off screens and playing with high energy. Those are the guys that Coach Cal wants," Livingston said. "I'm looking forward to it. I think I can fit in and I'll be ready."
If he plays at Kentucky the same way he did on Sunday, he should fit in quite nicely for Calipari's fast-paced offense.
"I feel as though that's how I play a full game," Livingston added. "That's why people say I'm an all-around player because I can pass, shoot, score, and get my teammates involved and play defense."
Calipari expects to stick around until Monday as well, as another 2022 commit, Skyy Clark, is also participating in the event on Monday afternoon. Five-star class of 2023 UK targets Mookie Cook, Mackenzie Mgbako, and DJ Wagner will also take the floor across Sunday and Monday.