Chris Livingston trusted the process -- now Kentucky is reaping the benefits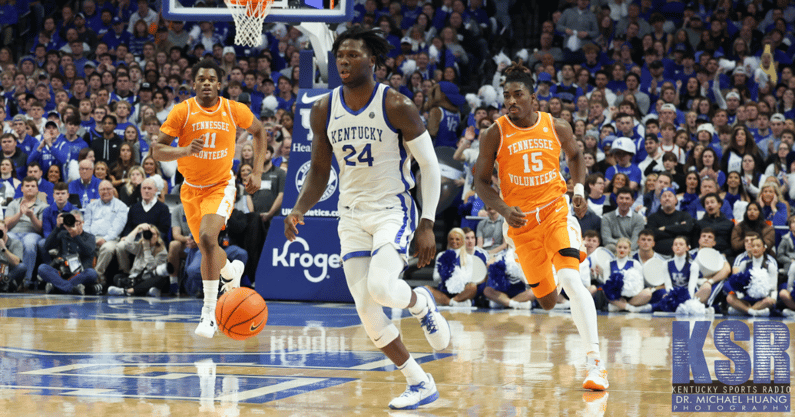 Chris Livingston had his unofficial breakthrough moment of the season earlier in the week against Mississippi State. A few days later, he made it an official statement.
The 6-foot-6 freshman forward is playing the best basketball of his young college career as of late. It started with the Wildcats' loss to Arkansas on Feb. 7 right as Kentucky saw Sahvir Wheeler sidelined with an ankle injury. Needing someone to step up in his absence (and soon for CJ Fredrick as well, who has now missed the last three games with a cracked rib), head coach John Calipari leaned on the brace-faced teenager who hadn't yet found a steady role within the team.
While it started off rocky with back-to-back losses to Arkansas and Georgia, Kentucky has quickly recovered, winning two in a row against Mississippi State on the road and then against No. 10 Tennessee at home, planting the 'Cats firmly back in the NCAA Tournament picture. In those last two outings, specifically, is when Livingston took his game to another level.
Even though he's started every game for the Wildcats since Dec. 21, Livingston's minutes had fluctuated until the last couple of weeks. Over the last four games, he's played more minutes than at any point in the year, logging 32-plus in all of them after failing to do so once all season prior. It wasn't all peaches and cream early on, but something clicked during that stretch — and it doesn't have to do with the intangibles he brings.
"I'd be lying if I said I was just happy-go-lucky all the time but honestly you gotta be mentally tough to go through what I went through and what a lot of our players go through being at Kentucky," Livingston said after Kentucky beat Tennessee 66-54 on Saturday afternoon. "I just waited my turn, stayed with the process, trusted the process, and here we are right now."
Livingston was at his best against the Volunteers, recording his first career double-double with 12 points and 10 rebounds. He even stole a board or two away from Oscar Tshiebwe — another example of how hard he's been fighting on the court. Livingston shot 4-5 from the field and even knocked in a three-pointer to make him 5-10 from deep during this recent four-game stretch.
His sudden arrival on the scene doesn't solely have to do with his talents, though. Livingston came out of high school as a five-star recruit with accolades to back it up. He clearly possesses enough skill to play at a place like Kentucky. But when the chips were down and injuries infected the roster, Calipari needed someone to step up. Livingston put his mind to the test and his confidence grew once he learned how to ace it.
"I feel as though it was more so mental because obviously I've been playing basketball at a high-level my whole life," Livingston said. "Being in a new situation, learning how to be around new guys, accepting a new role, it's just mentally challenging and something you've got to accept."
Challenging indeed, but something he found a way to overcome. Calipari likens Livingston to another former Wildcat who needed some extra time to come along during his rookie campaign in Lexington, Shai Gilgeous-Alexander, who is about to suit up for his first NBA All-Star Game appearance this weekend. Not because those two play similar styles, but rather because of how they approach the game with similar mindsets.
"(Livingston) reminds me a little bit of Shai," Calipari said after Saturday's win. "Like, really smart. Cares too much. Was listening to too many voices. And building your confidence, he was doing it in practice and then you got to have a demonstrated performance. Now part of it, CJ's (Frederick) out, but the way he's playing now, people coming back are going to be fighting for minutes too because he needs to be on the court."
Calipari wasn't exaggerating, either. Livingston needs to be on the floor. He was a team-high +16 on Saturday.
Over his last four games — easily the best stretch of his stint with Kentucky — Livingston is averaging 11.8 points and 5.8 rebounds in 34.3 minutes per contest while shooting 51.6 percent from the floor. That's a far cry from his averages in the 23 games before that, which consisted of 5.3 points and 2.9 rebounds in just 17.0 minutes per outing while shooting 44.0 percent.
Livingston is slowly becoming Kentucky's most consistent player, both in terms of on-court production and his willingness to hustle during every second of the action.
"I'm not sure what Cal was thinking early in the year," Tennessee head coach Rick Barnes jokingly said after the game. "12 (points) and 10 (rebounds) is a pretty good night."