GoFundMe for Chris Oats' recovery reaches goal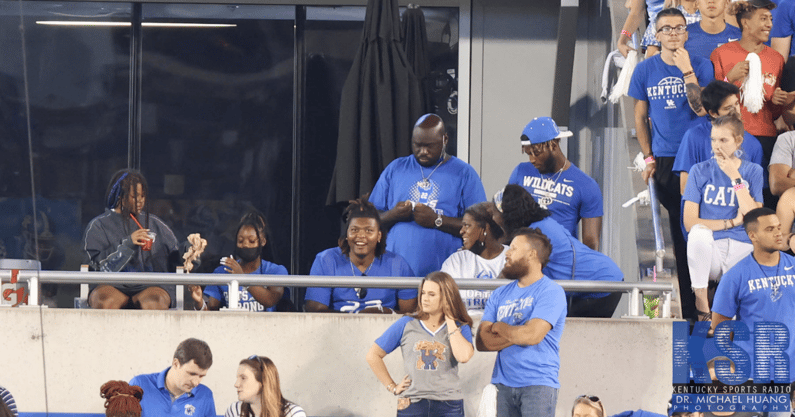 How about some good news? 22OatsStrong, the GoFundMe for Chris Oats, has reached its goal of $150,000. As of this morning, the BBN has raised over $154,000 for the Oats family, particularly his mother and caretaker Kim. That money will go towards Oats' recovery, specifically a handicap-accessible van to take him to his rehab sessions.
Once one of Kentucky's top linebackers, Oats suffered a major stroke in the spring of 2020 and has been confined to a wheelchair since. His teammate Keaton Upshaw set up the GoFundMe in September 2020. Mark Stoops and the team have stuck by Oats throughout his recovery, and in recent weeks, issued an urgent plea to the BBN for help. Stoops released a video encouraging fans to donate to the GoFundMe, which played on the jumbotrons at the Missouri game with a smiling Oats and his family watching from the deck of the recruiting room.
"It's monumental, the help that [Kim] needs," Stoops said at his weekly press conference following the Missouri game. "When I heard that we had gotten her a handicap accessible van to get Chris to his rehab and everything and it broke down on her on the highway and she can't get him to rehab, that's a problem. That's when I called on the Big Blue Nation.
"Certainly, I'll do my part, and everybody will, but I need the help of the BBN. He's a wonderful young man, she's amazing. She has to do an awful lot for him right now. And we love him, and we love her. They're an inspiration to us but we need help."
At the Missouri game, Oats also got to meet his childhood hero Ray Lewis. The Hall of Famer is now an analyst on Inside the NFL, and last week, the show featured the moment between the two.
Raising over $150,000 is an incredible feat by the BBN; however, there's no such thing as too much help, particularly in Chris' situation. You can donate at 22OatsStrong.com.