Chris Oats' story, friendship with Jamin Davis profiled by ESPN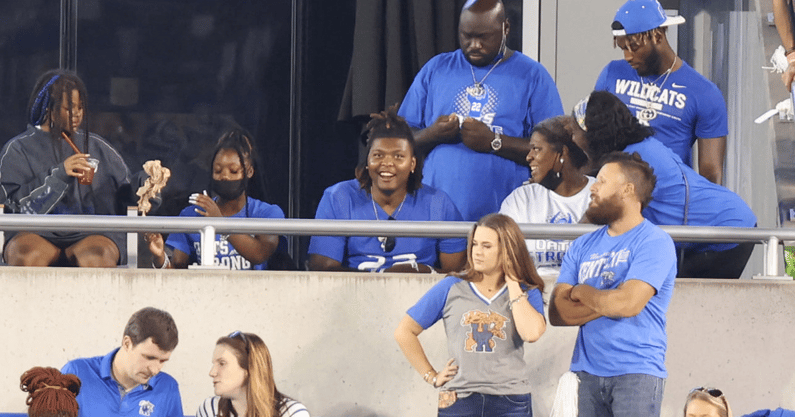 Chris Oats' story is well known in the Big Blue Nation and was even featured on "Inside the NFL" earlier this year. Today, we're hearing a different side of it from his friend and former Kentucky teammate Jamin Davis. ESPN's John Keim interviewed Davis ahead of tonight's Monday Night Football matchup between Washington and Seattle. The former Cat said Oats, who played alongside Davis at linebacker before suffering a stroke in May 2020, has become one of his primary motivators in life.
"It was like a reality check," Davis said of Oats' stroke. "Going forward we knew [Oats] wouldn't want us to sit around bummed out about the situation and feel pity or anything like that. So in my mind it's like you've got to step up and make him proud."
So far, so good. After a breakout junior season at Kentucky, Davis was selected No. 19 by Washington in the 2021 NFL Draft. As a rookie, he's developed into a quality starter, totaling 43 tackles so far this season, 30 solo. He and Oats text weekly, and Davis also checks in with Oats' mother, Kemberly Gamble.
"I'm not the selfish type," Oats told ESPN. "He got there because he is a freak athlete and his talent, and what I've learned during this hard time is that I will get there. It will just take time."
An update on Chris Oats' recovery
Gamble also spoke to Keim for the feature, providing an update on her son's recovery. Oats has 100% control of his right side and 50% of his left, up 10% from a month ago. He can stand on his own and is working on strengthening his core to help him walk again. His dreams of playing football may be over, but he wants to stay around the game in some form, whether that be as an announcer or coach. He told Keim that his primary goals right now have nothing to do with the game, rather, "That I will be able to walk and talk again."
"It's a constant reminder that this could be taken at any given moment," Davis said of Oats' story. "There's no reason why you shouldn't go out and play like every snap will be your last. You should be early to meetings, doing whatever you can to go out and play ball and have fun. … The only thing you can do in this situation is make him and his family proud. We'll always be close."
The 22OatsStrong GoFundMe has raised almost $170,000 for Oats and his family. You can continue to donate to help with living expenses and physical therapy. I have a feeling we'll hear more about Oats and Davis tonight during Monday Night Football.