LOOK: Chris Oats poses with team at Kentucky Football Media Day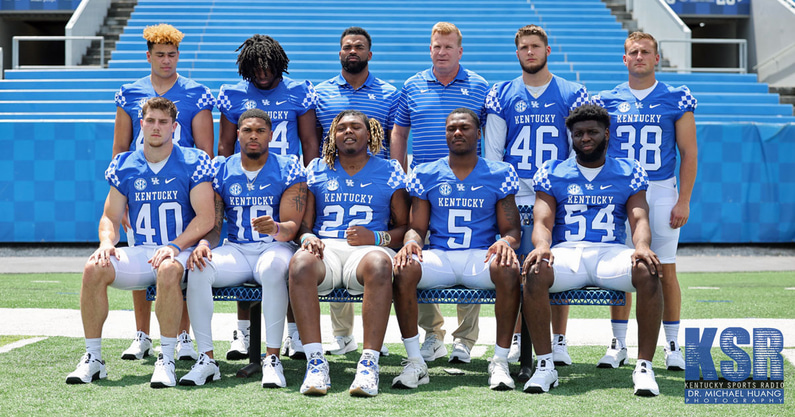 While Mark Stoops, Rich Scangarello, and Brad White were taking turns talking to the media indoors at Kroger Field, the real story was happening out on the field. Chris Oats, who continues to recover from a stroke suffered in May 2020, got out of his wheelchair and sat down with the inside linebackers for their group photo.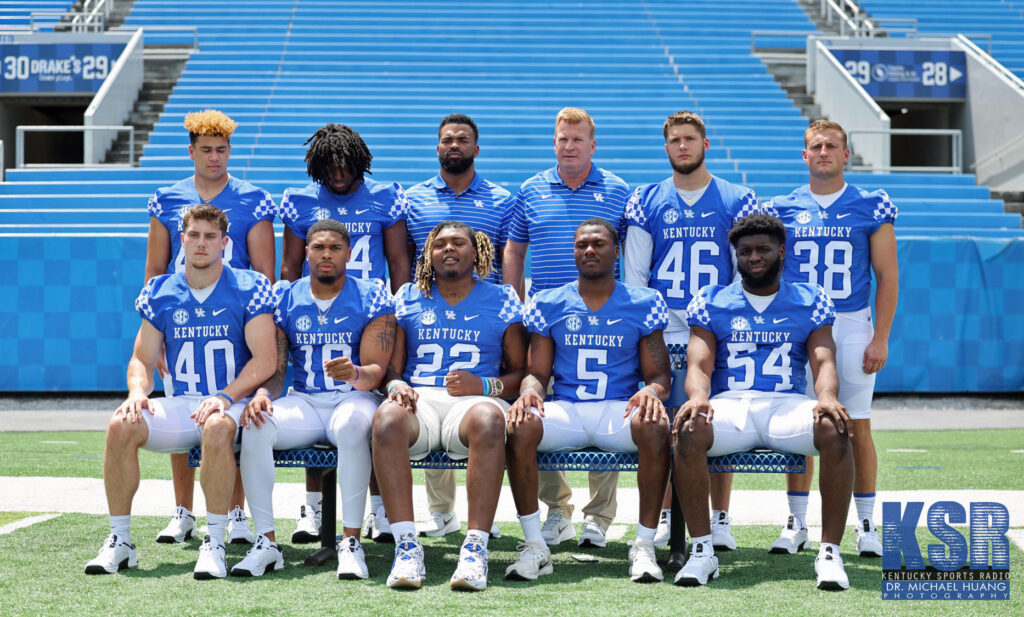 Oats also appeared in the official team photo next to his good friends DeAndre Square and Chris Rodriguez: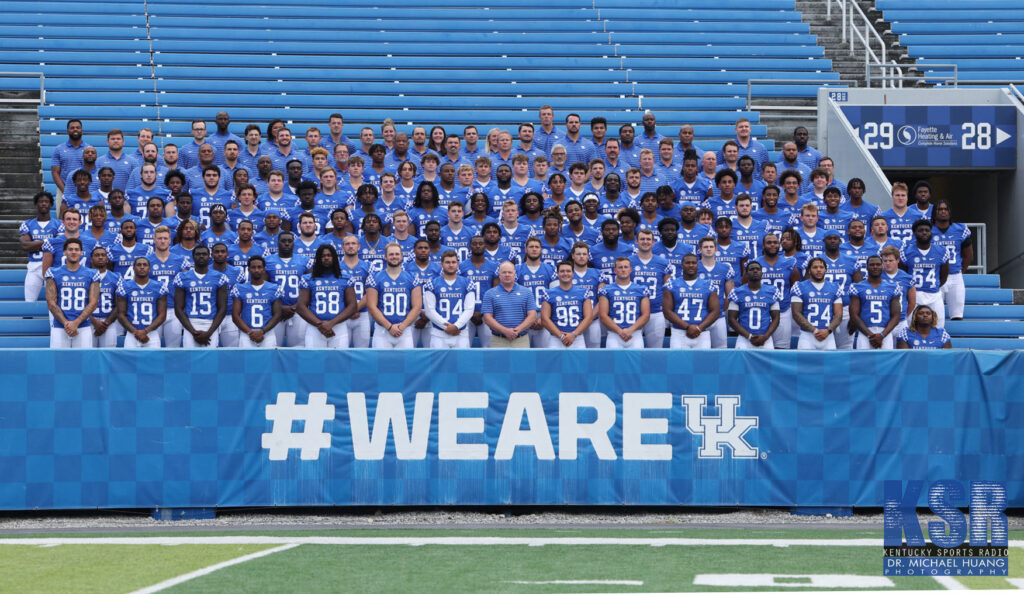 Rodriguez also helped Oats around the field after photos were over.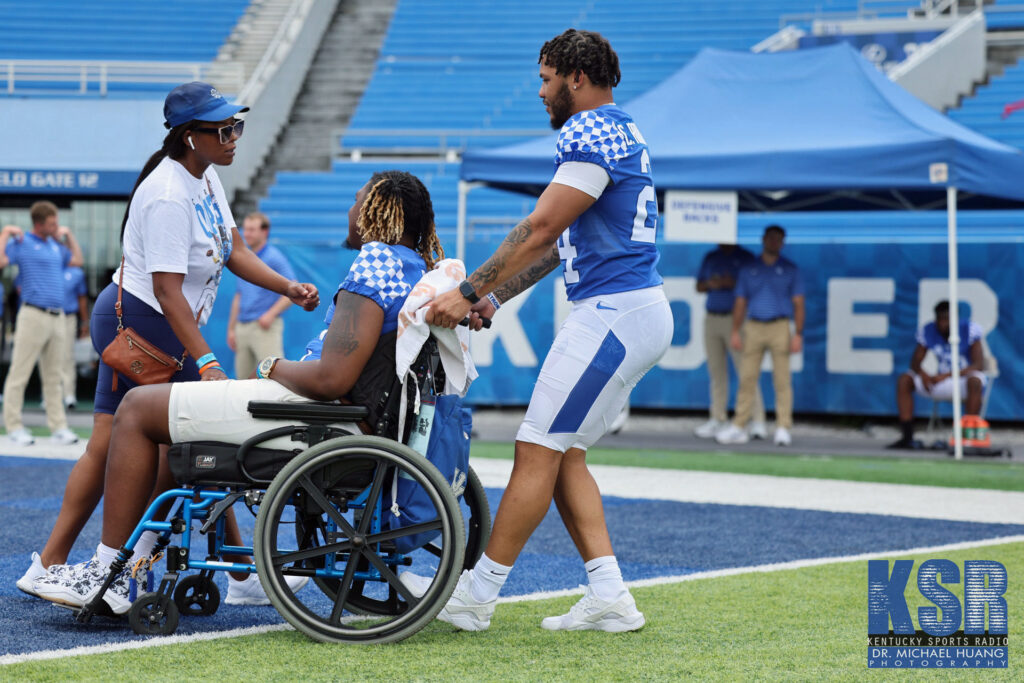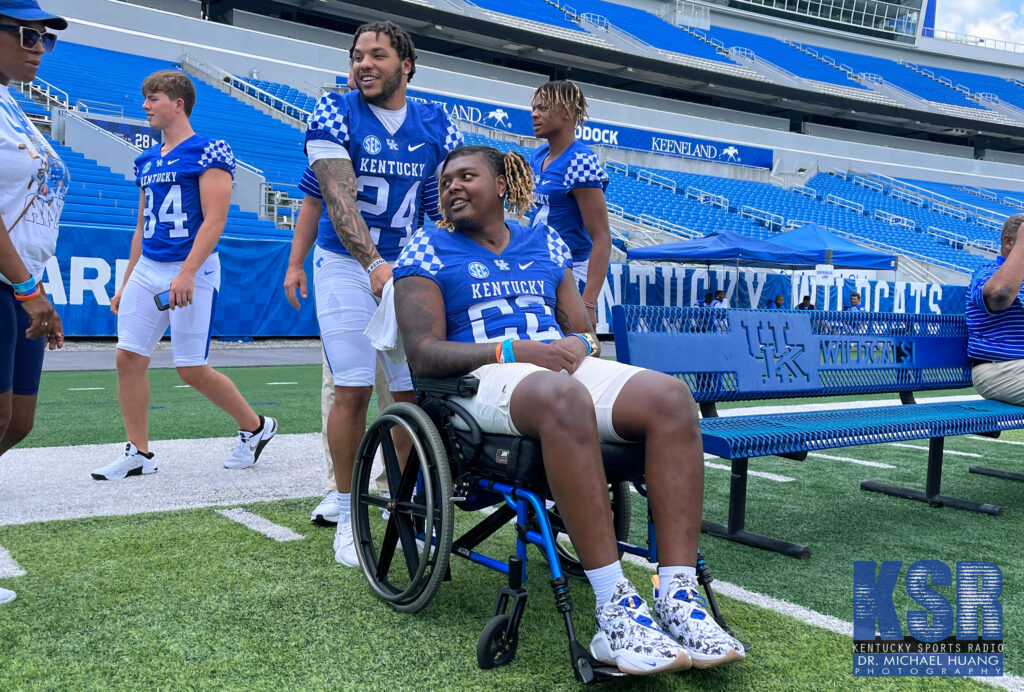 "That means the world," defensive coordinator Brad White said of having Oats at Media Day. "That's what this program's built on. It's built on relationships and it's built on continuing to build those relationships.
"To watch Chris' progress, to see the steps that he made down in Florida and where he is now, it's so encouraging for all of us. And he's an inspiration. We've highlighted that in our defensive meetings, plays that pop up when you're doing overlap film or teach tapes and, and you see him out there playing."
"Don't ever get numb to when we break down on '22′"
Before his medical episode, Oats recorded 73 total tackles, 2.0 sacks, two forced fumbles, and two fumble recoveries in two seasons at inside linebacker. The Kentucky Football program has kept Oats closeby throughout his recovery, with teammate Keaton Upshaw setting up the GoFundMe that's raised over $182,000 for Oats and his family. Oats was a regular at games last season and even made the trek to the Citrus Bowl.
This summer, Oats spent three months at a state-of-the-art rehab facility in Florida, where he worked three hours a day, five days a week to regain his independence. By the end of his stay, he was able to stand and walk with assistance. Last month, he held his first youth football camp in Northern Kentucky, which proceeds going towards the Chris Oats Foundation, which supports the Oats and families of young stroke victims. With several of his teammates by his side, Oats stood and introduced himself to the campers, an emotional moment for everyone.
White said the staff is asking the veterans to teach the newcomers about Oats and how much he means to the program. During the 2020 season, players rotated wearing Oats' No. 22 jersey and the defense still breaks huddles with the number as well.
"You're like, guys, understand. Don't ever get numb to when we break down on '22.' This is what it's about, so just continue to let the young guys that didn't necessarily know Chris, you know when he was here, get to know him and know the personality he has, know his family. So, it's always awesome to have him around as much as he is."
The family hopes proceeds from Oats' camp can pay the way for him to return to the rehab facility in Florida next year. If you'd like to contribute, visit 22OatsStrong.org.