Chris Oats refuses to give up on his long road to recovery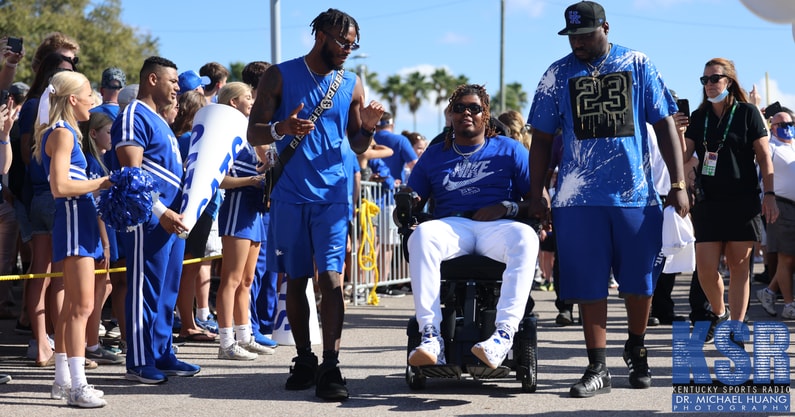 Chris Oats continues to serve as an inspiration for his Kentucky football teammates. While they fight opponents on the field, he continues to battle in rehab on his long road to recovery.
Oats was a four-star prospect when the star linebacker from Cincinnati Winton Woods signed with Kentucky in 2018. A budding star through his first two seasons in Lexington, his life changed dramatically when he suffered a stroke in the summer of 2020.
The medical emergency changed Oats' life. Despite the challenges, he continues to push through the difficult, lengthy rehab process. In a rare interview with Charlie Paulucci on Athlete POV, he exchanged texts about what's next for him and his current relationship with Kentucky football team. Oats will not let this setback keep him down.
"I didn't come this far to give up. I believe I will be back out there," he said.
Oats' teammates have been there every step of the way. Tight end Keaton Upshaw helped spearhead a fundraising effort that's raised more than $170,000 to help pay for the exorbitant medical costs and purchase a handicap accessible minivan that can transport him to and from rehab. Oats was able to travel with the team for most of the home games this fall and was on the sideline for the Citrus Bowl.
In Kentucky's first Citrus Bowl appearance against Penn State on New Year's Day in 2019, Oats recovered a fumble on the final play to seal the victory. Needing a defensive stop against Iowa on New Year's Day in 2022, his old running-mate in the linebackers room was sidelined with an injury. DeAndre Square looked to Oats to provide the inspiration he needed to get back into the game.
"I'm in pain and I want to stop," Square said, "and I thought about him and I'm like, I've got to go. I've got to do this."
Square re-entered the game to help make a tackle for loss on a crucial third down stop. On the final Iowa series, Square made the decisive interception.
Despite all the adversity thrown Oats' way, he continues to persevere. For those watching at home, aspiring to accomplish things that have never been done before, Oats has one message to share.
"Never give up … and never listen to those who tell you can't, or won't be nothing."
You can help Oats and his family throughout his rehabilitation journey by donating to the GoFundMe at 22OatsStrong.org.
Discuss This Article
Comments have moved.
Join the conversation and talk about this article and all things Kentucky Sports in the new KSR Message Board.
KSBoard