Chris Rodriguez Jr. on his 4th quarter TD against LSU: "I hate that play"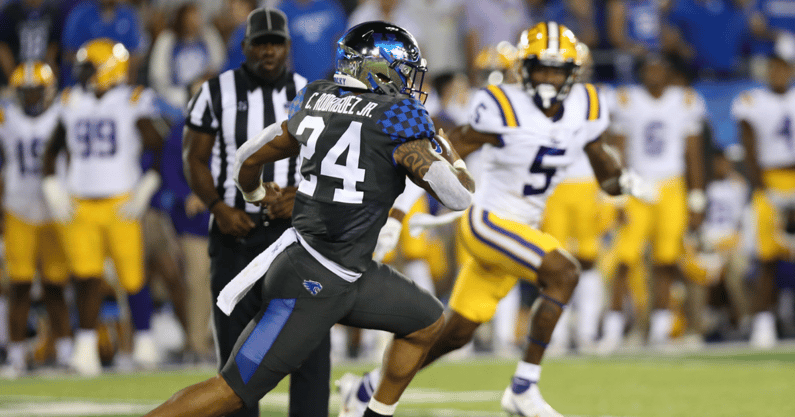 Chris Rodriguez Jr. slammed the door shut on any potential LSU comeback during the fourth quarter of Saturday night's monster win over the Tigers.
Kentucky was ahead 35-21 with 4:30 left in regulation, staring down a 2nd and three inside the red zone. A two-touchdown lead with time running low felt like enough of a cushion for the Big Blue Nation, but C-Rod made sure that every fan was able to breath more comfortably.
Rodriguez, who finished with 147 rushing yards and two total touchdowns on the night, broke loose and found a gap in the LSU defense, scampering in for an 18-yard score. It was the icing on the 6-0 cake for Kentucky, who would go on to win 42-21.
But despite the timely touchdown thanks to an outside zone run, Rodriguez wasn't a fan of the play call. In fact, he hated it.
"Funny story here. So the last play I scored on, when Will (Levis) called it in the huddle before we broke the huddle, I was like 'I hate this play'," Chris Rodriguez told reporters after the game. "I don't why I just didn't like it and I was like I hate it. Then I get the ball and I score and he was like 'You hate that play?' and I was like 'I still hate it,'"
Saturday was the fourth time this season that Chris Rodriguez has broken the 100-yard threshold on the ground. He's up to 759 total rushing yards through six games for Kentucky, averaging 6.3 yards per carry to go along with his seven total touchdowns. Rodriguez entered Saturday as the SEC's leading rusher and he extended his lead in that category against LSU.
If it keeps resulting in touchdowns, Rodriguez better stop hating the outside zone play calls.