Chris Rodriguez gets into playing shape, Justin Rogers excels at Ole Miss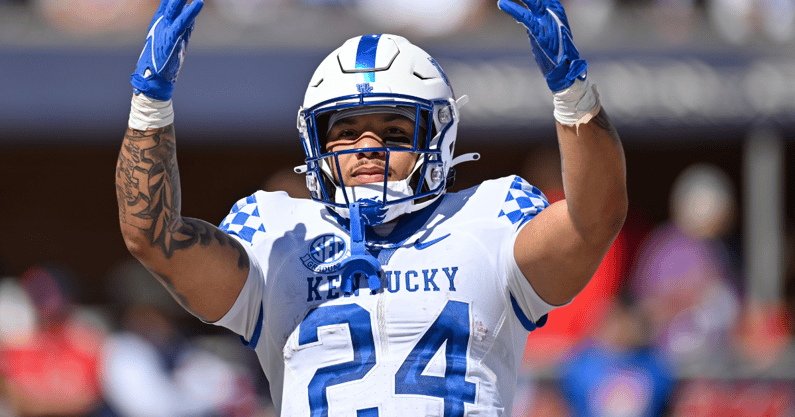 In Kentucky's loss at Ole Miss we learned more about players billed as game-changers in the preseason. Chris Rodriguez was solid in his debut, but there is still room for improvement, while Justin Rogers had one of his best performances as a Wildcat.
Chris Rodriguez
Kentucky running back Chris Rodriguez provided some vintage Chris Rodriguez moments in his first game of the 2022 season. On fourth and one, the UK running back was hit at the line to gain. Instead of losing ground, he drove his legs into the ground and pushed forward to keep the drive alive. Those hard-fought yards were missing from the offense until No. 24 returned to the backfield.
Chris Rodriguez finished with 72 rushing yards and a touchdown on 19 carries (3.8 ypc.). He also caught three passes for 40 yards. Mark Stoops believes we've only seen a glimpse of what C-Rod has to give to the Kentucky offense.
"Late in the game I felt like his legs were a little bit, he was a a little winded," Stoops said Monday. "Game shape: you can run all the hills you want, run sprints, and until you get in there and get in games with the energy and amped up and all that. Getting a feel for (game shape) was good and he responded well. He handled it well."
Justin Rogers stands out
Ole Miss' offensive tempo presents problems, especially for big defensive linemen. With only a few seconds between snaps, there isn't much time to catch your breath. That challenge was only amplified at nose guard when Josaih Hayes was sidelined for undisclosed reasons. The defense demanded Justin Rogers to be at his best. Even though he did not record a tackle, the former five-star recruit answered the call and impressed his head coach.
"Justin played one of these better games that he's played here," Stoops said. "He played a lot of snaps and in that kind of tempo, it's always concerned going into the game because as I mentioned last week, just the tempo, getting in rhythm and getting the D-linemen, getting their cleats in the ground and then getting their proper rates and keys. We weren't perfect on that by any stretch. But I thought Justin really did some good things."
Justin Rogers played 57 of 69 snaps. Freshman Deone Walker also rose to the occasion. In 49 snaps Walker was the highest-graded Kentucky defense player (74.2) with three tackles and a quarterback hurry.
"He played a lot of snaps and for that type of tempo, seeing it the first time and in an environment on the road with a high tempo team, I thought he really did some good things," said Stoops.