CJ Fredrick bringing "special" shooting stroke, competitive edge to Kentucky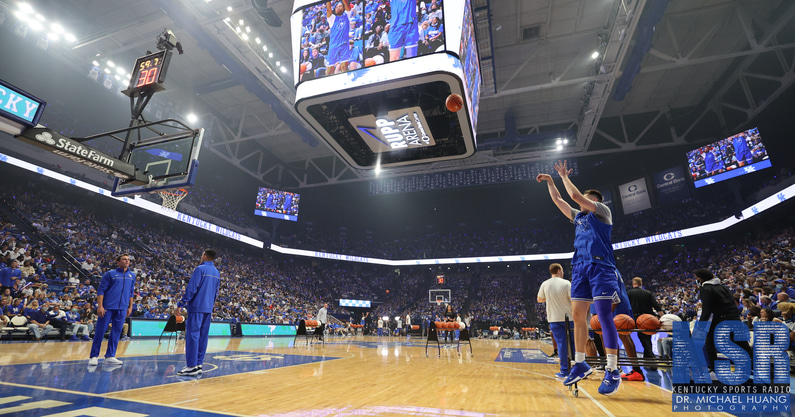 Kentucky guard CJ Fredrick is not just a good or even great 3-point shooter. "CJ is an elite, elite, elite, elite shooter," point guard Sahvir Wheeler said of the 6-foot-4 native of Cincinnati this summer.
The numbers back that up. Transferring from Iowa last offseason, Fredrick entered the year as the nation's leading returner in career 3-point field-goal percentage (46.6%) with a minimum of 150 attempts. His final season with the Hawkeyes in 2020-21, he knocked down 47.4% from three on 2.8 attempts per contest after hitting 46.1% on 4.1 attempts per game the year before.
Injuries prevented Fredrick from suiting up for the Wildcats in 2021-22, but expectations are high for the 3-point sharpshooter going into the upcoming season.
"It's a 47 percent career 3-point shooter," Kentucky associate head coach Orlando Antigua said of Fredrick. "Anytime you can add that to a team, it's special. He's a great teammate, got a competitive edge, his IQ, his feel, he can play a couple different positions. He plays with an edge, which also brings a little something extra to the team. You always want that."
Fredrick is coming off hamstring surgery, an injury that kept him out the entirety of the season. He also battled plantar fasciitis and had a minor clean-up surgery done on his leg last July.
As a result, the Kentucky coaching and medical staffs are remaining patient. The thought of getting Fredrick back on the floor is exciting, obviously, but it's a process that can't be rushed.
"You've got to temper the expectations a little bit because CJ is in the process of working his way back to being up to full capacity," said Antigua. "He's been doing great, going live, body-to-body, competing. We also know it's a long road and it's a process. … It's one of the things Coach and the medical staff are going to be bringing him along."
"CJ is starting to get in the mix a lot more than he has," assistant coach Chin Coleman added. "He's getting past a lot of those restrictions, you can give him a good bump now."
Beyond the injury rehab, Fredrick is dedicating his time to changing his body, working with Kentucky strength and conditioning coach Brady Welsh and head athletics trainer Geoff Staton around the clock to transform his appearance. It's a night-and-day difference, one that will allow him to not only get back on the floor, but stay there.
"You guys have all seen the physical appearance and how much he's changed," said Antigua. "He's changed his body around, been really dedicated. It's a credit to the kid, credit to coach (Brady) Welsh, who has worked really hard with him in terms of nutrition, his body, strengthening (it). And the work Geoff (Staton) has done to get him to this point has been special."
Fredrick previously said watching from the sidelines this past season opened his eyes about just how many clean looks he's going to get from three at Kentucky.
"A lot of the games, I was sitting next to Riley (Welch), the graduate assistant. We would sit and analytically look at the game a little differently," Fredrick said this summer. "I'm an older guy now, so I try to learn the game as many different ways I can. I was just amazed in the SEC how many open shots I'm going to get. Kellan (Grady) had games where he'd make six, seven threes, and they're still having to space off of him a little bit. That was something that lit up my eyes."
While on-court feel is clearly different than off-court, Antigua believes Fredrick's ability to get a different perspective on the game this past season will help him in the long run.
"I think anytime you can detach yourself a little bit from the game — your viewpoint is different than watching it from the side, even as a player and as a coach," he said. "We did a lot of conversing with him last year, seeing what he saw, telling him what we saw. Getting him a different perspective, it's going to help him a lot. He's a kid who is high-IQ, high-feel anyway. The mental reps he was taking throughout last year, what he was doing with therapy, it'll help him."
What will Fredrick provide once he makes his on-court debut for the Wildcats — which could come as early as August when Kentucky heads to the Bahamas?
Shooting, obviously, but Antigua says Fredrick is much more than a shooting specialist.
"Obviously, his shooting ability requires a lot of attention defensively. He spaces the court an awful lot," he said. "But he's more than one-dimensional, he's not just a shooter. He's got great feel, he passes the ball, knows how to use that weapon to help himself and his teammates."