CJ Fredrick "pretty much back" from injury, not ruling out Blue-White Game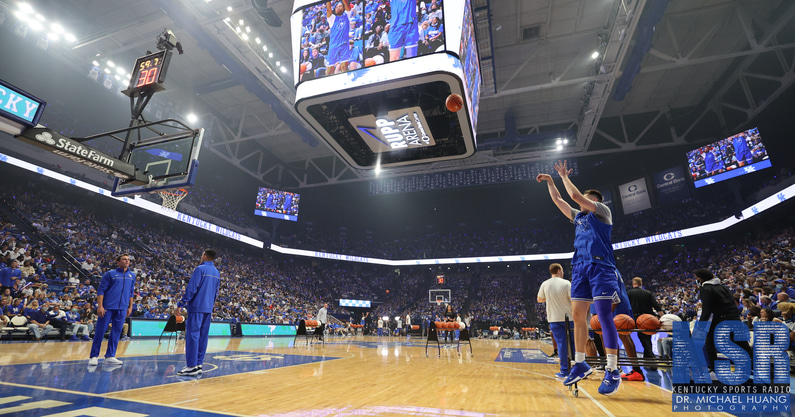 We're still waiting to see Kentucky guard CJ Fredrick at full strength. After undergoing surgery in July to repair a preexisting leg injury, the redshirt junior missed the remainder of summer workouts and the majority of fall practices. He's been a non-contact participant since September, but he's just now starting to ramp up live activity.
One day at a time
The staff is optimistic about Fredrick's abilities, they just haven't seen enough of him yet.
"CJ's been hurt, but he can really shoot the ball and I can't wait until we get him on the court," said UK head coach John Calipari. "He's been on the court for 15 minutes so we just haven't seen it."
Calipari added that Fredrick returned to practice as a full-contact participant Tuesday, but felt he needed more time.
"CJ has not started yet," said Calipari. "Now, he won the 3-point contest. He started practicing yesterday. It didn't–I said, "Hey, we're going to take another day."'
Feeling better than ever
For the first time since the surgery, Fredrick opened up about the rehab process and where things stand in his return to full strength. The lingering issue was one that stemmed from his time at Iowa, a clean-up procedure he opted to have done that ensured his availability for the season-opener against Duke.
Now, the sharpshooting guard feels better than ever.
"I had a little minor thing that was bothering me this summer," he said. "It was in my leg, lower leg. … I just decided to get it repaired and fixed for the season, I didn't want any lingering issues with it. That was one of the best decisions I've made because I feel really good. I feel better now than before I was even hurt."
As Calipari noted, Fredrick confirmed that he's back to full-contact drills, working with the training staff to be "smart" about ramping up efforts.
"I feel good. I appreciate the coaches and the training staff being smart with me and giving me the time I need," he said. "I'm back to doing live contact stuff, which has been feeling good. It's just about being smart with my body. If there's a day that I'm sore and I need to take it easy, I'm going to do that. But I feel good right now and I'm really happy with where I'm at. "
Back to full-contact participation
With the way Kentucky practices and the intensity of it all, Fredrick knows it's a marathon, not a sprint. He participated in all non-contact drills throughout practice Monday and roughly "20 minutes of live stuff," with full-contact participation slowly building forward from here.
"I'm pretty much back. At this point, it's just about taking a little time off, being smart with your body," said Fredrick. "The way we run, the way we practice, you can't just expect to go out there and go up and down for three hours. It's gradually working my way back, starting to do things live. Yesterday was a good test for me, going up and down with the guys for a little bit. I still feel OK. It's a good step moving forward."
Not ruling out the Blue-White Game
Could we see him on the floor during Kentucky's annual Blue-White Game, which is set to take place Friday evening at Rupp Arena? He's not ruling it out.
At the end of the day, though, his priority is on being completely healthy for the season-opener against Duke on November 9.
"I think that's going to be a conversation with the trainer and me, depending on how sore I am the next couple of days," he said. "I'm going to continue to ramp up. If I feel good, I'll probably go out there for a little bit and play. If I'm still sore and need more time to rehab, I'll take it off.
"The main goal is for me to be 100 percent ready for November 9."
It's been a frustrating process for the Iowa transfer, who prides himself on being a competitor. Watching from the sidelines hasn't been easy, but he's done his part to participate and improve as a player however he can leading up to the season.
When restrictions are lifted, Fredrick is ready to take advantage.
"It's been really frustrating. I'm a competitor, I want to play," said Fredrick. "I want to be out there with my guys, practicing and competing. I understand there are still things I have to do like rehabbing every day, just being a pro in that aspect, getting everything I need to do done. Rehabbing every day, conditioning, getting my shots up, still making myself feel like I'm a part of the team.
"It's definitely not the same, but I love the team and I love being out there as I am. It's definitely going to be a fun year."