Closing a book on another electric Big Blue Madness
[caption id="attachment_208970" align="alignnone" width="2559"]
Mark Zerof | USA Today
[/caption] Another Big Blue Madness is in the books and it did not disappoint. It never does. This year's version of "The Greatest Spectacle In College Basketball Practice" saw the introduction to John Calipari's newest crop of talent, Matthew Mitchell's veteran-led squad, and the welcoming of the newest member of the Kentucky basketball family, the brand new video board. Unfortunately it did not include Drake, who's a regular around here this time of year, or any other major surprises. But that doesn't mean it wasn't awesome, because it was. Some takeaways for the night crowd...  
The new video board stole the show.
Highlight of the night for most everyone was seeing Rupp Arena's brand new center-hanging video board for the first time. It's not quite the size of the one in Dallas, but it will have a similar impact on the game experience because fans in the upper-level will find themselves watching it and not the game. I don't know much about the specs and all the fancy technology behind it, but I do know it has a crystal clear picture (the quality really is amazing) and it's one of the biggest anywhere in college basketball. It's a great addition that really modernizes the place. Bye Bertha. Bye Felicia. She gone. 👋
The Wildcat came in real hot.
Get in here, Wildcat. https://twitter.com/KentuckyMBB/status/787066409650163712 I think Coach Cal should swing into every home game like that.
Matthew Mitchell can't stop, won't stop.
We thought there was a chance Coach Mitchell would dial back the dancing after his program's tumultuous offseason, but nope; he did more dancing than ever, and it was a hit, per usual. Mikayla Epps gave him a run for his money with her entrance, too. Stellar introduction to the 2016-17 women's basketball program.
Did they do the light show?
Maybe I missed it?
Michael Buffer looks great for 71.
I won't lie to you, KSR readers. Ol' Mike Buffer looks damn good for his age. Gotta think he's had a little work done on that mug, but the man's held up well for someone who's had a long life of repeating the same five words to the tune of $400 million in career earnings. Buffer earns about five million per fight, so it'll be interesting to find out what UK had to fork over for his appearance Friday night. Maybe they got a discount because he said 'roundball' and not 'rumble'? https://twitter.com/UKAthletics/status/787092683651215360
The scrimmages were kind of boring.
It's always cool to see the new guys in uniform, but the effort was light and the highlights were limited in a very short scrimmage to conclude the event. We'll get a better look at the Blue-White game next week. For now, we can say they look the part.
Brad Calipari may be the best (open) three-point shooter in the history of basketball.
Between last Sunday's televised practice and Big Blue Madness, we've now seen Brad Calipari take about 30-40 uncontested three-pointers in drills and scrimmages. And I don't think he's missed more than three or four.
Young Cal's definitely making his mama proud.
This photo of DeMarcus Cousins is one of my favorite things in life.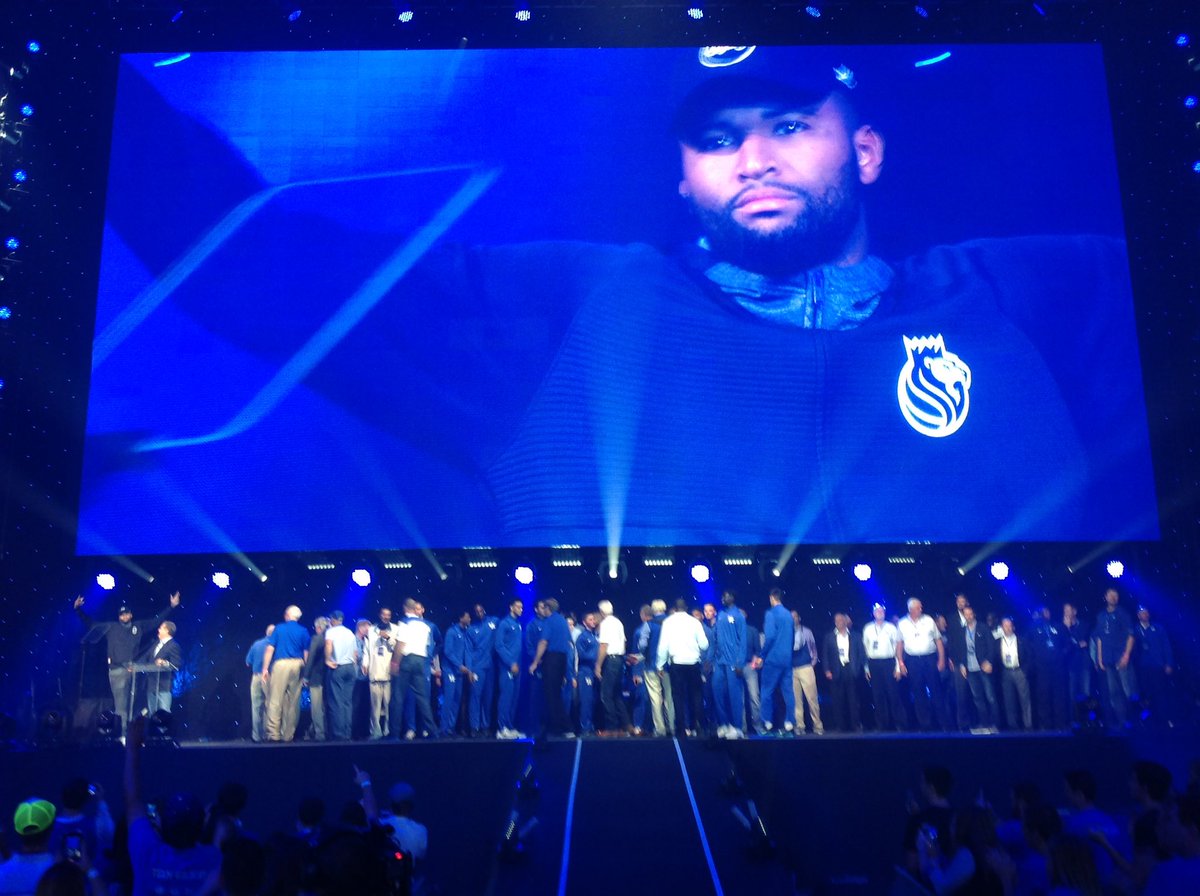 Boogie and Willie Cauley-Stein made a last-minute entrance with almost 100 former Wildcats on one stage with the current players. John Wall also stopped by, but Karl-Anthony Towns couldn't escape Louisville for a couple hours to make an appearance.
Get exited for basketball with the new intro video.
Basketball is here, BBN!!!