Cole Cubelic and Tom Hart Break Down Kentucky's Win over Florida
[caption id="" align="alignnone" width="960"]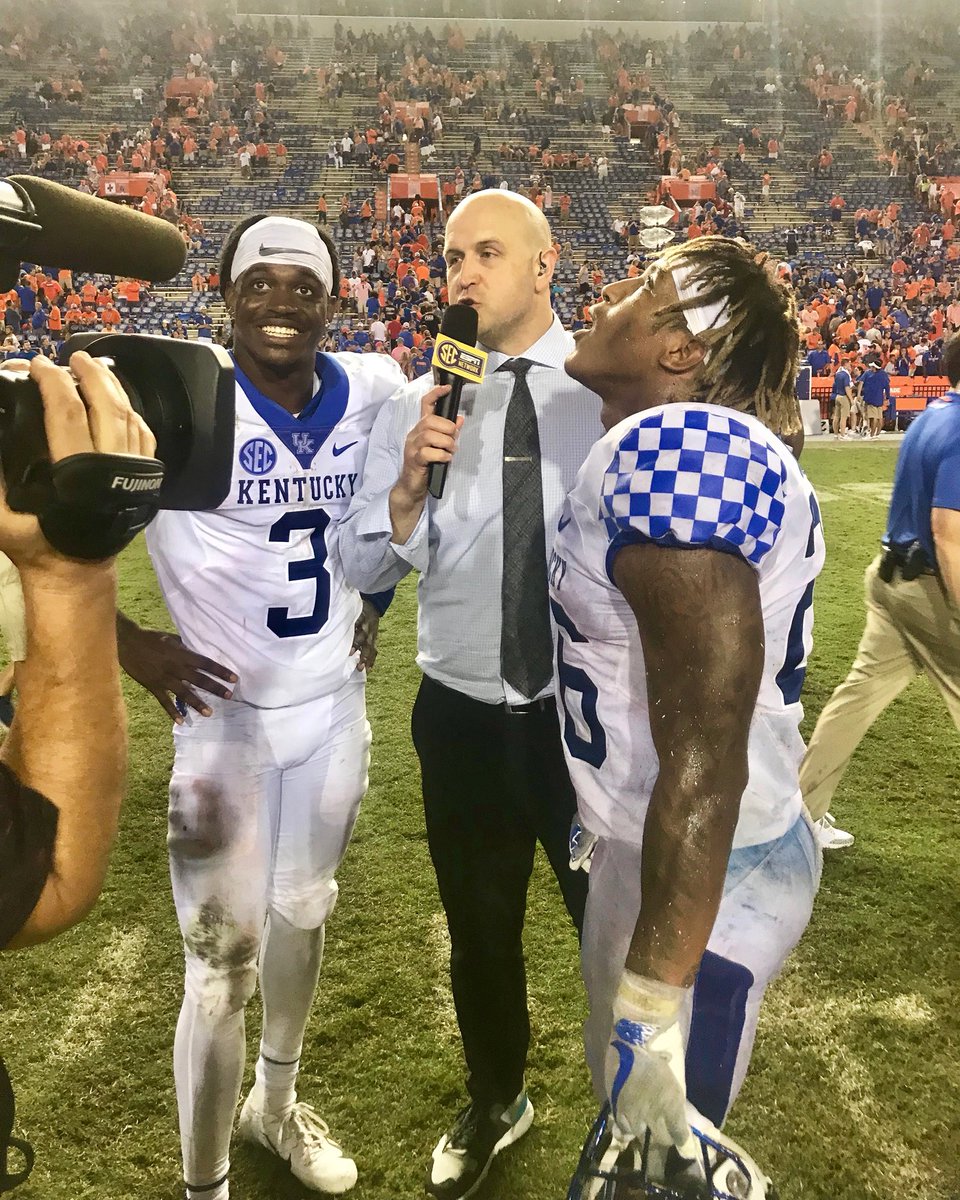 @ColeCubelic
[/caption] Two of the three members on the SEC Network crew that called Kentucky's win over Florida joined KSR radio programs this morning. In the early morning, sideline analyst Cole Cubelic joined T.J. Walker and I on Kentucky Roll Call.  Entering the game, Cubelic was unsure what to expect from either team.  When Kentucky took the field, they simply wanted it more. "
Kentucky was better Saturday night
," Cubelic said.  "What Kentucky was able to do physically, especially on the ground, and really overcome mistakes was impressive and a lot of fun to watch." Kentucky dominated Florida in the trenches on both sides of the ball.  Cubelic, a former Auburn center, is the preeminent offensive line guru, but that wasn't impressed him most Saturday night. "The most impressive part to me was you have a guy in Terry Wilson who hasn't really been the guy in a long time.  He had some huge mistakes in the first half and it didn't seem to faze him in the second half.  He bounced right back and played excellent football.  He still took chances, he still took high-percentage risks but those resulted in a lot of big plays for his team." In a 15-minute conversation, Cubelic touched on a variety of topics.  Of course, we got him to talk about Kentucky's impressive offensive line and how they compare to UK's 2016 unit.  Cubelic was incredibly impressed by Josh Allen, he described what makes Benny Snell so great, ranked UK's coaching staff alongside the rest of the SEC and said that
it's possible for Kentucky to get double-digit wins
. "This can be a really good football team.  The road schedule is not that bad -- Tennessee on the road, Louisville on the road -- Kentucky's a better football team than both of those teams right now.  You get Georgia at home, Missouri's going to be a tough game but I think this team can exceed last year's win total and maybe even push towards double-digit wins if some things bounce their way." https://soundcloud.com/trevor-kelsey-514633570/kentucky-roll-call-hour-one-09-11-18#t=20:55 Matt Jones did not plan on having play-by-play announcer Tom Hart call into Kentucky Sports Radio, but Hart could not resist. "
I just wanted to say that that win was insane
."  Hart said Florida fans were could not believe what they saw at The Swamp. "They were as shocked as Kentucky fans were last year. They may not have been as heartbroken, but they were as shocked." Moving forward, Hart believes Kentucky is in the conversation to be the No. 2 team in the SEC East.  Hosting Georgia at home, he didn't rule out the possibility of a Kentucky upset over the Dawgs. "I think Kentucky/Missouri, if you're going to use recency bias, they've got to be the two favorites in the division to finish second to Georgia right now, and each of them
on their best day could knock off Georgia
.  South Carolina's performance this weekend was just atrocious, so who can knock off Georgia?  With Kentucky's speed on defense -- I gotta be honest, I had no idea Wilson was going to be this good at quarterback.  NO idea.  If he can do that, why wouldn't they be able to beat Georgia?" Hear everything Hart had to say around the 22-minute mark of the Hour 1 podcast. [mobile_ad]