College Basketball Weekly: Auburn vs. Gonzaga, Conference Play Chaos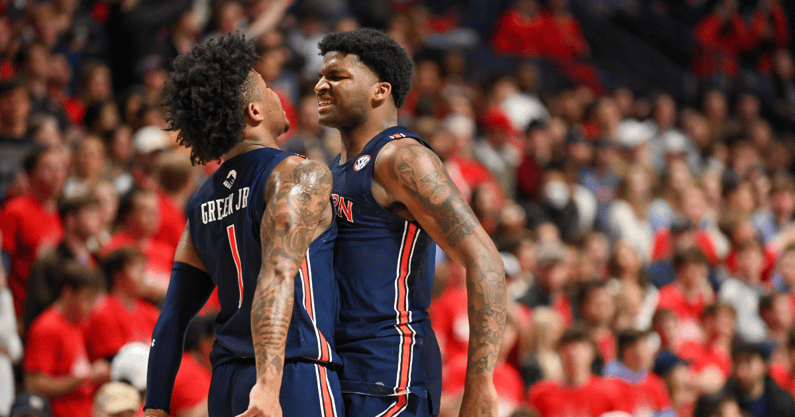 Wild week of College Basketball to discuss. We've got an AP Poll debate for the ages, upsets everywhere, a poor week for Penny Hardaway, and Sister Jean's magic is back! Let's dive into the best games from this past week and lay down the law on what the top-25 should look like.
Results of the Week
(8) USC 69 @ Stanford 75
(22) Texas Tech 65 @ (1) Baylor 62
(14) Iowa State 61 @ (10) Kansas 62
(25) Oklahoma 52 @ Texas 66
(3) Auburn 81 @ (21) Alabama 77
(12) Villanova 64 @ (19) Xavier 60
(20) Ohio State 68 @ (9) Wisconsin 78
Oregon 84 @ (13) UCLA 81
BYU 84 @ (5) Gonzaga 110
Northwestern 64 @ (15) Michigan State 62
(22) Texas Tech 51 @ Kansas State 62
(17) Seton Hall 72 @ Marquette 73
Tennessee 79 @ (18) Kentucky 107
Arkansas 65 @ (4) LSU 58
Texas 70 @ (14) Iowa State 79
Oklahoma State 61 @ (1) Baylor 54
(21) Alabama 76 @ Mississippi State 78
Oregon 79 @ (8) USC 69
Auburn vs. Gonzaga for no. 1
The debate of the weekend following a chaotic seven days of results across the AP Poll is who to rank at first in this week's rankings: Auburn or Gonzaga. Let's break down who should be No. 1 in full.
So, the way I like to do rankings is heavily resume-based. Others like to use KenPom, the NET, Bart Torvik or other analytic models. Of course, you can also base your rankings off of recent play and the "eye test." Obviously, the ideal rankings mix in influence from all of the above.
Looking at Gonzaga, this is a team beloved by the computers — ranked first by KenPom, Torvik, EvanMiya, and second on Haslemetrics. As of Monday at noon, they also got the No. 1 nod from the AP Poll. But all of those entities loved the Zags from start to finish last season. Clearly, that was erroneous.
Auburn, meanwhile, barely averages out as a top 10 team analytically. But what I see is a team that is 16-1 in a top-two conference in the country, whose only loss came against a ranked UConn squad in double-overtime. Also with wins at Alabama, home against top defensive squad LSU, and over the best non-Gonzaga mid-major with a nine-point win against Loyola-Chicago.
Gonzaga has one more loss and fell to that same Alabama team in Las Vegas. Their best wins are blowouts over Texas and UCLA — overrated teams nationally that have combined for one current top-25 win between them — and zero since early November.
A final note on the Auburn-Gonzaga beef: Auburn received 36 first-place votes to Gonzaga's 25 — yet because of clowns like Jesse Newell, who ranked the Tigers ninth, Gonzaga still wound up on top.
To me, Auburn is the clear pick between these two. Let's move on.
More AP Poll gripes
Further to the point of hating on Gonzaga, why are the Zags a shoo-in for a top-two spot? In fact, I propose that Wisconsin, Arizona and Duke all have more impressive resumes than the frauds out of Spokane.
Duke is a two-loss team that has wins over two of the better teams in the country as of right now, having overcome the same Gonzaga team and Kentucky on neutral courts. Arizona is a one-loss team that went on the road and beat Illinois and has just one loss at Tennessee. Wisconsin may have the best player in the country, Johnny Davis, and one of their two losses came without him early in the year. Otherwise, they're a one-loss team that's hot as anyone after beating Purdue and Ohio State over the last two weeks.
The Zags are 3-2 against power conference competition while the other four teams I've talked about have similar or better records while playing much tougher schedules. So, why, why, why does the rest of the nation give the Zags such a benefit of the doubt?
Upsets all over the place
Last week, USC and Baylor were lauded as the two remaining undefeated and that was the jinx to end all jinxes. Those two teams combined to lose four games this past week, with three coming against unranked opponents. You'll see that they fell mightily in my weekly poll.
There were 16 total games that had losers ranked in last week's poll. The bottom half of the top-25 is a bloodbath, with Providence, Kentucky and Loyola-Chicago finishing as the only squads ranked 13th or lower not to lose this week.
Speaking of the Ramblers…
Loyola-Chicago hasn't missed a step without Moser
Porter Moser was rightfully credited with building an elite defensive unit and forward-thinking offense out of very little regarded talent during his time at Loyola-Chicago. Heck, he earned a nine-seed with a starting point guard that looks like me last spring.
In 2021, the Ramblers lost Moser to Oklahoma and saw their crafty caveman-looking star center to graduation. But they returned everything else and added Princeton's fourth-best player to maintain their success. Of course, having Sister Jean's blessing helps.
So does having one of the best three-point shooting teams in the country. Their three leading scorers are a bomber squadron from deep. Lucas Williamson, Ryan Schweiger and Braden Norris combine for more than 14 three-point attempts per game and are converting 43.2% of those shots. As a team, they shoot 39.2% (11th best % in the country) on more than 24 attempts per game.
The coach and former stars are gone, but the bones of their successful run returned as super-seniors to give first-year head coach Drew Valentine as good a team as any under Moser.
Penny Heads or Tails
Last week was a strong heads week for Penny after he lead Memphis to three straight wins, including a blowout of Wichita State and a road victory vs. Cincinnati.
This week, the Tigers dropped both of their games to directional state teams. Central Florida beat 'em by 10 and East Carolina edged Memphis by one. If Penny and co. had any hopes of qualifying for the NCAA Tournament, they should direct their attention towards the AAC Tourney. Because it is going to be next to impossible to qualify as an at-large with losses to Georgia, Ole Miss, ECU and Tulane.
Perhaps next week will flip back to heads as the Tigers return home to play SMU, then go on the road vs. Tulsa. Two games they're favored in.
Week 11 Rankings
Auburn

Arizona

Duke

Wisconsin

Gonzaga

Purdue

Baylor

Kansas

Houston

Villanova

Kentucky

LSU

Iowa State

Illinois

Providence

Xavier

Texas Tech

USC

Michigan State

Loyola-Chicago

UCLA

Ohio State

Davidson

UCONN

Iowa
Games of the Week
(7) Baylor @ West Virginia (Tue./5 p.m./ESPN2)
(13) Iowa State @ (17) Texas Tech (Tue./9 p.m./ESPNU)
(12) LSU @ Alabama (Wed./7 p.m./ESPN2)
(6) Purdue @ Indiana (Thu./7 p.m./FS1)
(19) Michigans State @ (4) Wisconsin (Fri./9 p.m./FS1)
(11) Kentucky @ (1) Auburn (Sat./1 p.m./CBS)
(12) LSU @ Tennessee (Sat./6 p.m./ESPN)