College Football Players Protest NCAA With "APU" Gear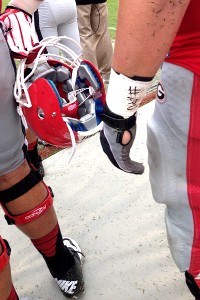 The topic of the NCAA's treatment and compensation of their athletes has been a hot button issue in the last couple of years, and it seems as though some players and certain organizations have taken to public demonstrations in their attempt to create an "athlete-driven national movement". 
Players from Georgia, Georgia Tech, and Northwestern all participated in the protest which was organized by the National College Players Association, an organization that supports reform in NCAA rules, by displaying "APU" on different parts of their uniforms during games early Saturday. 'APU" stands for "All Players United", a movement that according to the NCPA was months in the making, and includes other high-profile BCS players that have yet to play today. NCPA President Ramogi Huma listed these as the main goals for the players' protest:
– Demonstrate unity among college athletes and fans in favor of NCAA reform.

– Show support for players who joined concussion lawsuits against the NCAA, which could "force the NCAA to finally take meaningful steps to minimize brain trauma in contact sports and provide resources for current and former players suffering with brain injuries."

– Show support for the players who "stepped up in the O'Bannon v. NCAA, EA Sports lawsuit regarding the use of players' images/likeliness, which could unlock billions of dollars in resources for current, future, and former players."

– Stand behind individual players being "harmed by NCAA rules.

On the basic protections the group is looking to provide…

Those include guaranteed scholarship renewals for permanently injured players, the promise that injured players will not have to pay sports-related medical bills, an increase in scholarship aid by $3,000 to $5,000 per year up to the cost of attendance, and the establishment of an educational "trust fund" that players could tap into after their eligibility expires
The group also seeks to use the hashtags #APU and #AllPlayersUnited as well as continued exposure on national television to publicize their movement, in what could turn out to be the first unified effort from current NCAA players aside from the Ed O'Bannon lawsuit to publically push for NCAA reform.