What we learned from first two weeks of college football season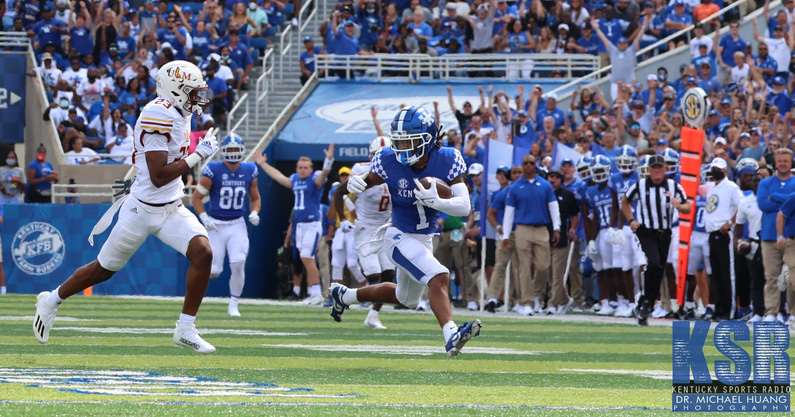 Week 3 of the college football is off and running with another full slate of action. Auburn is heading to Penn State with College GameDay in town, and we've seen some shuffling throughout the top 25 with playoff contenders suffering losses.
There has been a lot to digest moving through this college football season. Things are setting up to be pretty fun in the Bluegrass State, and nationally this could be a wacky year.
Here are the lessons learned as we've begun the sprint to the finish line.
Kentucky learned how to putt
Remember when Happy Gilmore finally learned how to putt as he took down Shooter McGavin in the Tour Championship to bring home the gold jacket? Yeah, that's what Kentucky football has felt like through two games this season.
The additions of Big Ten transfers Will Levis and Wan'Dale Robinson plus the new offensive coaching philosophy has paid immediate dividends. The Wildcats are third in the SEC in yards per play offense, Levis leads the conference in yards per attempt, and Chris Rodriguez Jr. leads the league in rushing. Robinson and Josh Ali rank No. 2 and No. 3 in yards per reception.
Outside of the ball security, this offense looks like the real deal as Kentucky now has a passing game that creates explosive plays to complement its effective rushing game.
This unit could score a lot of points on SEC defenses this fall.
No clear title favorite
Entering the season, this felt like a potential step-back year for Alabama. The Crimson Tide lost a ridiculous amount of firepower on offense while Clemson, Georgia, and Ohio State all returned key pieces that could help them turn into title favorites.
After two games, this appears to be anyone's ballgame.
After throttling Miami, Alabama had some struggles with FCS Mercer and cannot seem to get the rushing attack going. Ohio State has major defensive issues after losing at home to Oregon despite having over 600 yards of offense. Clemson has legitimate offensive issues as D.J. Uiagalelei has looked average to this point of the year. Georgia is dealing with quarterback issues despite being dominant on defense.
A lot will be learned about these teams in the coming weeks. Each could still make the College Football Playoff, but this race seems wide open in 2021.
ACC is bad
Things have been rough in ACC land. Here is a rundown:
Clemson dropped the ball against Georgia
Northern Illinois beat Georgia Tech
Charlotte beat Duke
Ole Miss hammered Louisville
Miami squeaked by Appalachian State
Florida State was stunned by FCS Jacksonville State
Mississippi State handled NC State
North Carolina dropped a dud against Virginia Tech
Boston College lost star quarterback Phil Jurkovec for the season
This has been a woeful start for this league, and not much is looking up. These developments could create a great opportunity for Pat Narduzzi and Pittsburgh as the Panthers get both Miami and North Carolina at Heinz Field. After that is a lot of blah.
It appears to be another safe bet to take Clemson as the ACC champion. This continues to be one of the safest predictions in college football.
Chip Kelly has officially returned to college football
USC has fired its coach, and UCLA is in the top 25. It appears that the Chip Kelly plan is finally coming to fruition.
The offensive guru who led Oregon to the national championship game in 2010 is just 12-21 in year four in Westwood, but the Bruins look the part. Michigan transfer Zach Charbonnet is a Heisman contender (223 rushing yards, 4 touchdowns, 13.12 yards per attempt, 52.94% explosive run rate), and UCLA owns a huge home win over LSU.
The Bruins are on upset alert as Fresno State comes into the Rose Bowl on Saturday night, but this is a team that has the chance to make some major noise on the west coast.
USC needs to get fixed, but Chip Kelly reviving UCLA to go along with Oregon making big national moves is just what the Pac-12 needed. College football needs that league to be better.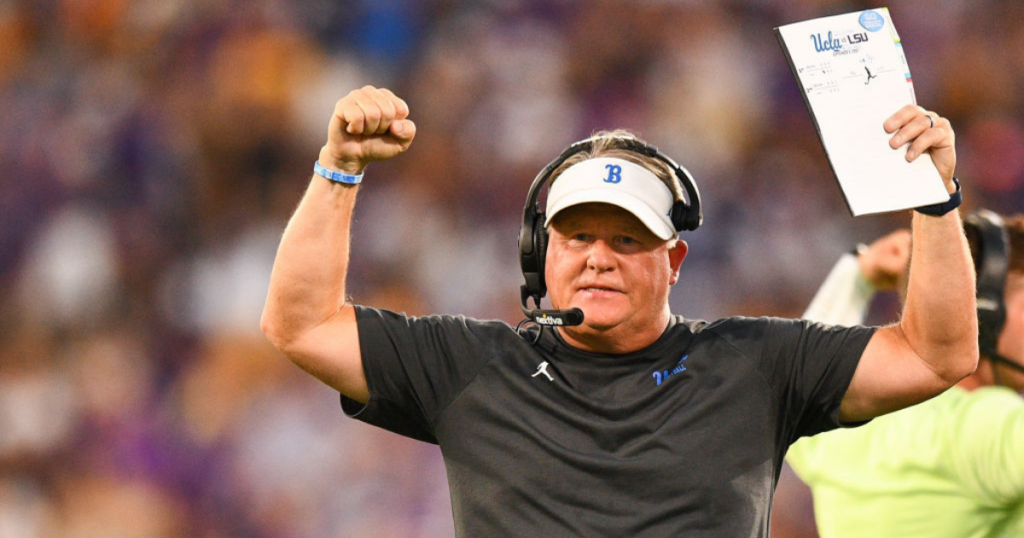 Heisman has deep pool
Speaking of wide-open national races, the battle for the Heisman Trophy could go about 1,000 different directions.
Alabama's Bryce Young and Ohio State's C.J. Stroud appear to be contenders from blue bloods, but neither has a super-strong case at the moment. Matt Corral will put up monster numbers for Ole Miss, and if the Rebels can pull an upset or two in October, he could become the guy.
Could this be the year a running back finally breaks through? Kentucky's Chris Rodriguez Jr. is running behind one of the best offensive lines in college football and is on pace for 1,992 yards in the regular season. If he gets to 2,000 and Kentucky has a historic season, would that be enough to get him to New York?
If Dan Mullen finally goes to Anthony Richardson at quarterback, Florida could have a superstar. The redshirt freshman's production has been absurd in spot duty — 17.5 yards per pass, 25 yards per rush, 4 touchdowns in 17 touches. Can he carry anything close to this over a large sample size?
This year's Heisman is totally up for grabs. Don't sleep on Stroud as the redshirt freshman is on pace to throw for nearly 5,000 yards and could lead college football in passing.
College football coaching carousel got early start
UConn decided to get the party started when Randy Edsall was relieved of his duties after the FCS loss to Holy Cross in Week 1. USC followed suit the next week when Clay Helton was let go after an embarrassing home loss to Stanford.
This carousel could be a roller coaster.
The USC job is a monster and could go 100 different directions. Penn State's James Franklin seems to make a ton of sense and would create quite a domino effect if it occurs.
LSU, Michigan, and Nebraska are all big-name jobs that could come open at any moment if a losing streak occurs. Arizona State, Duke, Georgia Tech, Louisville, Syracuse, Texas Tech, and Virginia Tech are all Power Five programs that could open if things go south.
The 2021 year could lead to a wild coaching season. Keep in mind that the new batch of conference realignment could force some Big 12 coaches to think about leaving. Would Matt Campbell, Mike Gundy, and Gary Patterson be more open to new jobs this offseason? We're about to find out.
College football always delivers.